As I didnt know how far I had to The top I got up and was off again at light of day. I still climbed a little around 8kms then the down came, It had been 153kms of up so I was ready fro this down and my legs were dying for it.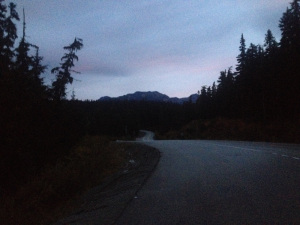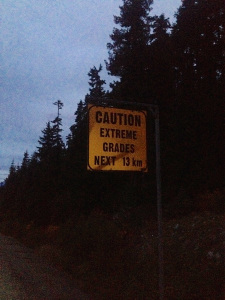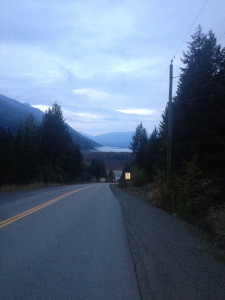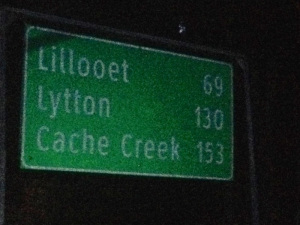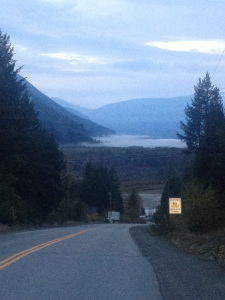 Im so glad I fixed my brakes the other day as man it was steep and I was on the brakes the whole time. Would be really hard on a car and crazy in the winters. I cruised into Pemberton really early but was happy to have a coffee and relax before My school visits started. I was excited for the 2 of them.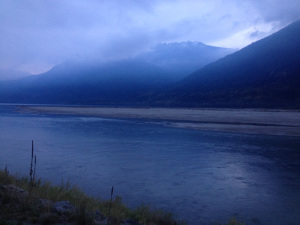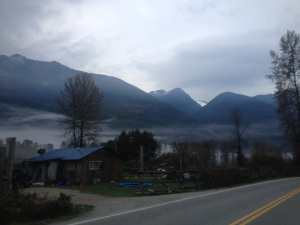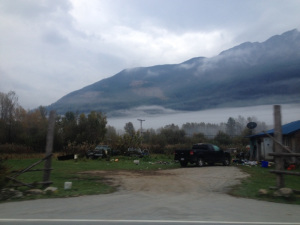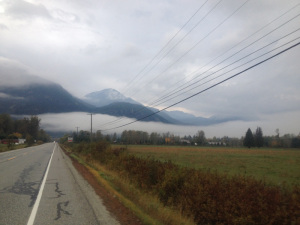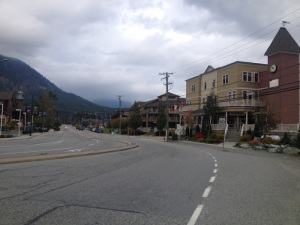 First was at the Signal Hill Elementary with Carla and her Grade 2 class. The kids were awesome and sitting on a world map mat. I love that so much. They knew about NZ and where a lot of places were which is great. We chatted and then went out and meet the Cross Country team and did a couple of laps around the field. So awesome to do this. I love the talks but love the running with them more I think.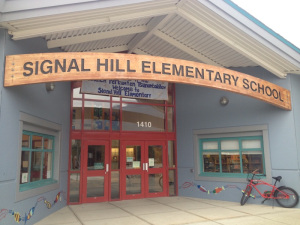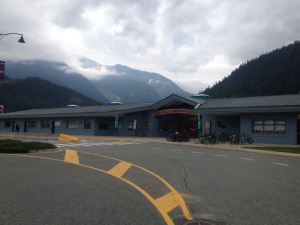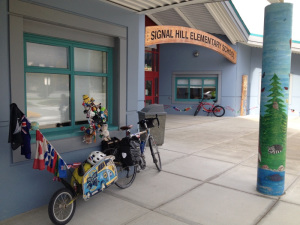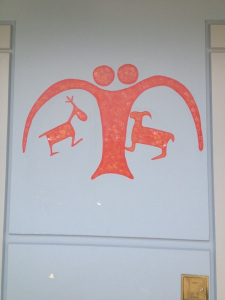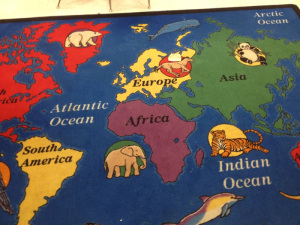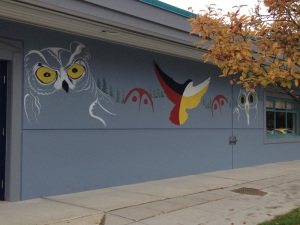 Some thing That I believe in and I know Kara Lubin lives by and teaches with the 100 Mile Club everyday. I was talking with the kids and said to remember one thing" I will be the best ME I can be" they all straight away pointed up to the wall and there was just what I said written on the wall. I was soon happy and know Kara would be too. This yellow poster will be in my mind for ever. Thank you so much kids and teacher Carla for this memory.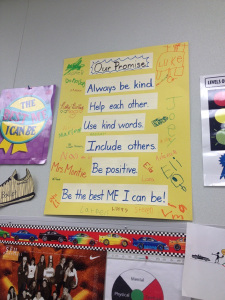 Then I went to meet the lady behind all this amazingness in Pemberton, Dawn Johnson. What a cool amazing lady , We had connected a week or so ago and she had sorted out all todays adventures for me. As I was running around with the kids at school a young lady named Violet came up and said hi and then told me she was Dawns daughter, She told me how to find Dawn and I went searching for her.
Thankyou so much for everything Dawn and I know we will be in touch again very soon and I can't wait to share all the amazing things you and your town are doing, Sorry I missed meeting your kiwi man. Send a big hi please.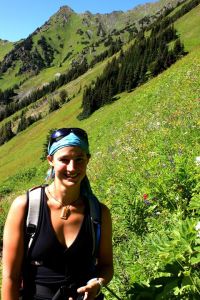 I then headed over to the Pemberton Secondary school to met Daryl Treadway a teacher who had invited me to talk with his class. We all meet in the gym and altogether there was 3 classes of 15-16 yr old kids. We chatted and I told my story and then I got to hang out with Daryl's class while they learn't about food and they also did some work in the schools gardens. They grow so much stuff here and I got some muffins they made yesterday. Super yum and fresh as. Home grown goodness. Thank you so so much for having me in. I loved meeting you all.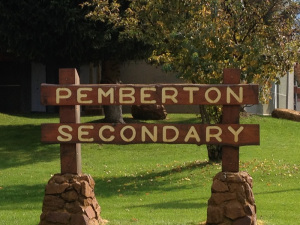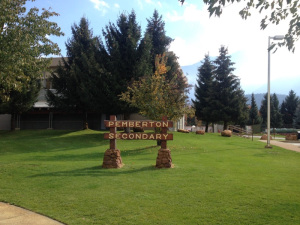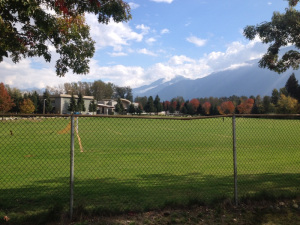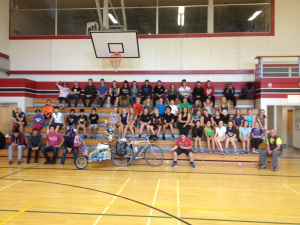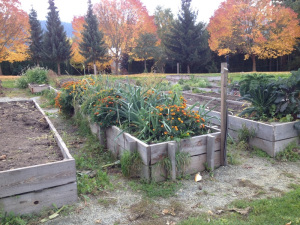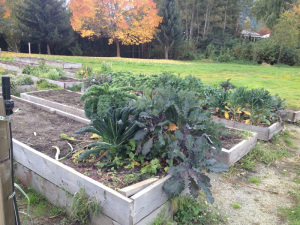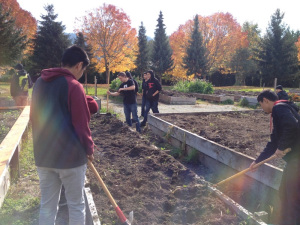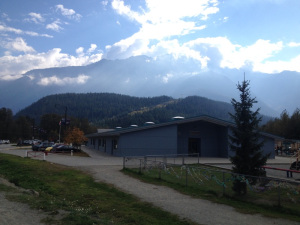 I had 35kms to get to Whistler and as i rode out of Pemberton i could see the rain falling right behind me. I tried to ride away from it but yesterdays hills had me broken and the rain caught up. I got pretty wet but it cleared as I arrived the Listel Hotel in Whistler. The hotel chain that i work at in Japan. So cool to finally be able to see it and stay. The staff were super cool and i thank you for looking after me.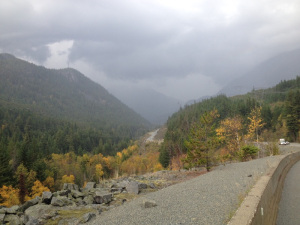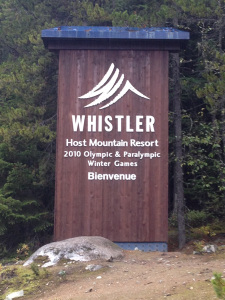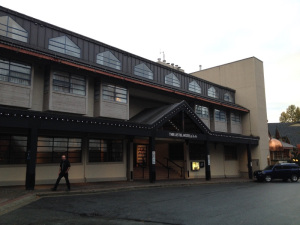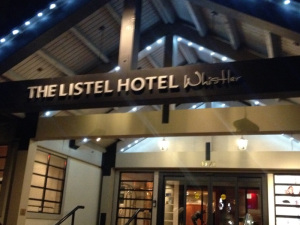 Then I was off to see a mate Yosuke henry Hamazaki who I had meet in Wanaka back in 2000. We had skied together and I wanted to catch up at his shop – TMC Freeriders. As Im finding out directions at the info box I turn to see Rob and his son , I had met Rob this morning in Pemberton. So cool to see him and he helped me find the shop . Thanks for helping me this morning an again this afternoon. Nice to meet your son too. Please keep in touch.
So fool to see Yosuke again and also meet his mum. We chatted and caught up for a hour or so and then he hooked map with a beanie and I was off to meet the next person of my Whistler adventure. So much fun in one day and you wonder why I keep doing these crazy adventures. haha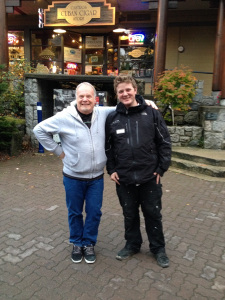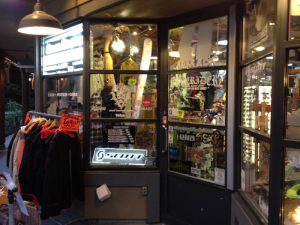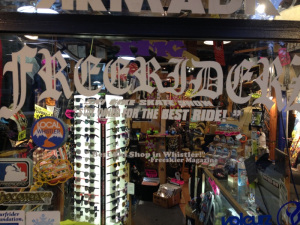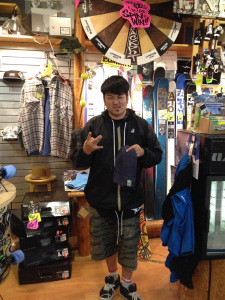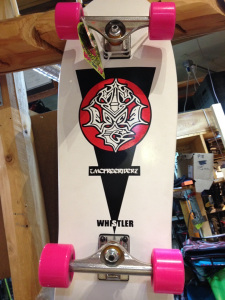 My friend Andreas Andy Friberg from Sweden who I had meet in Austria's Zell Am See when I lived there back in 2002/3 had been in touch and asked Tim who runs the bar in the Hilton Hotel here in Whistler. I went over to say hi and Tim and the ladies feed me a amazing Salmon burger and lots of beers. The Aussie rules Gr and Final was on the big screen and lots of cool people flowing in and out of the place. Happy days. Cant thank Andy and tim and the ladies for everything and it shows you again how awesome friends and people you met in your life can be even when they are other country's away. Legends the whole lot of you. I love my life and my friends are everything that make it amazing.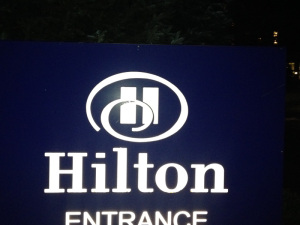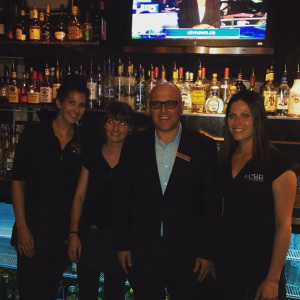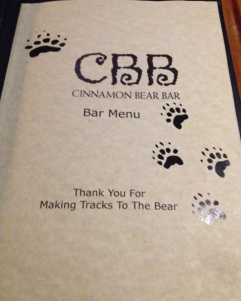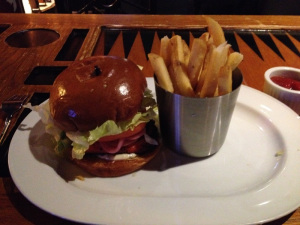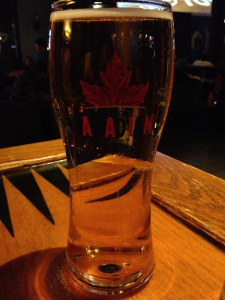 I had a easy days worth of riding and only did around 49miles but it had a few climbs to keep me honest. But now the Rockies are behind me and Its almost The ocean time.
thanks so much for a amazing day. The days only get better. I fell to sleep with a huge smile on.