A foggy start and weather report said rain so I headed off not really sure who the day would go. It wasn't bad and I liked the clouds rolling in and out around the mountains which were awesome when I could see them.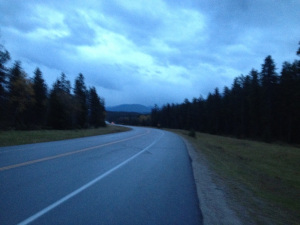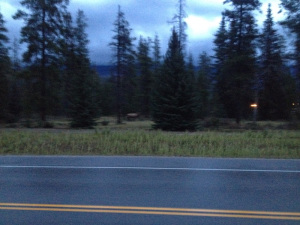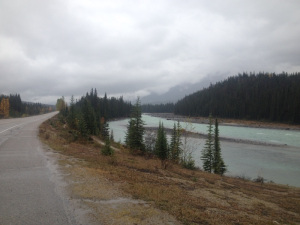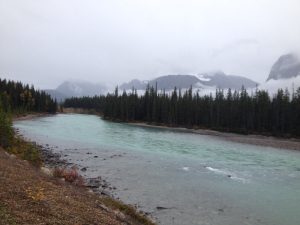 The rivers also are changing colours as I climb, Not much out here and of course lots of tourist even in the rain.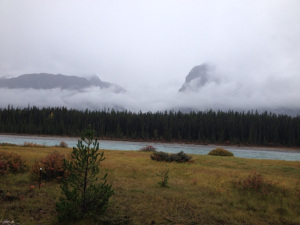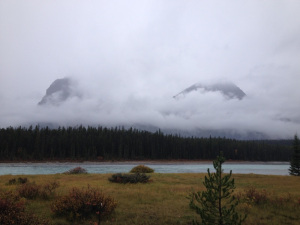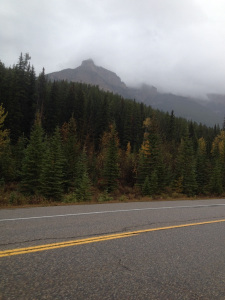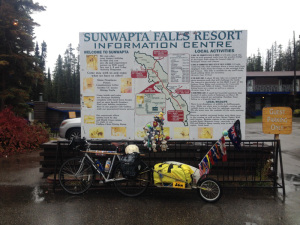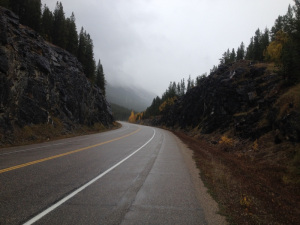 After a great warm up coffee at Sunwapta Falls resort which I wish i had known as I might have ridden up here yesterday if I had did. My fault for not checking . I only saw 3 Elk early in the morning but then nothing else all day. I was happy not to see a bear but kinda wanted to too.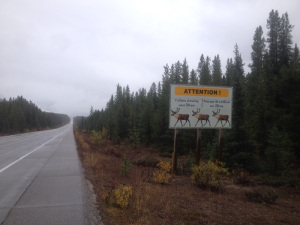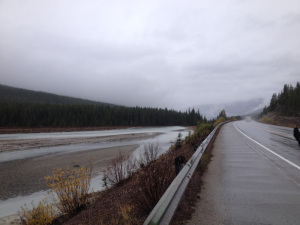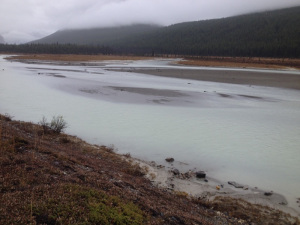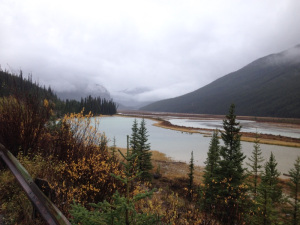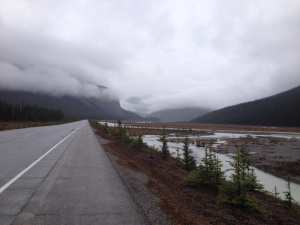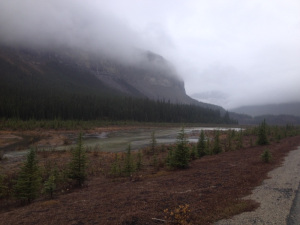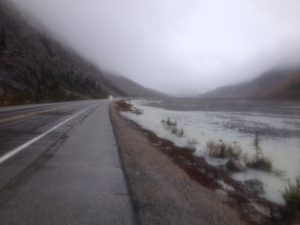 The road wasn't to bad and not steep for most of it. Until The last part where It just went straight up and for maybe 4kms which had me working real hard. As i rounded the top I found some people lining up for the Glacier Skywalk which I didnt know was there, it was a waste of time as you couldn't see anything. I Said hi to the group and they were Japanese, Great to talk Japanese again I miss japan.
This is what i saw and then you can see what it would be like, Maybe tomorrow the sun will come out.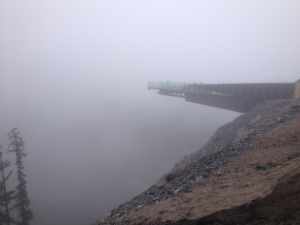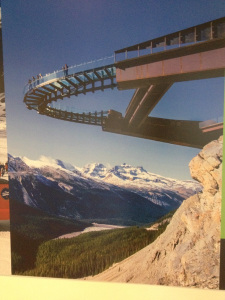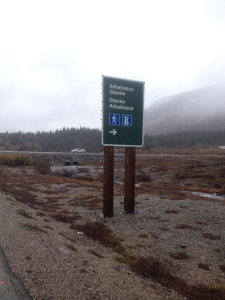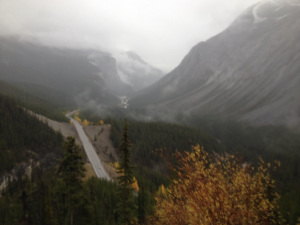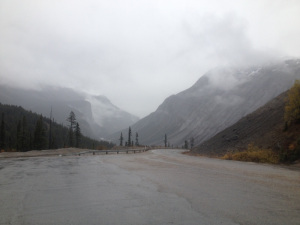 I got to the pass and right there was the Glacier , I was happy to see this much and after a quick break I was off to see where i could find for a home. It had been raining all day and I was soaked to the bone.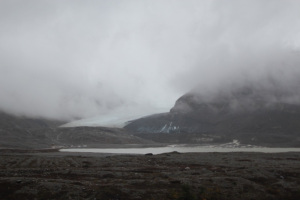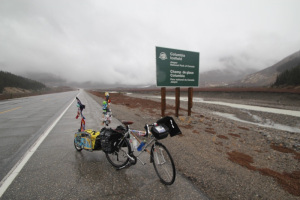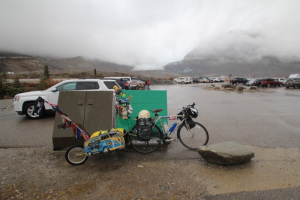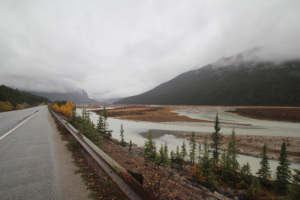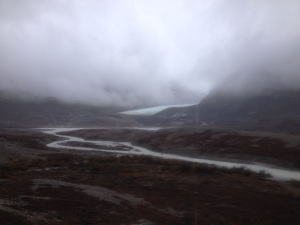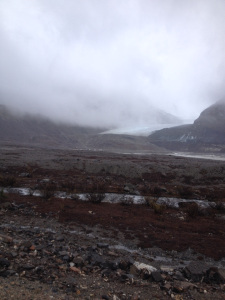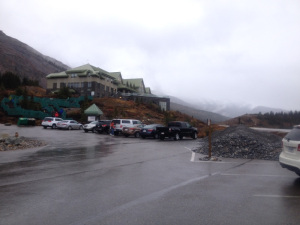 I hit the Banff NP straight after the top and cruised down the other side which felt great after a day of climbing. I found a hostel but it was full , I did stop and chat to some girls who were riding the other way, Great to meet them, then I found the camp site nearby which was empty. As I came in I saw a covered area and to my delight a couple and their kids had the fire going, I rode up and said can i share, They said yes and I said I LOVE YOU, haha I was so happy to see the fire. I had everything hang up and drying in minutes and Tay-linn Long and her family looked after me so much. Thank you so so much for the fire and coffees and letting Stormtrooper the dog protect me from the bears . xx
I did alright today with miles and got 83 in, more than I thought I would.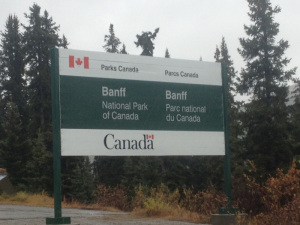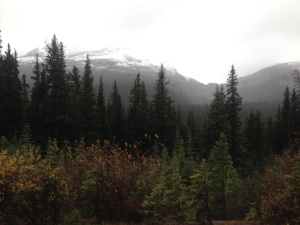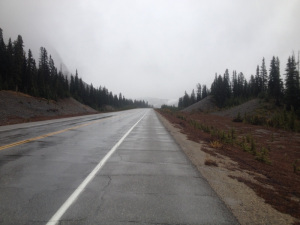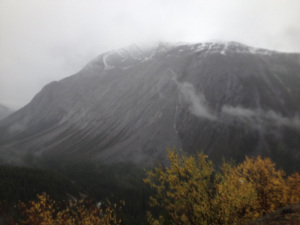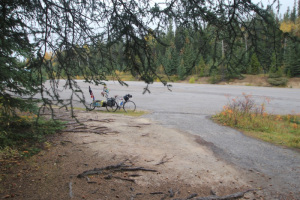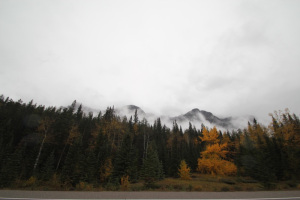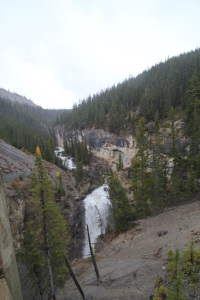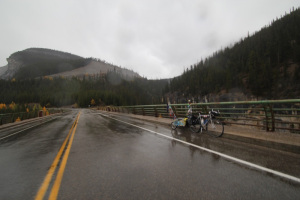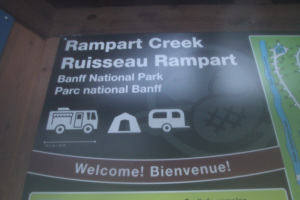 I hope the sun comes out tomorrow so I can see the magic that is behind the clouds.