Day 79, Sept 18th School visit.
Talking of old times with Fiona has been amazing, So great to meet her beautiful boys and check out the Fort Area. Fiona had organised for me to attend a schools Terry Fox day and I rode off to get there for my 2pm talk.It was Jacobs School ( Fiona's youngest boy) and it will be great to see him out there.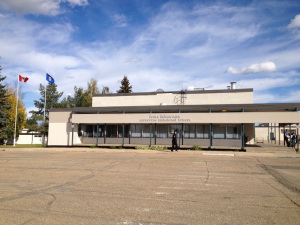 It was 20kms to get to the Ardrossan Elementary school and 5kms short of the school I get a flat tire, no time to fix it I rode on hoping it would not slow me to much, I arrived and met Helene, the teacher who had made this all possible. The kids were setting up and I was to talk to 5-10 minutes and then lead the kids out to run around the field for 20 minutes. A huge honour to do this on such a legends memorial day. Terry Fox had cancer and had lost a leg but still went out and tried to run across Canada. Amazing story which I hope you all google and get inspired.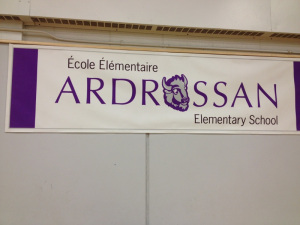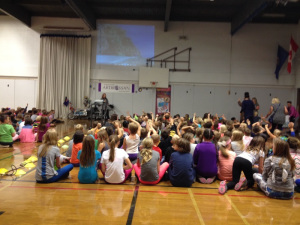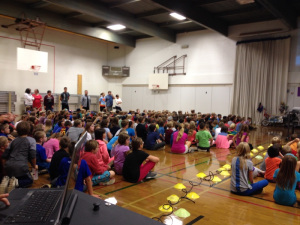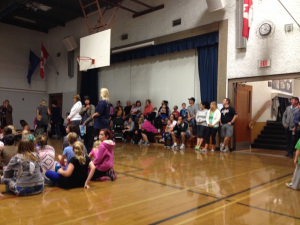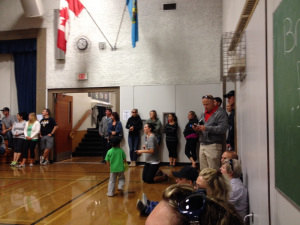 500 Kids walked in to the gym and sat down, all smiling and excited to celebrate Terry's run. We watched a short movie and then I got up and told my story, kids were awesome and I got heaps of power to do my first run while out on this bike ride. The legs actually felt great and I got to run with hundreds of kids. I was in my element doing this. I do all this crazy adventures for these times. I love it.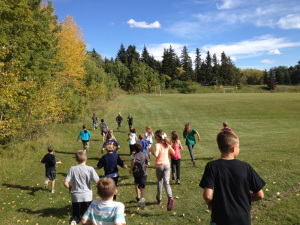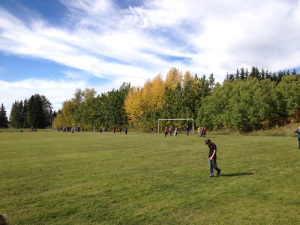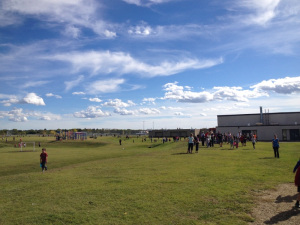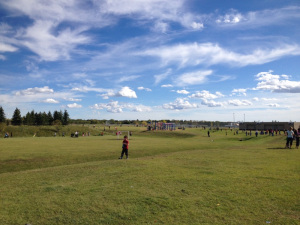 My bike was a huge puller and I had trouble leaving and felt sorry as the kids almost missed their buses because of it. A huge thank you to Helene and the Principal for invited me today and also to Fiona who has done so much getting the word out to the schools and media around the area.
We finished up and drove around and meet more of her friends, We met Clint from Mega Diesel and he straight away got on the phone and called up NOW radio and without telling me they were recording we did a interview. I got off the phone thinking I think that was recorded and within 10 minutes of us leaving Clint rang saying it was being played. Amazing how things can happen so fast and when least expected.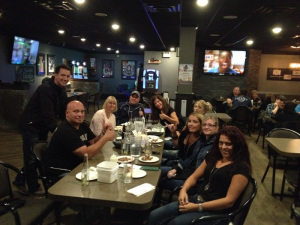 We chilled out and chatted and then after dinner headed out to have a few beers with more new friends. I really enjoyed chatting and listening to everyones stories. Thanks so much for coming out and meeting up.
Day 80 sat, Ice Hockey time.
A awesome day out and me, Fiona, Tristan and Jacob jumped on the bikes and cruised along the river trail to grab a milkshake. Great riding with everyone and getting to know the boys. Then we headed off to Jacobs Ice hockey game. The wee man was a awesome skater and not the biggest guy on the team but played some great defence.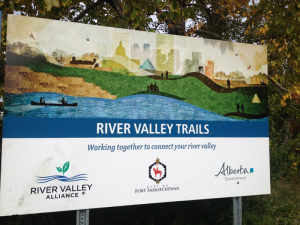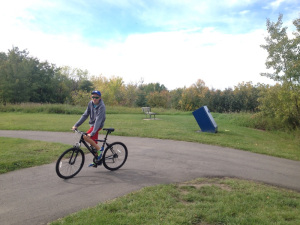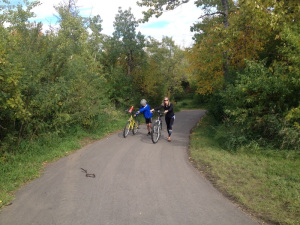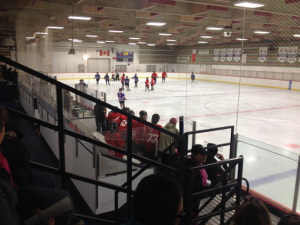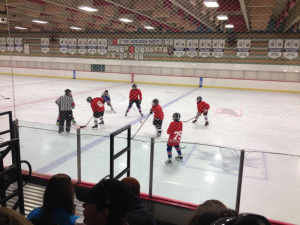 The hugest news of the day- Japan Beat South Africa in the Rigby world cup. They played like bloody champions and I know the Saffa's will be sad for years to come , It is so amazing the fight and never give up that Japan showed, They have come so far and it was truly a great game. Congratulations/Omedetou Japan Rugby and it only fuels how awesome the next world cup in Japan 2019 will be.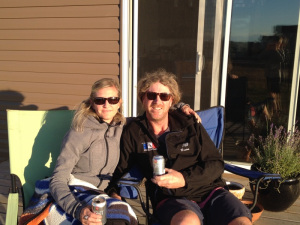 Then we just came home and sat on the Deck having a beer and had some dinner before movie night. I just love chilling like this and man its making it kinda hard to think Ill be biking again soon and in the Rockies pushing myself again. But Im recharging so much and excited at the same time.
Day 81, Sept 20th.
Today is just a slow day and getting the last things I need to get me through the mountains. Getting rid of gear I don't need to make my bike lighter as its all about the hills for the next 2 weeks and every kilo matters. Getting my bear spray ready somewhere I can get to it straight away if one comes to say hi, I hope not. Then checking maps and routes so I know where Im going and what roads to take.
Ill be sad to leave Fiona and her kids but will be back soon now I know where she is now, keeping in contact with friends is so important to me and I hope everyone makes time to do it. make that call and catch up , your not that busy that you can't. Make the time!!
I have 1500kms to make it to Vancouver from here and I hope I can do it in 2 weeks. Noting but amazing views to come which I have dreamed of seeing for so long. This is the route Ill take from here. Fun times and hard times. I counted up yesterday and found Ive done 9000kms now , so crazy aye but loving almost every km, haha yeah not the ones I have a head wind.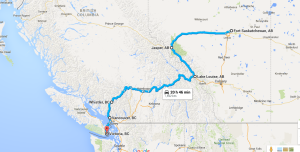 3 days off and fully recharged , watch for the next updates as they should be full of beautiful ness.
Thanks for your support.