As headed up the road I saw a car pull over which was going the other way and it did a uturn and then pulled up in front of me, This was 7am , still a bit dark as it was cloudy.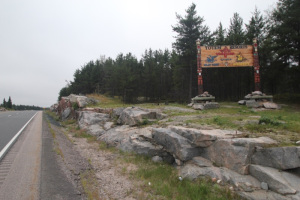 Out jumped a friendly smile and a big hello, I thought hang on that sounds very Kiwi and I was right, Bruce who is from Dunedin in New Zeal and had seen my NZ flag and stopped. I was so happy to hear his voice and met another kiwi out here.


He is here working for a company that maintains the highways of the world, he was in Chile for 2 yrs before here. Sounds like a sweet job .
We chatted for a while and it was just great, Dunedin where Bruce is from is about 3 hrs from my home town, the closest city really from Home. I played rugby there when I was younger. Funny how you can meet someone from so close to home so far from home. Haha thanks so much for pulling over bro. You made my whole day awesome right from the start.


The road then took me into Kenora which I had heard a lot about as it was the end of the hills I was told and more important coffee time, It was 50kms in so I was needing a rest.
The next 40 kms bought me to the boarder I was thinking wasn't going to come, Manitoba !!!! yes I have made it through Ontario at last and loved every minute of it. The hills and all. I stopped and got a couple of photos and then into the info place. I wanted to check a few distances and they helped me heaps. I might be changing my route a little to include more places so wanted to make sure I had time and it wasn't going to be much longer. Haha As if Im not going far enough now but now Im adding on. What a dickhead I am sometimes but I have too.


Then I just wanted to get as far west towards Winniepeg as I could so that tomorrows ride in wouldn't be to long, I want to get to Sammy's house quick so we hang have a beer and catch up. Im so excited to see him again, think I said but we met and worked together in Japan almost 18 yrs ago and have I haven't seen him for 2-3 yrs and before this ride started didn't even know he was here in Canada. Bonus aye.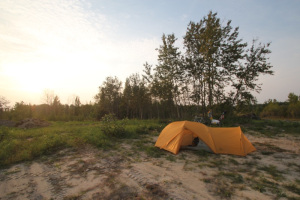 Im riding highway 1 now and the closer Im getting the worst the road is, There is basically no shoulder at all and I forgot that it was Sunday and the traffic was crazy, I was getting buzzed really close by cars and trucks. Im used to it but they were going fast and getting bloody close. So I found a gas station and pulled off for the night. I got 93 miles /150kms in today so it was a good time to stop.
Up early tomorrow to hopefully miss the traffic and get there sooner.
Hope you had a sweet weekend everyone. Nite