Up to a pretty mean fog and mist that had my tent soaked. Still just packed it up as always and with lights on, vest on I just hoped the trucks could see me.
I like it riding in the fog as I cant see what I have to go up or down and its got a kind of scarlyness to it.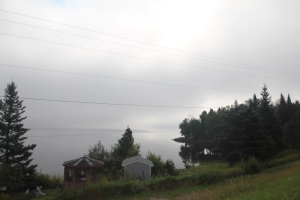 As I was coming close to Drydin the next town I meet a man whos ridden a LONG way. Through 22 countries so far in 18 months on the road. From France – Mr Amir Tamouza, You can follow his amazing journey at www.cycletheline.com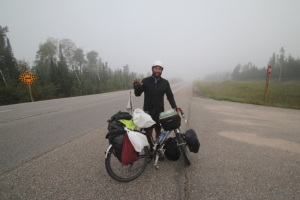 I tell you I clicked straight in and checked his trip out. The stories he told me in the 15 mins we chatted of Mongolia and other places just refuled my travel bug and I might have to say sorry to mum and dad again and tell them it could be another couple of yrs until I get home, haha
Really enjoyed listening and learning from Amir , thanks for stopping bro. Safe trip and look forward to meeting again. The sun came out and I headed for a small café just out of town that Amir had told me of, Wifi and good coffee and a bakery so I was there. I so wanted to update everything and let you know whats been going on.
As I sat there and it was about 2 hrs I was there I met person after person and families came in asking about the trip, I was so stoked and chatted with each person and shared stories. Thanks so much everyone. You made my good day Awesome.
I met Dave Roberts and his family


Then these two families , sorry I didn't get your names, The young man loves to run and it was fun hearing about it.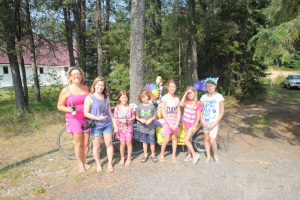 Then I met Mike and his family who use to live in Christchurch in New Zeal and and knew my home town of Wanaka well. So awesome. Their daughter was off to University and had said if it didn't work out she wanted to go back to NZ, Yahoo.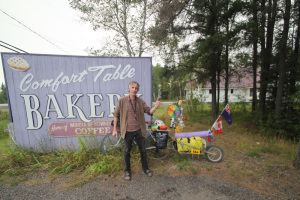 The crew at the Café where super friendly and I thankyou so much for letting me hang out and chatting to me for so long.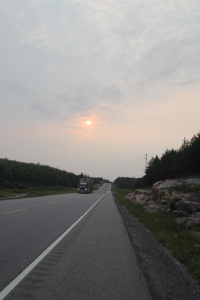 Then As it was getting late I decided to ride until near dark as I wasn't going to make any towns tonight. I had a spot in mind and just before it I found a Picnic /WC spot so pulled, No camping it says but hey its to dangerous to be out on the road so I stopped and set up camp.
Got to meet Chris who was driving across the country , super great to chat to you bro, safe trip and look forward to learning about what you get up too.


As you can see another treible spot to camp, haha There are I reckon a million lakes in Ontario and around here there is one on every corner I kid you not. Amazing. I was wondering why every 10th car had a kayak on it. I now know. I would too.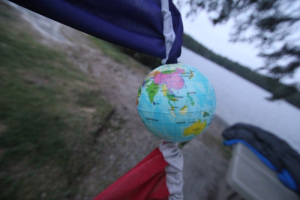 I got 86 miles/140kms done again so Im happy. Fun day tomorrow as I finish up Ontario and hit a new state/providence.
See you then