I was excited for today , one for having a day off the bike which I haven't had for maybe 2 weeks but also because I was off to see friends. I had been in contact with Dominic Guther who I met in Japan at the Mogul ski Freestyle world cup maybe 8 yrs ago.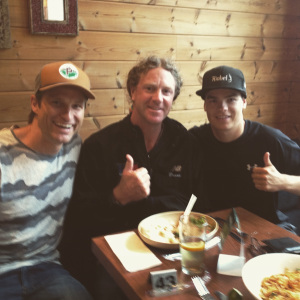 He was in the Canadian team before that as a athlete and was now coaching, Then he also coached the Japan team and as I was where they trained a lot I got to see him a lot. He is a awesome guy and I was stoked to get in contact and be meeting up. We where sitting in a Thai restaurant and all of a sudden he says I have a guest here for you and I look around and bang right there is Mikael Kingsbury, Freestyle ski World Champion , Olympic medalist and a awesome man, In japan I have had the pleasure of building the course and jumps that they skied on so get to meet all the athlete in the training, It's a great job for that. Mikael had taken time out to come say hi which I was stoked about, Thanks so much bro.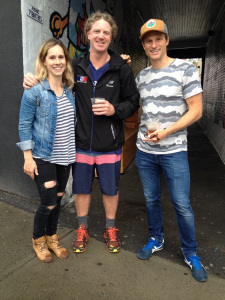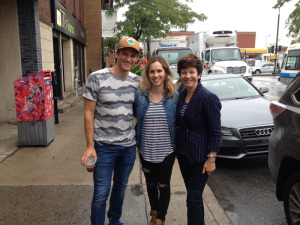 Getting to learn what Dom and his wife Jennifer Hail have been up to was great and I have to say a huge congrats to your second baby who just arrived. Jen was also in the Canadian Ski team and well his lady can ski , One of the best in the world when she was out there. SO cool to see her too and meet her mum too. They have 2 amazing things they are doing , first is B2Ten which is helping get what ever is it that a athlete needs so that they can train and perform at a high level. Helping Canadian athletes in many different sports. Check it out at http://b2ten.com and ,
The second is a kids program called Active for life. Teaching kids about sports in ways like teaching how to throw, how to keep balance, how to kick or catch a ball so that they have the bacics even before they start playing or doing a sport. Such a cool thing and really needed with the young ones. Check this out at. http://activeforlife.com
So you can see it was a really great to catch up again and hear everything they are doing. Huge congrats and I hope to see you both again soon.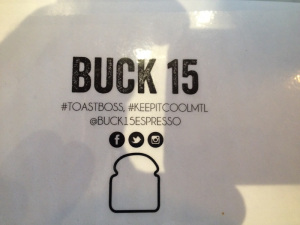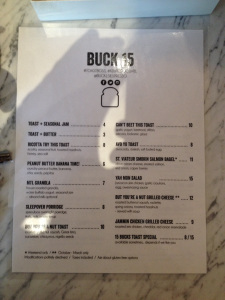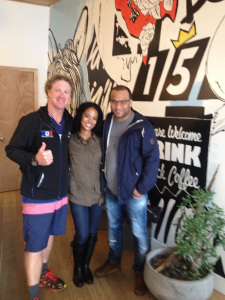 Me and Dom went to check out a coffee place called Buck 15 which is pretty damn famous around Montreal but as we got to the door we met the owners wife closing the door to then tell us it is closed today. Dom into action quickly drops in what Im doing and she invites us in and then we meet the owner too, A awesome couple . They hooked us up 2 free cold long dip coffees, almond flavor in there too and super yum. It takes I think 24 hours to make it. A specialty and well deserved one too. Thankyou so so much for saying hi and the coffees too, Ill be back to enjoy more one day.
Then I had a great skype meeting with Gina, She is in NY and through my good friend Jaz me and Gina had connected. I was blown away by what Gina was explaining she does and how much it fitted to what Im trying to do and Im excited as to be working with her and her team now. More to come laters on that.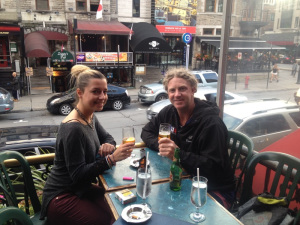 Then I got to meet up with Tania, who is from here but I met in Perth Australia when she was over working, she was living with my sister Renata and her man Danger Russ. Tania and Lena were there and I had said I would come see them one day, didn't think I would have ridden a bike to see them but funny how it happens sometimes aye. We went for a beer and a chat which was great, I got to see a bit of down town and the bar area, Lots of pretty ladys to check out hehe.Thanks so much for making time Tania, loved seeing you here at your home, Saldy Lena was in mexico on holidays but we sent her a photo and made her jealous.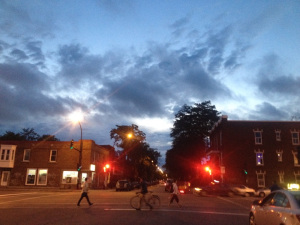 Then I headed home to clean up my gear, do the washing and get ready to ride again tomorrow. Daniel was home and made me more amazing food, Hes such a great cook, Love chatting to him and hearing his stories of living around the world.I gotta find something I can do anywhere and then I can live like I do but more so as Ill be working like he does. Great to meet someone so like me yet I would say maybe doing more. Daniel thankyou bro.
Big shout out to Flint whos house it is that I have been able to stay these two nights at, He is in Europe tripping around which is the only reason I would say yes to that he isn't here ahaha, A magic man himself whjo I first met on the last day of the US run, He is a great friend of Patrck Sweeneys and well mine too now but that's how I got to meet him. He came to run with us, drove over night to surpise his friend, bloody legend aye. Sad you were here bud but thankyou for sorting everything for me. Enjoy your trip.
So I got so much new power today and a smile on from ear to ear.Thankyou to everyone for making time to see me and so awesome to see what you are all up too.
Its late so I had better sleep , early 6am start tomorrow. Nite