A little slower start today as I had a radio interview at 8.15am with the CBC station, I was super excited as its my first for the trip and I was keen to see what response would come. I was staying only 2 kms from the station so had some breakfast and packed up and headed off, I was there 40 mins early but I wanted to chat if I could and take some photos.
This only happened because if Normi and Rosemary who I had meet when I rode into North Sydney, I wrote about them. I meet Normi at eh laundry mat and she had taken me home so I could shower, feed me and then dropped me back off at the Mat, Well they both were brain storming and wrote some emails and made some calls and the radio interview came out of it, Awesome aye. Thankyou so much ladies for everything.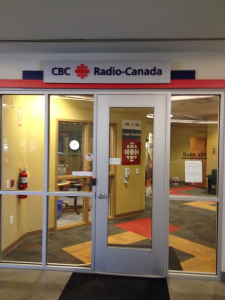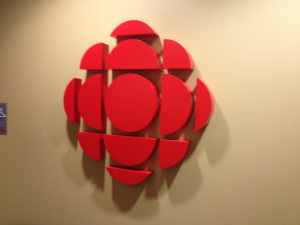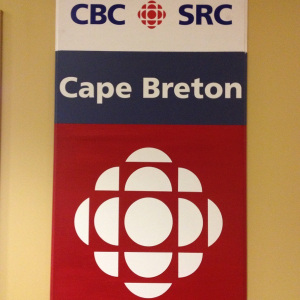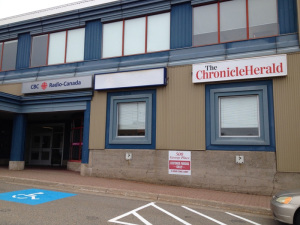 I went in and we chatted for about 5-10 mins which was great, Thanks to Julianne at the station for sorting it out and to Yvonne for doing the interview live . Ill have the copy to share in a couple of days.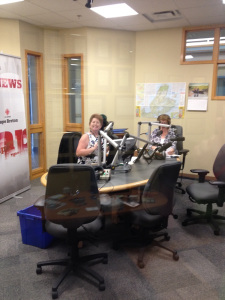 Then I saw that there was a newspaper upstairs so wondered in to say hi and try my luck, As I was telling one guy another guy Glen walked in and heard us chatting to say he had just been listening to me on the radio, haha awesome aye.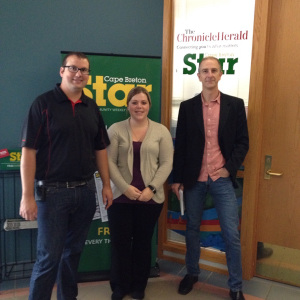 He was keen to do a interview so we went down to my bike and we chatted for half a hour or so, then shot some photos and I was done. It pays to go in and say hi, you just never know what will come out of it, they can only say no but at least they know about you . Ive had times when they have said no but then rang me later.
Glen also had come up with contacts of his that are in places that Ill go and also people doing the same kinda things and is going to introduce me so it was a great morning all round.
I when shot down to the post office as I had to send a bit of stuff home, a few thigns I just wasn't using enough. More cool people in the post office and had a great chat. So much fun.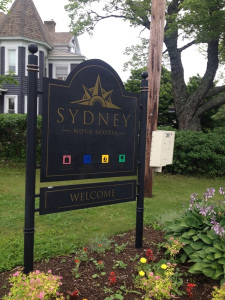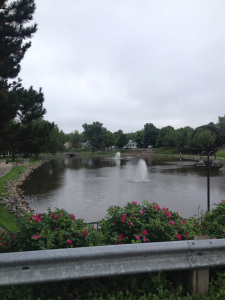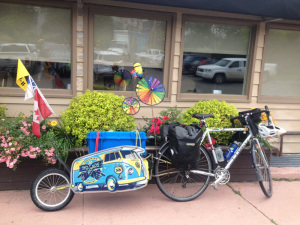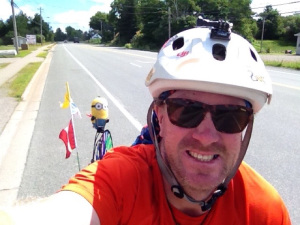 Then I was finally on the road at about 11am, not bad. I had no destination but just to go as far as I could in the day and it was looking like St Peters would be about right. It was 56 miles away. Perfect. I made it there .
I got a flat tire after hitting some glass and sat down to fix it outside a shop, I was just doing my thing and pumping it up when all of a sudden the blew the tube up, the sound was like a gun shot and a guy came out of the shop with w really scared look on his face, I laughed and said sorry .The tube didn't even feel tight so maybe it was just old. The tire had to be changed too as it had been rubbing on something by the looks of this.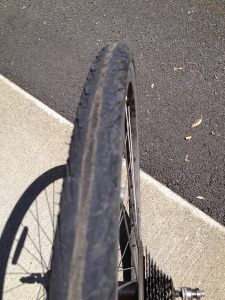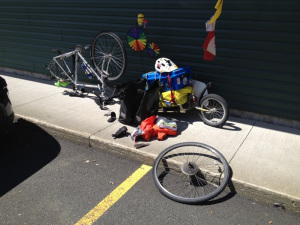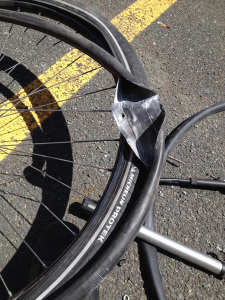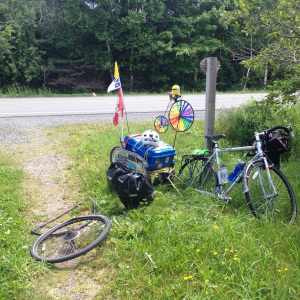 Then about 10kms up the road I got another one, I think I might have missed a hole when I fixed it last time, or a small stone might have gotten in somewhere. Just fixed it up and was off. As I rode down the road I saw a sign saying "Famous Fish and chips " so I thought I had better test them out. I rolled into Chippen Dales and sad hi, small order of chips would be enough. then after explaining what I was doing the husb and said to his wife " did you charge him" she said yes but then gave me my money back and they did me up a big feed of chips, fish and chicken bits. Thankyou so so much, it was a awesome lunch and fish was super yummy. Very worthy of the Sign I thought. Drop in if you are on route 4 in East Bay area Cape Breton Nova Scotia.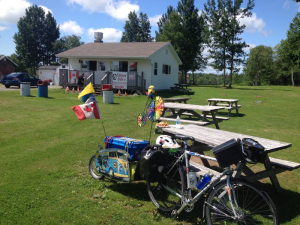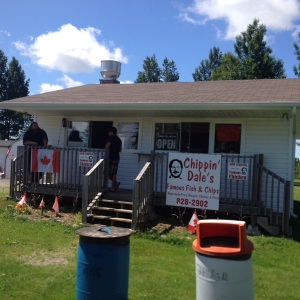 Then I just crusied aong in the sunshine as it was out in force today , rolling hills but no big ones so a good ride, narrow or no shoulder so got blown around a little . My little minon bro Buddy was loving it and smiling the whole way, bloody makes me smile everytime I see him. I did it for the kids but I think Ill get more out of having him to be honest, Ill be talking to him soon I reckon. Idiot.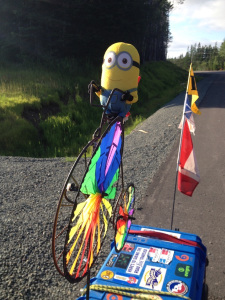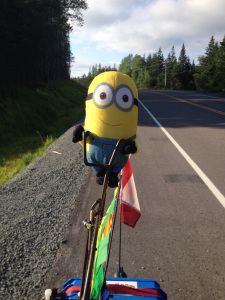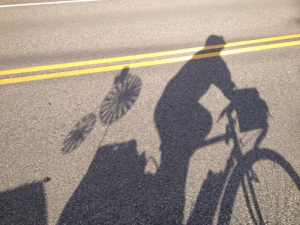 I made it to St Peters around 7.30pm and got a few things at the super market before chilling out in Tim Hortons to use the wifi, I met some locals and they told me a close by spot to camp, about 100m from the ocean oh yeah.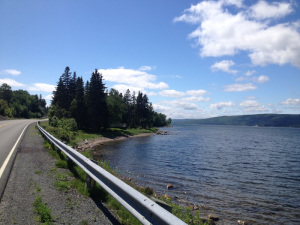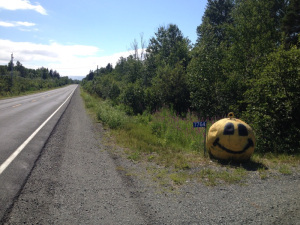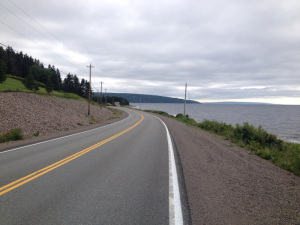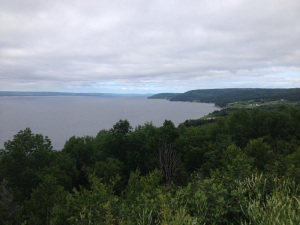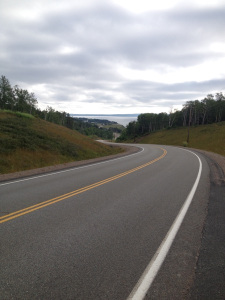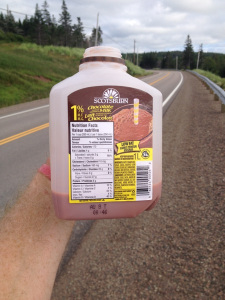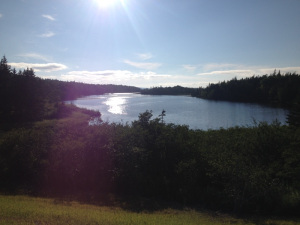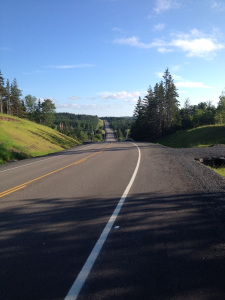 I had a great response from the interview today and got some messages coming in from people who heard. SO awesome . Also got a few tips on things to do on my website and it reminded me I hadn't done much for ages on it so fixed it up tonight, I made some maps and posted them. Giving me a idea of how long to Quebec City and Toronto too. I also checked the distance from here to Vancouver and its 6800kms to go, yahoo, that's 106 kms a day to get me there by start of Oct, Perfecto!!!!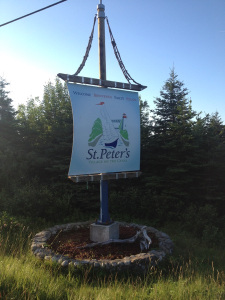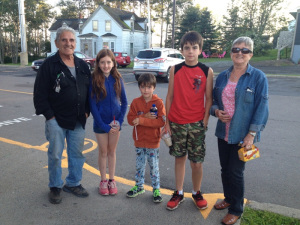 Pitch my house and that was my day done. About 10 days to get to Quebec so hang on we are moving forward . Oh one last thing we made 3000kms today in 29 days, Yahooooooooooo
Nite all.