Sorry Im a bit late on getting these up, was running around and not really anywhere to sit down. This next adventure is under full swing and I'm excited.
June 29th
I had arrived in New York yesterday and was waiting for Tim Garrett to come over from Australia. Tim was the one who had the idea to do a trip only he asked about running it and I had said no lets ride it.
I just chilled out all day until the evening when Tim flew in. I hadn't seen him for ages so it was great to catch up.


Now let me introduce this man to you, Tim is a ultra runner with a twist, The man is a little crazy, tough as nails and does some way out there stuff that 99.999999 % of the world wouldn't think about, or even know there was people doing it.
We met in India at "La Ultra The High 222kms race in India which we were both entered in, We hit it off straight away and have been great mates since. Each going off on our own adventures but always talking about doing one together one day.
Tim has just come back from the Antractica where he walk/skied over the ice and snow for 58 days to reach the South Pole. Yeah you read right . In the summer down there it is still – 15~ -30 plus wind chill so it was around -40/50.
Pulling all his gear on a sled that he needed while walking on skis everyday. Just imagine doing that , he said he couldn't even see his own feet sometimes with the crazy fog /winds they have there, Turely one crazy amazing man.
So it was great to hear his stories from that trip and to tell him of mine.
June 30th
We jumped on a train from NY and headed to New Haven where I had ordered our bikes from. The Devils gear bike shop had sorted everything out for us at last minute and did a awesome job, Huge shout out to Jonny B and the whole team there.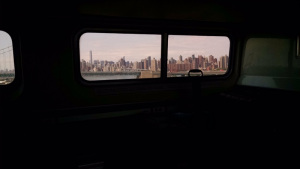 It took a while to get all the stuff we needed sorted but better to get everything now than try and find it on the road later, We both haven't done a big bike ride like this so we are excited to do it and see what happens.
My mate Suman lives there and was kind enough to let us stay at short notice, the man is awesome, we went out for diner and caught up as I hadn't seen him for a few weeks.
So a successful day and good to have it all ready.