Got up early to get out of my camp spot before anyone turned up as it looked like they were cleaning up the area. The sun was coming up and it made for some nice sunrise shots. Great way to start the day.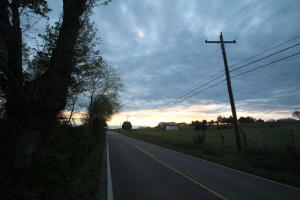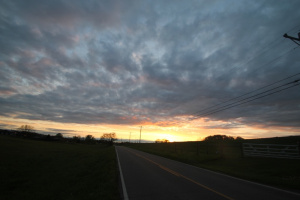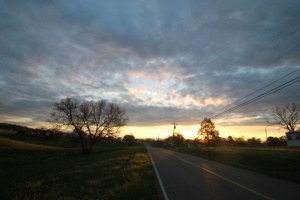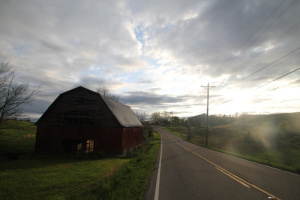 About 8 miles up the road was St Clair Elementary school and I stopped in to try my luck at talking to the kids, Matt Davenport the PE teacher was awesome and was keen to let me chat but the kids were in tests and no PE today, Shame but I was happy to have a look in. So I headed off after telling him and mine and Pat's run and 100 Mile Club which he was very interested in.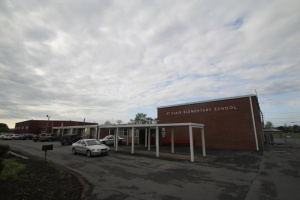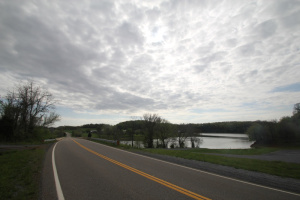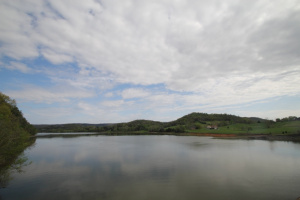 Some nice views front he road side and into the town of Rogersville where my next have a go chance was. A super old town which started back in 1775 I think it was, lots of history around here.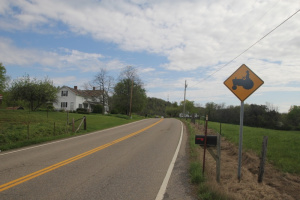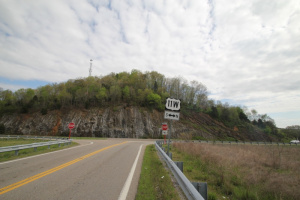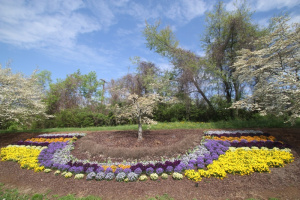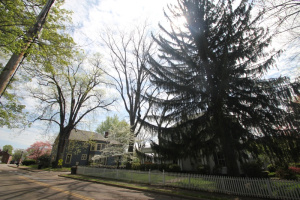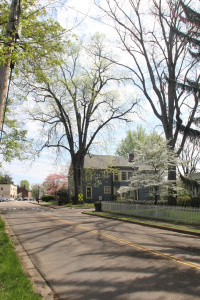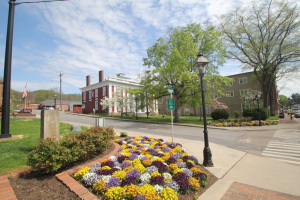 I came across the Local Newspaper called "The Rogersville Review" and the reporter Joel Spears was more than awesome and did a story which first went up on their Facebook page and then into their paper due out tomorrow I think. He even rang me up later tonight and offered me a bed and shower at his house but I was trying to get further up the road . I then ran into his parents who were super nice. Big thank you to Joel for his amazing support, One lady pulled over and donated $20 after reading it on the Revies facebook page. Awesome to be able to the locals know who the idiot is who is running down their roadside.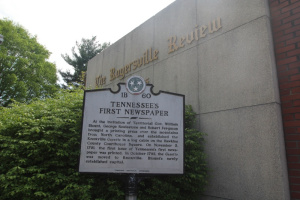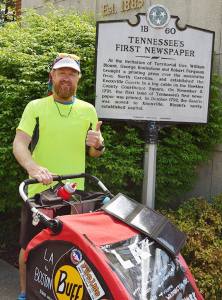 Then I went in for my second try of a school for the day which was Hawkins Elementary and I was ok'd. SO SO happy , I chatted with the kids from 3 classes for about 20 minutes in the gym with the principal and other teachers there too and then I took the kids out for a run, My favourite part after all the questions of course. So much energy to burn and They were super cool kids. Thanks so much for letting me into see your kids. You renewed my power and Im going to try at a lot more schools.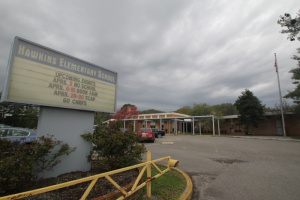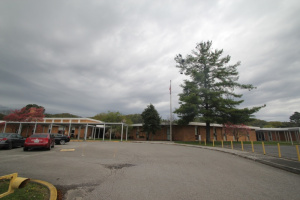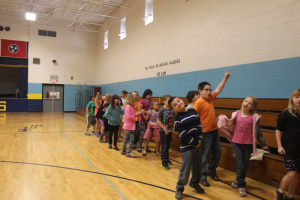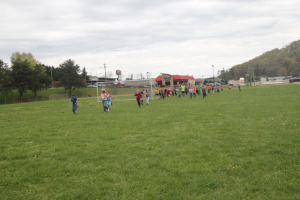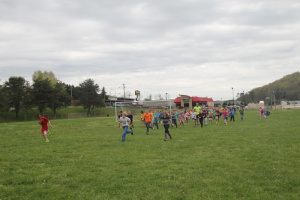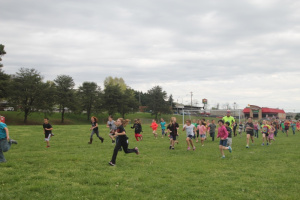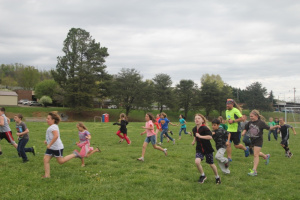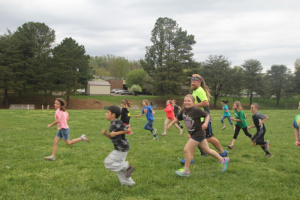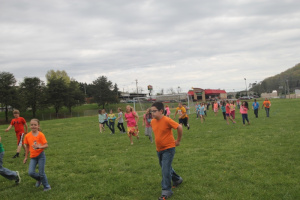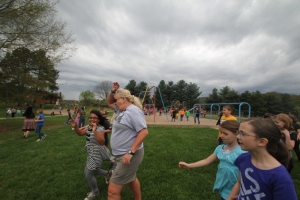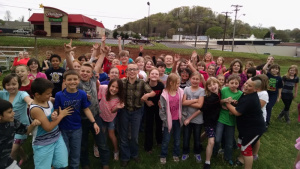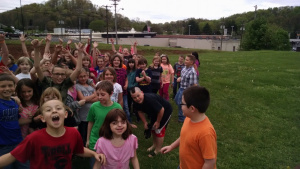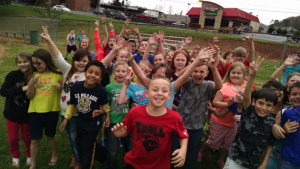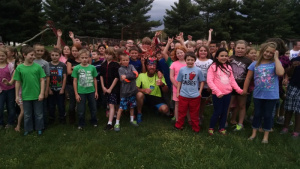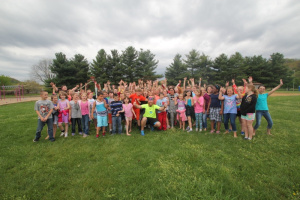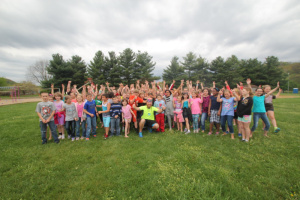 I got one of the classes of kids to sign our book as the others had to return to class,Thanks for the smiles everyone.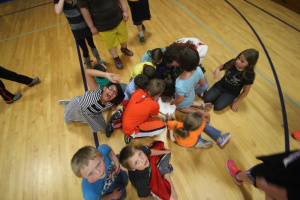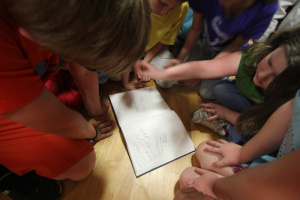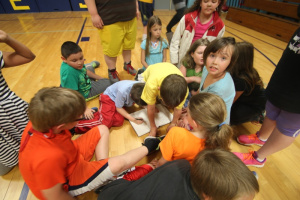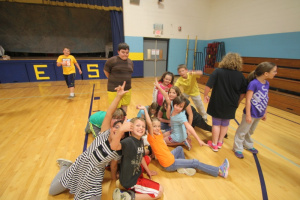 I think this area is a corn area as I found lots of kennels not he ground today so decided to make a little note. The Run with us America team and then why we are doing it. yes I know I should be running but I gotta rest to aye.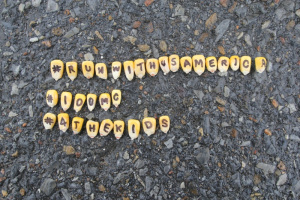 As I had taken a lot of time at the schools It was getting late by the time I made my Miles, Then I was in a little town called Church Hill and I couldn't find a spot. The sun going down fast and then the worst thing a flat tire haha I was under pressure to find something. But always time for a sunset photo of course. I ended up with bang on 40 miles for the day so a great day on the road and in the schools.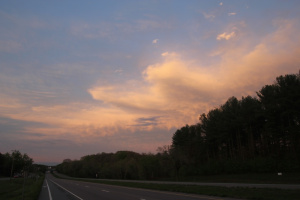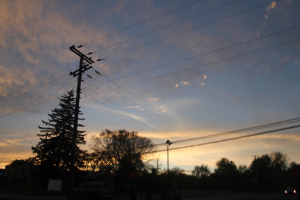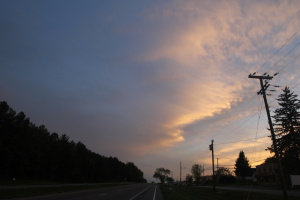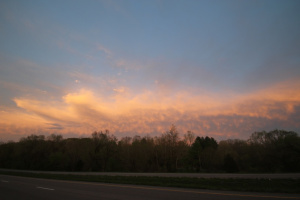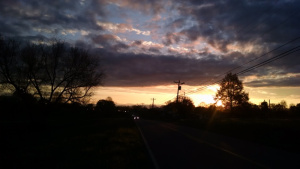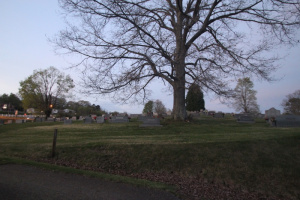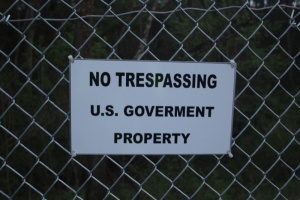 I spotted a park looking thing on the map and went for it only to find it was a cemetery and it was right beside a US Government Property but being dark now I decided I would take a chance and pitched my tent on the safe side of the fence but I hope there is no boarder patrol or I might be locked up in the morning, haha. Ill be out of here early again just in case and tomorrow is a special day I finally get to Virginia, Yep the state of the White House yahoo Im so happy to be getting there. I will cross over at Bristol VN late in the day. I also crossed over the 2500 Miles yesterday too. Getting up there . Nite all. Thankyou to everyone who made today very special for me.