After a night listening to what I hope was a deer calling for some action I headed off on the last stretch to Nashville. I was excited to get here as it is another one of the big cities along the route. There was a thick fog first up and it lifted as I went up the road at 7am. It was heaps more magical but I couldn't capture it sorry.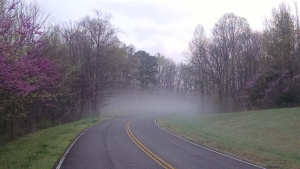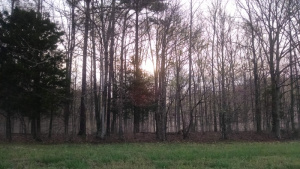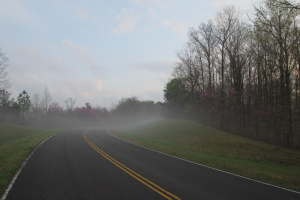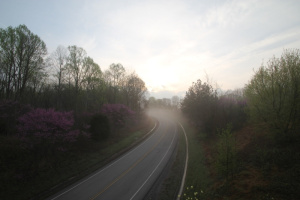 The first 9 miles was on the Trace and then I made it back to route 100. I had really enjoyed the nothingness and green and got these last few shots before I hit the craziness of city life again.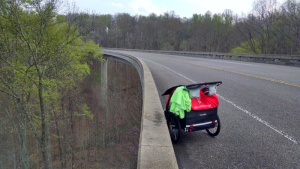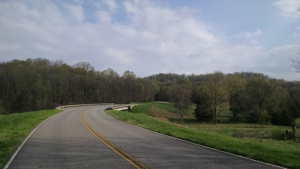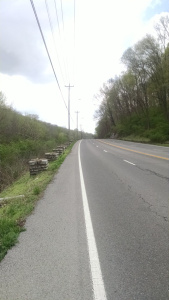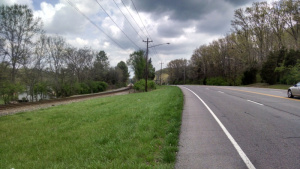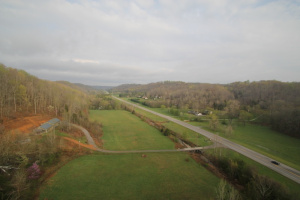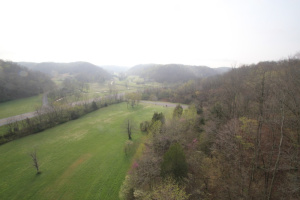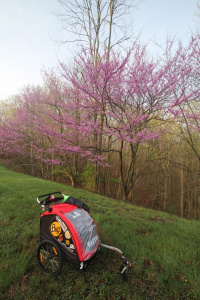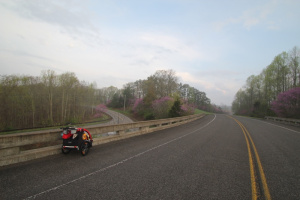 Right at where I joined the 100 was the "Loveless Cafe", I had read a little about it but didnt know just how awesome and famous it was. Kathy from Linden had sent me a message just before I arrived there that she has sent them a email saying I was coming and to look after me. I was a little shy to say that she had written as I didnt know who knew who etc so just got myself a coffee and was sitting outside drinking it when Michael one of the marketing team came up and asked if I was Jup. He explained about the email and said he would love to offer me a free breakfast, Now I first thought no but then just couldn't say no to a yummy breakie could I. So went in for a AWESOME raisin toast/ strawberries and fresh orange juice. Oh it was super nice and the Biscuits/Scones were really good. The staff were all suer friendly and I really recommend this place. As I was leaving Laura came to say hi and we snapped a couple of photos. Thankyou so so much to everyone there and Kathy for setting it all up.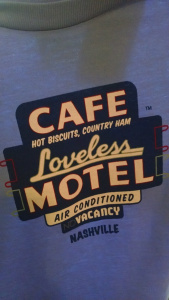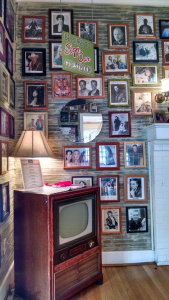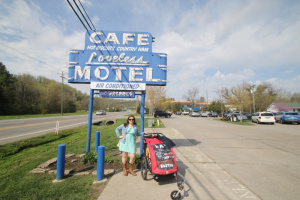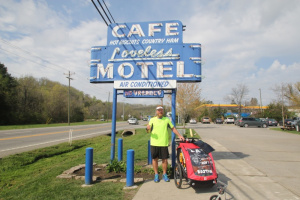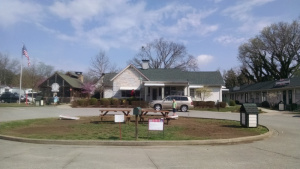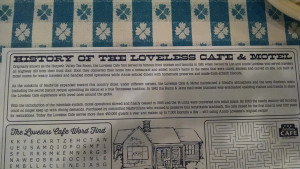 Then the road got narrow and the traffic more and more. Now after 3 days of nothing I really noticed it but enjoyed waving and seeing the buildings again. Nashville is a rich city I reckon with some huge houses and buildings that would fit in the camera lens haha but they were big. Lots of Universities too.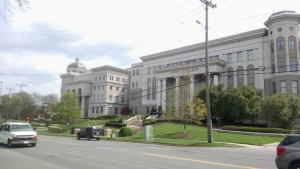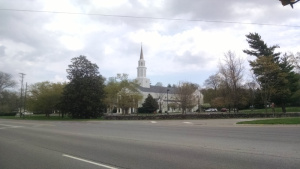 I mee the 3 men here about lunch time and they were super interested in what me and Pat are up too, They gave a sweet donation to the 100 MC too, Thanks so much fellas.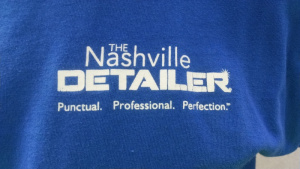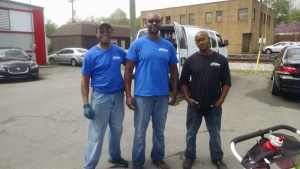 I just noticed I didnt get many photos in the afternoon and Im sorry. I had a slow long day with getting through the city and with narrow roads it was a challenge with the buggy. I found myself getting upset and hating the buggy a bit but then laughing at myself thinking thats just the way it is and I just need to chill out and keep going forward as I can. Funny how the little things get to me sometimes but are really so small I forget them fast. I did 34 miles today and was going to stay in the city but it was really expensive so went for near the airport side for the cheaper ones.
Tonight I got to hang out with a fellow kiwi Ben Peters who is from Wellington and a good mate of Nigel Kreft who is sponsoring me from JDK in Dallas. We went out for a beer and a feed and had a awesome chat, So good to see another kiwi out here doing so well, big shout out to his whole family but a bigger one to his little girl who just turned 4, keep being super strong and smiling heaps wee one. Thinking of you xxx
Got the washing done and checked the maps for the next section to get me to Knoxville. Not as far as I thought it was which is good and Im going to get straight into it, I first thought I would have a day off here in Nashville but I feel good and would rather have money at the end to party hard than to be a tourist now. Sorry all the posts were only put up today but just didnt have internet good enough to post them. It might happen a bit but I will post as soon as I can.
Sweet dreams everyone. Thanks so much for sharing and following always. It is awesome and helps me a lot knowing you are here with me on the road , we just hit 2266 miles in 83 days, Getting up there now.