Woke to look outside and see clouds that we haven't seen on this trip yet, Dark clouds that are cold and wet. We instantly put on more clothes and packed extra for later. We had heaps of support today which was awesome, Kelley, Sachi, Per, Samantha and Tony were all here to run with us and be apart of today.
Today was also Kelley's Birthday, Happy birthday to YOU!!!!!!. Sorry we didn't put on a good day for you to run in. It was a bit cold for Sachi to put her shoes on so me, Pat, Sam and Kelley braved the super cool conditions and run off into the lightly falling snow.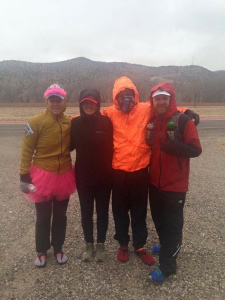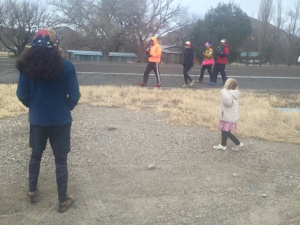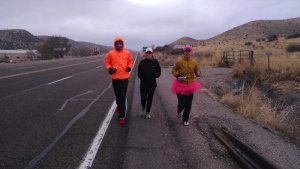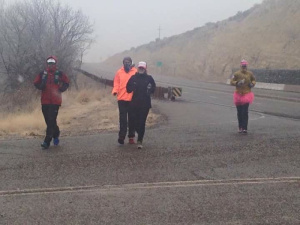 We started just outside of Hon do which was 49 miles from Roswell, our longest drive to a start yet. Check out the cool blue sign we found , the third photo below.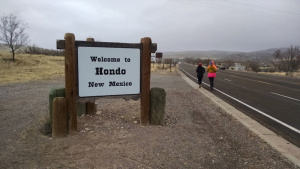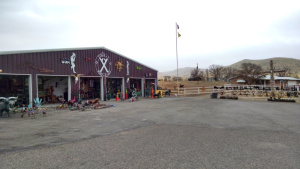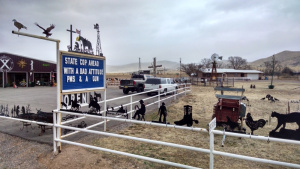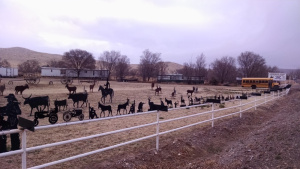 Not super snow but falling but the wind was strong and cold as. We chatted about everything but the weather to keep the smiles going. Our crew Sam, Shacky and Vanessa was sooooo awesome today, not going to far ahead and having Hot drinks ready for us as we arrived in, Made a huge difference.Thankyou.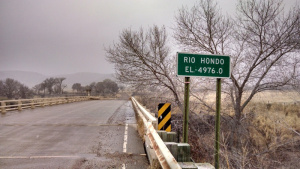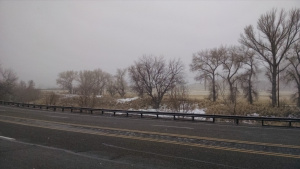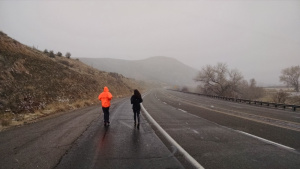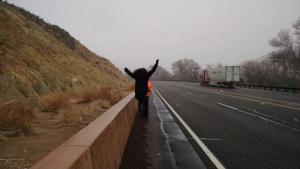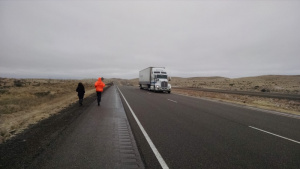 Tony ran with us after Sam did the first 10 miles with us. He did the rest of the day with us, They found a soccer ball and had a quick game on the side of the road. Nothing was being us down today.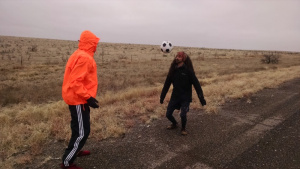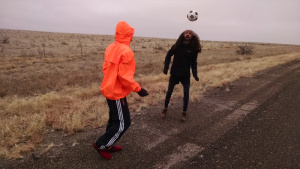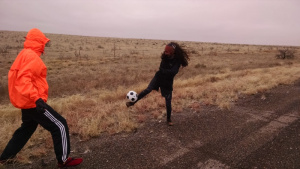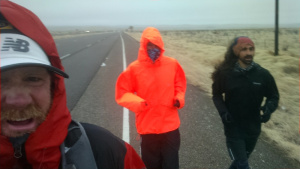 We got 34 miles done today and it was another fun day, We went a bit faster today too so we didn't get to cold and did 7 hrs 23 mins.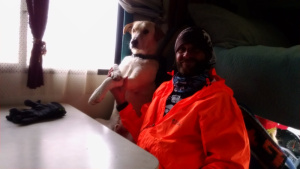 We got a ride back with Samantha in her RV and the dogs, They are so cute sitting here beside Pat like a person. Sounds like another freezing day coming at us tomorrow so drying the gear off and thinking of what to wear and when for tomorrow's run. Early night.
Thanks so much for your support everyone. Love ya's