Sorry everyone for not posting yesterday but we were out of good range to upload. We are running each day and then just camping on the side of the road. Real easy to relax straight away which is awesome and adds to the adventure. Camp fires, millions of stars and good friends, just magic!.
Day 21- first real hill day.
I was out on the road after we dropped Pat off. He had 9 more miles than me to do today to catch up and from later today our adventure would be starting with us running together. Just been apart as of the day I had off when I left the race. So cool views again today,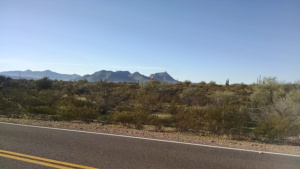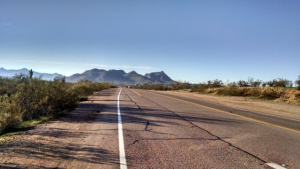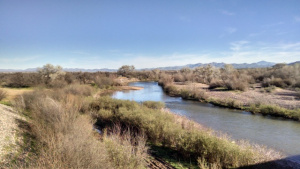 Our guardian Angel Dean was out with us today and man he was amazing. He would park his car up the road and run back to me or Pat and run with us, then fill us up with water and sweets and head off to help the other. Bloody legend I tell you. While he was with me these two guys turned up to put a huge smile on my face, Bryce and Rob had caught me and helped push the buggy for a bit. Love chatting with them.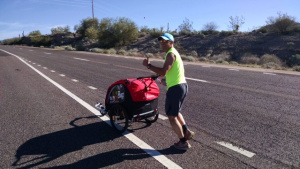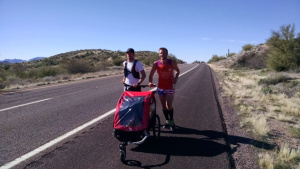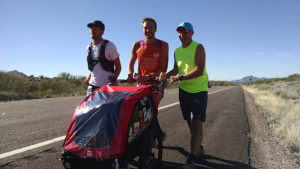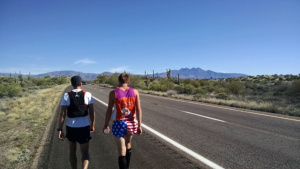 Not sure what Rob was doing with them shorts on, haha.
Then the climbing started, was a few steady climbs and with buggy its a good workout. but I was ready for it and just took my time getting up and down the hills.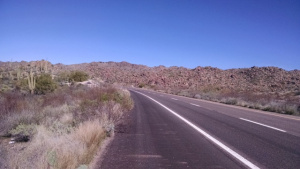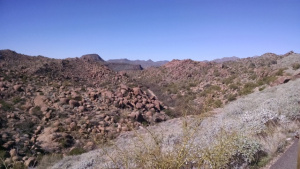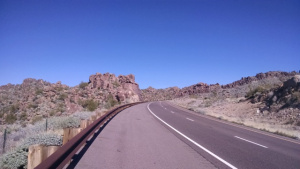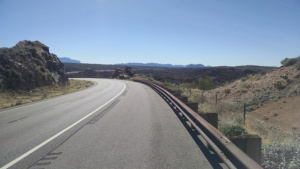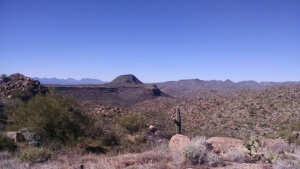 My new favourite drink is Tru Moo chico milk, this it just awesome. Reckon I might hit them up for a sponsorship, at least some few samples. Come to me Tru moo I love you.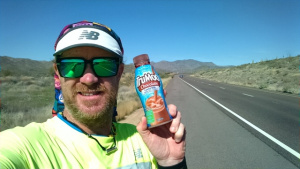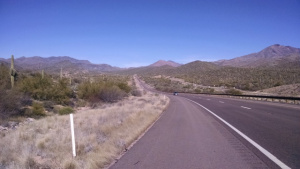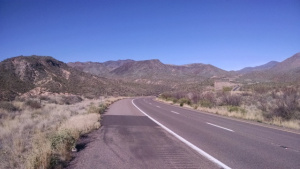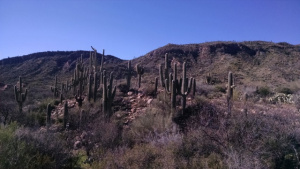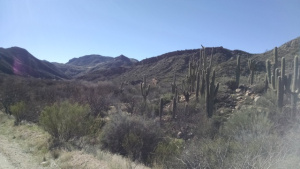 I did my 43kms in 6hrs and Pat did his 55 and we finished at the same place. Right at a river which was where we would camp. It was magic, Had a last beer with Dean and thanked him so much for his support. He is heading back to Canada on Sunday. Was awesome to meet you and Lorri.
Got a little present from InknBurn tees. They have given a top to all the runners in Race Across USA. great support. Mine was the US flag design to help me fit in. Huge Thankyou for this , I love it.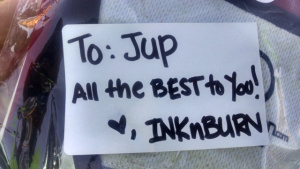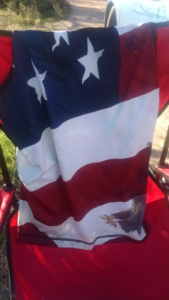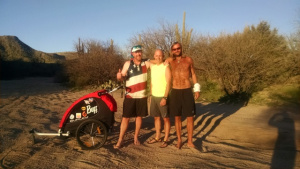 Sun Beer and friends what else to do you need. Oh yes a camp fire and millions of stars to look at. Was a bit hotter today and we were all tired so headed off to bed early.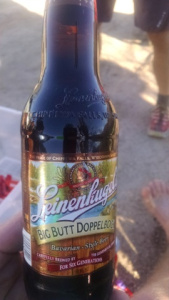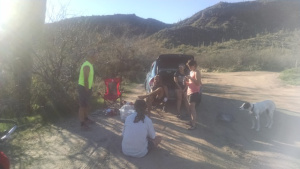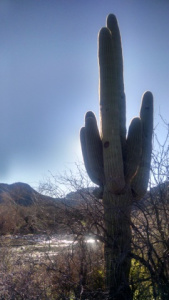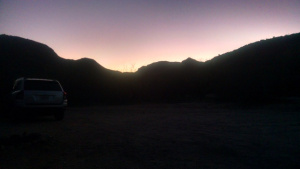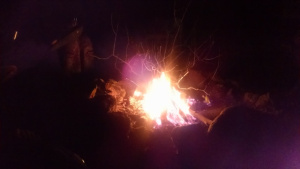 Day 22. Almost made Payson- Waitangi Day – Kiwis for Kiwis charity day.
Today being Feb 6th here I held Waitangi day which is New Zeal and Day. I got out my flag and made a cape and worn it up the road. Felt like a super hero. haha Also Kiwis for Kiwis charity in NZ had sponsored the day for the RAUSA race and well me not being there I was not missing out of it. I had my singlet on that they sent me and I worn it proud. We gotta save our Kiwi bird you only can see it in NZ.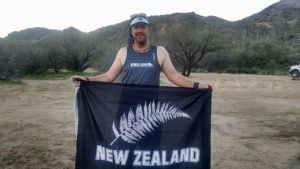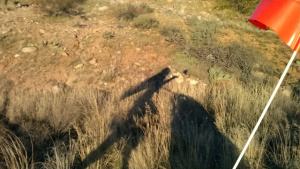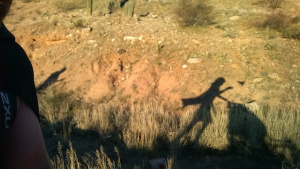 Vanessa was out with us of the first 10 miles which as great fun. Alex came along later too. We swapped around having goes at pushing the buggy, It is a hard thing to get use too. Oh we also worn Kilts today with Rob Young in mind, We miss hang in with him but of course the speedy bagger caught up with us later in the run. Love ya bro.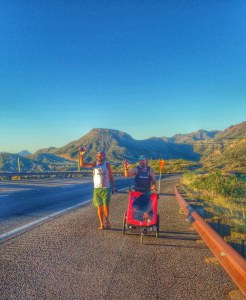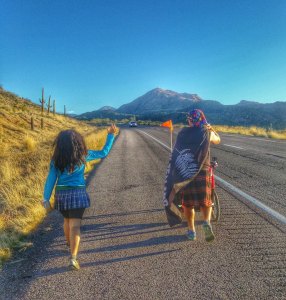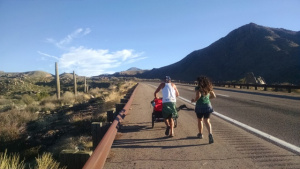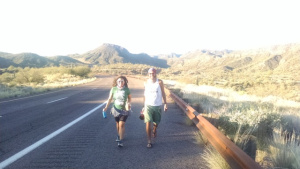 Everyday we find many things and today we got a new mascot, yeah I know thats like 4 of them now. today was a turtle. super cute. Also found a shoe tree in the middle of nowhere.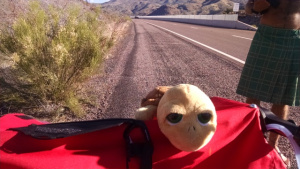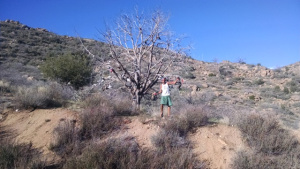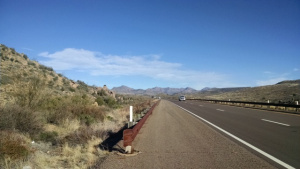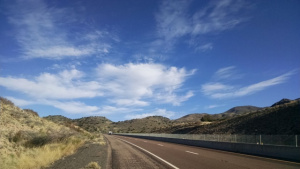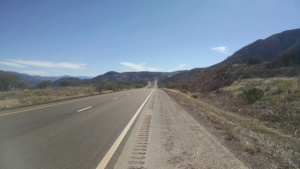 Today was full of hills, we went up and down some big ones and we did 35miles around 60kms on hills, we were out on the road for 8hrs 11mins. long time . but both felt good and bodies are good. We got to see Bryce, rob and Barefoot alex today which was great, they are all running great. Keep it up boys.
Pat was helping get the buggy up and down, of course we were waving hard to every car and truck. Pat is the finder of everything, got a amazing eye for spotting things, Here is his new hat.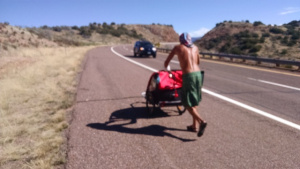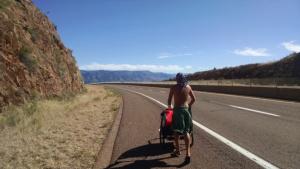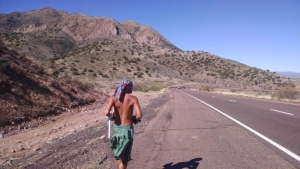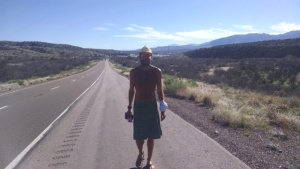 Up and over the last huge hill and w found the crew, the had all sorts of foods and beers waiting for us . Camping again right on the side of the road. Perfect. We are 3 miles from Payson Arizona which I think is at about 3000ft, Good dinner and catch up on this and other stuff. Quick fire to keep warm as it gets pretty cold out here.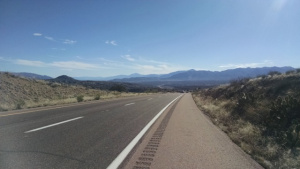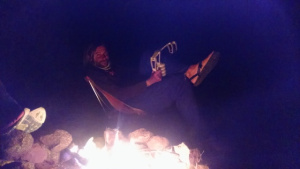 We made the Newspaper in NZ today, Thanks to Lucy from the ODT. So awesome to have your support for our run and 10 Mile Club. Thankyou. Click HERE to read.
Hope everyone is good and having fun. Have a awesome weekend. Sleep time a we have another big day running tomorrow. Nite. x