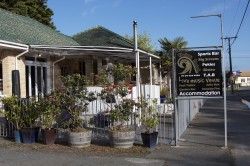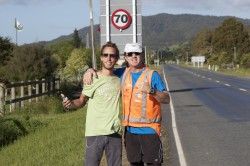 We stayed at the Waipu Hotel which is right in town and only a few kms from the beach, Great place. There as I was chillin out I met Shai , he is from Israel and asked if he could come join me in the morning and of course the answer was yes, He awoke to the van starting and jumped out pretty such still asleep but still came and did the first 3 kms with me. Great to meet you bro and enjoy NZ as It is a beautiful place.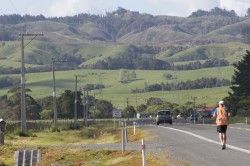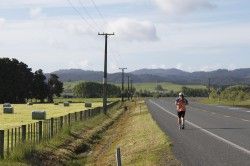 Then as I headed up the road in the sunshine I noticed a bit of a hill rising in front of me, Not to worried about them any more I kept going, then I thought maybe I should see how far my fitness has come and put on the heart rate monitor to see the difference from the start of the run 2 months ago . I still remember thinking at the start as I saw how high and unfit I was that I had a mission on my h ands.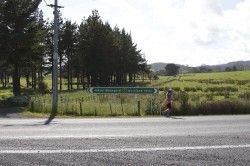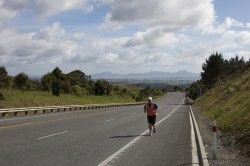 At the bottom of the hill I found a sign to say 121 kms to aucks and that is a great feeling , knowing that I will be running in a straight line to get there and that was it.
At the bottom also I checked the heart rate and it read real low which I was stoked about but I still wanted to see what would happen when I climbed, So off I went and as I made the top of this 5km slow rise and I had been checking all the way I was super surpised to see that I wasn't getting anything over 142  with only a quick up to 145 at the steepest part . Awesome result as I was kinda thinking I must be but the difference is hue between now and sept 1st.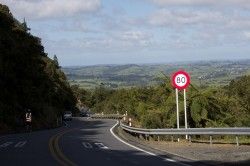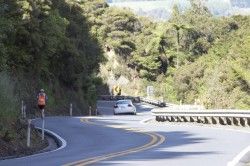 With a up you get a nice down and a twisty one at that sometimes and that is about how the day went on the whole time. Still stopping every 10kms for my rest and coffee or  milkshakes. the day goes pretty fast most of the time.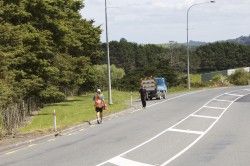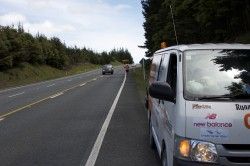 Heading up one hill in a town I got to meet Mark who lost his empty bottle off his truck right in front of me so I flagged him down and ran it back to him, Very nice guy and was great to meet him.
Oh the Gaurdian van here looking as good as ever, Looking after and protecting us everyday of our adventure. Thanks bro!!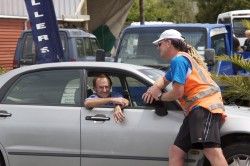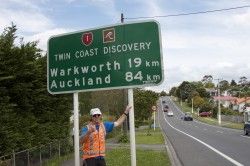 Way back when I was running between Ohura and Turangi I told you of a guy on a bike he had pulled over to say hi in the pouring rain and that he had also run NZ. Well here he is again, Robert lives just up the road from Wellsford and just happened to be driving past and saw us again, Stopped and we had a catch up  , great to hear his stories of his trip.
Then the sign that can only make you smile, we have cracked it and are under the last 100 kms, now I tell you that is special when you start with a total that only calculators count up too and then you run it somehow and to be this close I are one happy little dreaded boy. I had run 47kms today and the next days are a little shorter again . Yes everyone we only have 2 days left. holly shit!!  We are close and man am I excited about that, a dream a smile and alot of people all coming together and making something like this happen will be one thing I will think about for the rest of my awesome life. I are so super lucky to live how I do and I can't thankyou all for believing in me and helping my legs take us ( you and me )on this little trip up NZ. xx