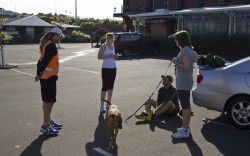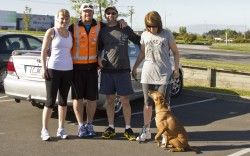 HUGE Congrats to the All Blacks for winning the World Cup. You guys worked so hard last night and the whole comp that I thought I would run today for you and show my support. I got my NZ flag and taped it on a 3m long bamboo stick and carried it the whole day with me 44kms.
Last night we stayed with Paul, Bobbie and Max the dog here on the right and can't thank them enough. Paul had emailed me and said he would be down to meet up. He is in the Rotary Club in Hamilton and they had gone around and had a donation to give us. Thank you all so much.
Also in our group today was Liz and Doug. We started a little later after the rugby last night. Beautiful day ahead and not as far as normal, so I was a happy man.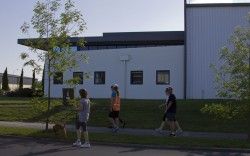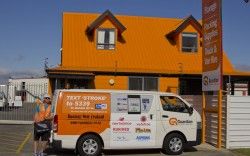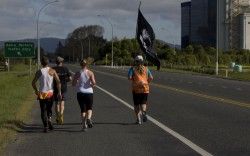 Just up the road from our start point of the Cock and Bull Pub is where our van the Guardian is from. Terry who runs this Guardian Self Storage and Truck Rentals Depot was sick as so couldn't make it down. Hope you get better soon bro, we got a party on the 6th Nov I want you at.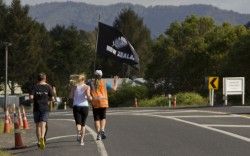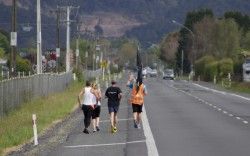 With my flag up high we started to run, as soon as we hit the main road the toots and waves came in, it was an amazing day. Everyone was on a high from the AB's big win and I loved it.
Paul and Liz came out for a quick 10km and then headed home, was awesome to meet and then run together. Thanks for making Hamilton great for us. x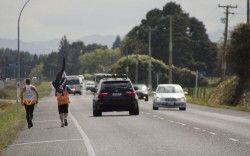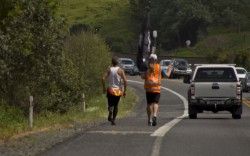 Me and Doug cruised on up the road and was great to see Doug getting into the waving to cars thing too, he was waving at every car too, loved it. Thanks for that bro. He ran an easy 30kms with me and didn't break into a sweat, nice one bro.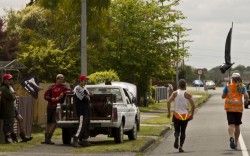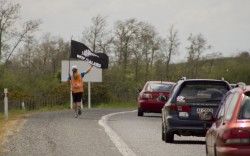 You wouldn't believe how much waving I did today. I normally wave alot but today was out of this world, I almost don't think my arm came down, it was so awesome!!!!!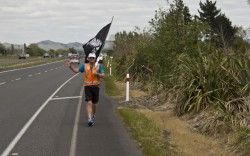 First time I think that I have been able to see a sign to Auckl and and actually know that I will be running to it, because I have been on this crazy route I sorted at the start.
Can't say thank you enough to everyone who went crazy today on the road, and to the AB's for winning as you have just made today one of my bestest days ever. I truly loved waving a million times to you all. There was a few traffic jams along the way too in the other direction which made for lots of hellos and Kia ora's too. So good to be able to talk with people too.
2 more easy days and we are in the big smoke, YES I'm getting excited now.
Don't forget the 29th Oct, our World Stroke fun run day. Check it out on the blog on the World Run page. Easy and fun – tell the world please!!!!!
Today's Route – Zoom out to see where I ran…

View Larger Map