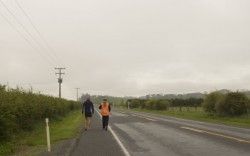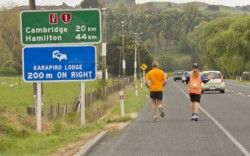 Today I had Marc G with me for the whole 56kms which was great. Marc had only run a couple of marathons before but does heaps of other sports, and he is just like me and does it for fun. Loved talking with him about his adventures.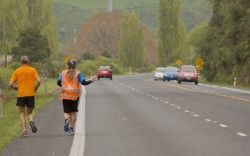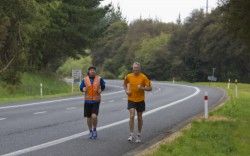 We cruised along at a nice pace and had our breaks to chill out, we had a good day ahead and didn't want to go too quick right out.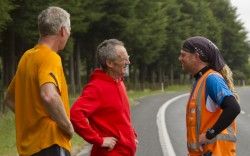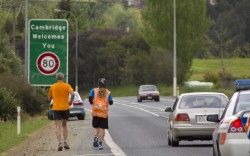 As we were running a car stopped and Mr Magoo came over, he is the dad of my mate Shaun who I had worked with and snowboarded with at home. He then went on to tell me that he had run the length of NZ. I have now met 2 people that have done it that I didn't know about, I might have to keep running to make this one a bit different. Awesome to meet him, thank you so much for stopping.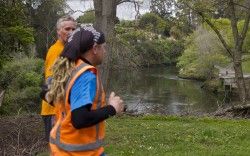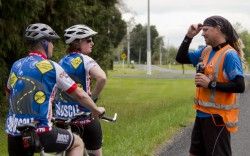 We then had Greg and Michelle from Muscle Works in Hamilton come and they rode their bikes for 15kms and showed us the way. Michelle had also offered to give me a massage but I didn't get time to, so sorry Michelle and thank you so much.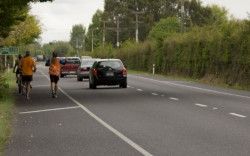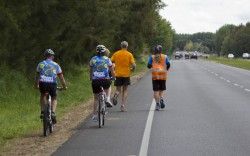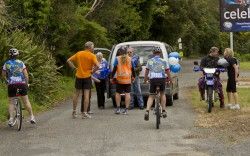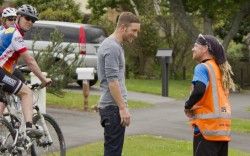 Then we had Jennifer come and run, she had a record of 8kms before today but she was on a mission and said I'll go til I can't, so I said please don't kill yourself and off we went.
The Hamilton Stroke Club came out and escorted us into town which was great. Haven't had anyone for a while so I was stoked to have them join us.
Then Sammy no hairs my super mate who I had met in Lon don and lived in the same flat with for a bit just turned up, I was so happy to see him again.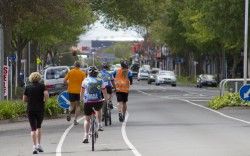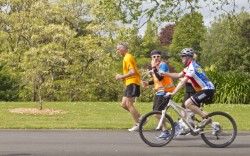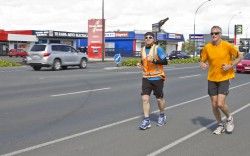 As we got into town I noticed that my watch still said we had 15kms to go and I was thinking damn this is a long town, we said goodbye to Greg and Michelle who had to go.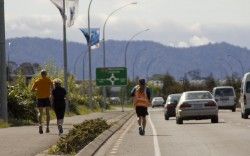 The blocks disappeared and we arrived at the "Cock and Bull" pub right down the road from our sponsor Guardian. The Stroke Club of Bev, Paul and others were there to welcome us in, SO cool to have their support.
We had a beer to end a great day. Thank you to everyone for all the support, lots of toots and waves today from the cars. Awesome!!!
Today's Route – Zoom out to see where I ran…

View Larger Map