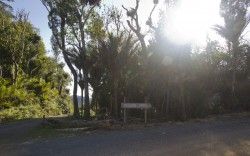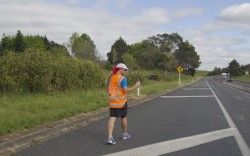 Last night we stayed at the Hillside Hotel and Nature Resort, it was so nice. Rosemary hooked us up with as much discount she could, thank you so much for helping us out.
Today I was running for Ashleigh Clement. Ash is only 19 and she had a stroke this Sept 29th. She is now learning how to talk and walk again after her stroke. She may have alot of work to do but her mind is amazing, she is so strong and I know she will come back. I have been lucky enough to get lots of emails from her lately and I have been getting a lot of power from her. Ashleigh thank you so much. Sorry this is all I can do at the mo. xx
I started at 9am as we only had a shorter day of 41kms today. I woke and was feeling great again and as I was alone today I just cruised into it and waved my way up the road.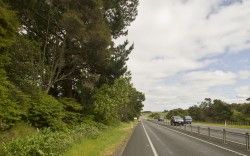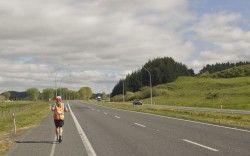 It was a beautiful day today, sun was out and I was working on my tan. Yes I know all you people going "you don't get brown Jup"  but I was working on it anyway. The sun is always coming up from my right side so it looks like I have been fat arming it out the van win dow but I haven't ok.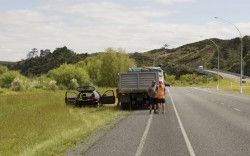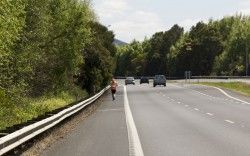 Old mate here had a flat and came out to see what I was up to, gave him a shock when I told him, it was the last thing he thought I would say.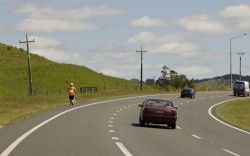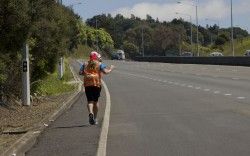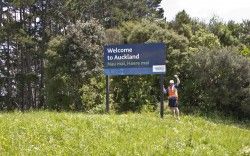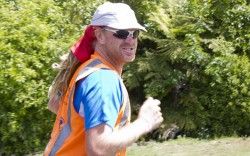 Just before Bombay I had the Bombay hill to climb, not a bad one at 4.5kms long but I love trying to get up them now so took it. At the top I had a great view and then a welcome sign that I have waiting to see for 2400kms now.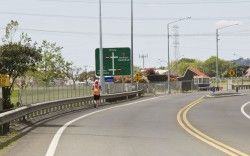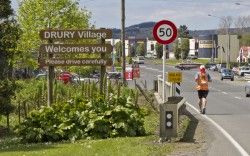 I took my time today as it was real hot early afternoon, lots of water and milkbottle lollies and I made the end. We arrived into Drury at 2.30 which then gave me heaps of time to chill.
Today's route – zoom out to see where I ran…

View Larger Map