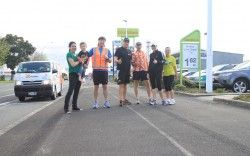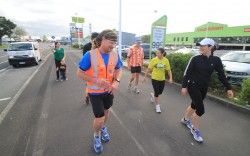 After our great day off here in Tauranga we had a big day ahead. I got told yesterday by Tim that the coffee shop downstairs from his office "Sammies", the owner Nigel had a big stroke just 3 days ago. I would love to send our love and wishes to him from the Running NZ team and I ran today for you Nigel and hope you are doing ok. Tim and the Mediaworks team also send their love.
I want to say a huge thank you to Tim Lockhart at Mediaworks in Tauranga for hooking us up our hotel for 2 nights. Tim also came and crewed for us for a day today which was great. He smashed out 20km with me on the road which was his personal best and he worked hard for his 20 which was great to see. Thanks Tim love ya bro!!
Our magic media lady Bev came to drop Tim off and it was sad to say goodbye as Bev has done so much for me and helped from day 1 of planning and just to have her crewing and running with me for a day and then having our day off together I was sad to say goodbye. Thank you so so so much Bev for everything until now and let's keep bringing this baby home with a smile on our faces, Love ya heaps and see you in Auckl and. xx
I had a little running team this morning of Lee, Ross, Sarah, Simon and Tim dog. Great to have more faces with me. Lee and Ross were here for a quick 10 before work and ran us out of town, Thank you so much. Sarah's hubby Simon was here to crew for her as she was here to run the whole day with me. Legend effort too. Nice work with the top of the hill Buzz Bars Simon you can crew for me anyday. Tim (Seabass) was here to help crew and run some kms with me. Awesome.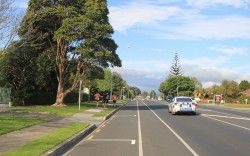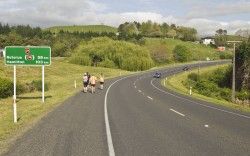 We cruised out of town heading for the Kaimai's which I had in my head to be a huge mountain.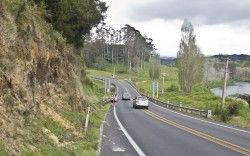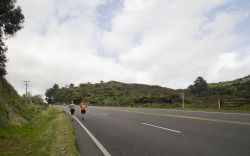 We started to climb and it wasn't too bad but I was thinking it is coming only to flatten out then up again.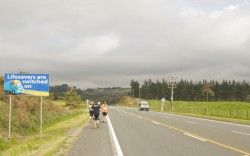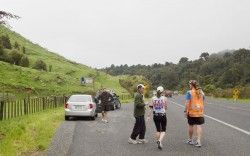 Sarah's dad was there being the super paparazzi which was funny to see him pulling the cameraman poses on most corners. Him and Simon were cheering us up the hill as we slowly climbed our way up.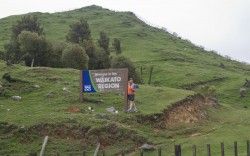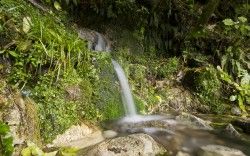 Sarah told me she hadn't done much hill work but was flying up with out missing a beat and I was feeling great, gotta love that day off for recharging the body.
We got to the top to find the fountain of some of the purest water in NZ, great to drink after a big climb. It wasn't too bad as there was a few flat sections but still was a cool 20km climb. But with the fountain meaning the top and the welcome to Waikato sign I knew the hard work was done and we cruised down the other side.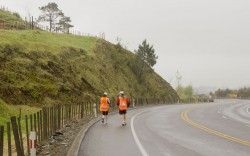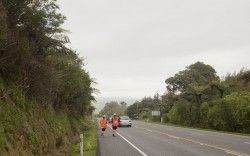 It was raining very lightly at the top but me and Sarah weren't letting that stop us.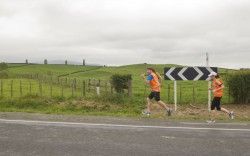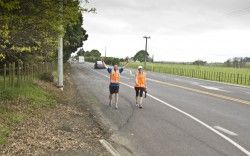 As we passed Sarah's record of 42km she was looking like we had just started and just kept going. We hit the 50kms mark with a high 5 and then took it all the way in to the end of 57km. I was stoked to see Sarah run so well and how happy she was to do it, it gives me power to have this happen at the same time I'm pushing myself. Thank you so much for coming and being a part of our NZ run.
Evening came and Rick's dad and step mum Nacey came and we went out for dinner, great to meet them and thank you for coming all that way to say hi.
Another great fun day finished and a day closer. Keep thinking positive everyone I need your help right til the end please. xx
Today's Route – Zoom out to see where I ran…

View Larger Map