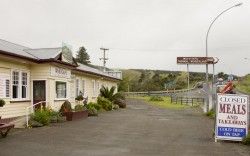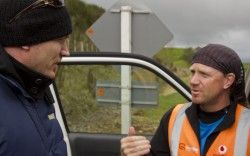 Back when I drove the course in reverse I stopped in here to Waiotapu Taven and had met Peter. He emailed me straight away and they donated us our accom and dinners which was just awesome. Thankyou so much Peter
We were lucky again today and Eddy from More Fm Rotorua came down and met us to do a Live interview with Mike Baird. They have been great and helped us so much with getting support from all their great listeners. We have had so many people tooting in the last 2 days and I can see why they are No.1 Radio station in the area. Thank you so much guys.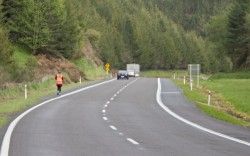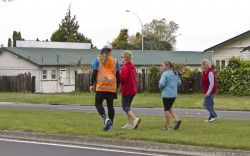 I had a appointment at 10.15 to meet Deborah who had emailed me earlier in the week about running with me for 10kms. She is training to do some Ironman races so I had to slow her down a bit.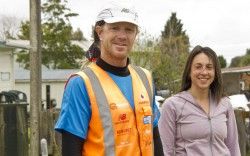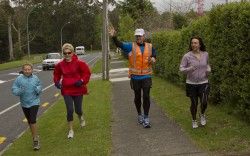 As I came around the corner into Rotorua I meet S andy, Olivia and S andy's mum, they had heard our radio chat and come down, Such a great feeling to have people waiting for you.
Olivia who is just 11 is getting into Triathlons and plays touch , she was a great little runner. Thankyou all so much for making my day special.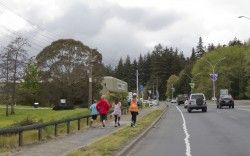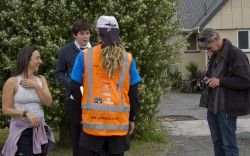 We cruised though town and then the Daily Post newspaper was there to do a story.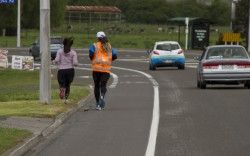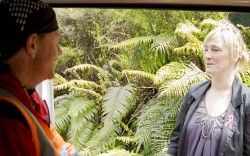 We headed out of town and just as it started to rain Deborah had to shot back to work so Rick the gentleman he is drove her back and I keep on going, Rick also got my favourite lunch of a Banana milkshake, coffee and a chicken s andwich.  what else will get you running 50kms a day.
As we were sitting at the top of a hill having lunch I got a call from my super friend Danger who I had met in Lon don. I was stoked that I was in that spot at that time, Things are just surpose to be sometimes, So awesome to catch up again Danger, I know everyone of our mates from the cook will all be jealous of me meeting up with you again. xxxx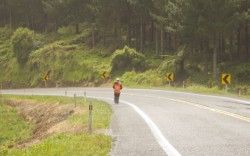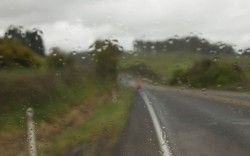 After lunch the rain came and went and I wasn't feeling as great as I was in the morning, I was flying along this morning but little slow now.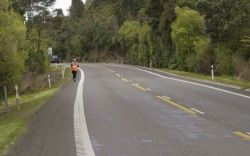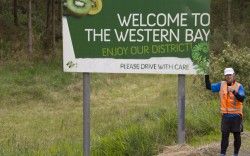 But as always because I have lunch at 30kms then my mind just saying it is only 18kms to go and then counting down is a great way to keep going, I slowly pulled back into a good pace and just before we finished we entered into The Western bay.  Tomorrow over a pretty big hill and down into Tauranga,Can't wait as we have Bev our super media lady coming to crew for the day and also run a few kms with me then a fun run and BBQ at night, it'll be a fun day . Nite all.x
Today's Route – Zoom out to see where I ran…

View Larger Map