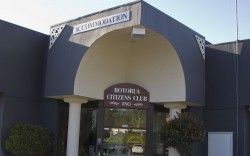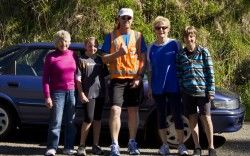 We were sorted out last night by the Rotorua Citizens Club, they gave us a room and fed us, they heard our interview with Mike Baird from More FM and rang in to help us. Big thanks to Dick Hyl and for that.
We were a bit late getting started but had S andy and Olivia come to run with me again today. Great effort again, thank you so much. Nana and Josh were their support team, great to meet you all. xx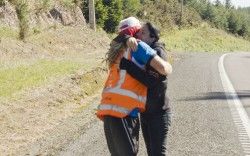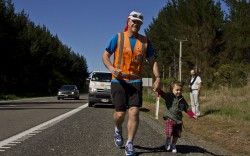 Just over the hill Bev turned up. Bev has been there right from day 1 doing all the Media side of this adventure, couldn't have done it without her. Her son Lucuis ran with me and he is only 3, youngest runner yet, nice work bro!!!!!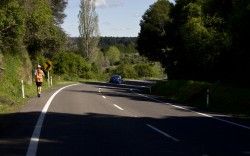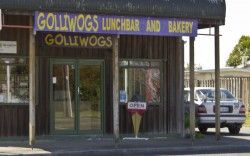 Once I got going I was feeling great and we were getting amazing support today from the passing traffic. We had done 2 radio interviews this morning on both sides of the hill and everyone had been listening.  Huge thanks to the More FM radio stations, you don't know how much it helps me.
Smoko was donated to us by Bev at the Golliwogs cafe, we just walked in to buy something and she had heard us on the radio and said it was on the house, thank you so so much Bev. xxxx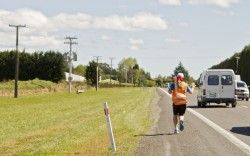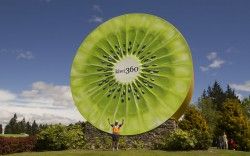 We got into Kiwifruit country today and I had to get this shot by the kiwi, not one for doing these shots but had to show you all what I see.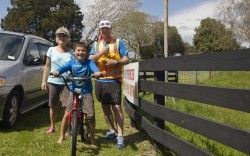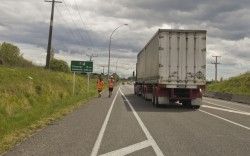 Then we met Olivia's cousin Bradley and his family. They had been waiting for us to come along and had a huge bag of home grown oranges for us. They are so nice and juicy, thanks so much.
Rick had finished his sleep so Bev jumped out and ran with me for 5km, nice work!!!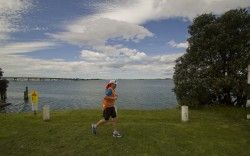 I was flying when I got to Tauranga and was a little early so pulled into the Gaurdain office for a quick hello. Euan and John the owners there with their great staff, they have given us the van for 4 and a half months, made that decision in 30mins without even knowing me. Amazing sponsorship, thanks so much!!!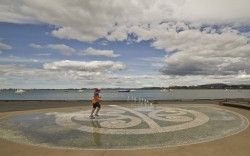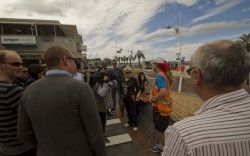 As I got into the centre of town we were right by the water and it was a great way to finish this run. A great group of people and Tim Seabass Lockhart was there to cheer us in.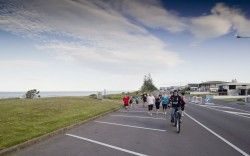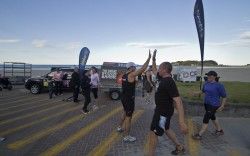 After a 2 hour break we were back out down at the Mount Manganui beach front for a 5km fun run that had been organised by Hamish and his team at Craigs Investment Partners. They had got about 40 people to come run with us. I loved it, got to meet everyone and it was a beautiful evening along the water. The More FM team also came down and had the BBQ going which me and Rick were super happy about as we are always hungry. Thank you everyone for making our run into your beautiful home a great fun one.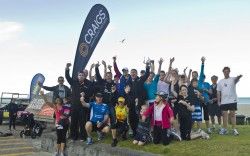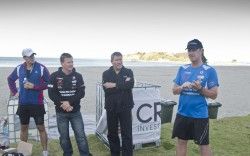 Only I was tired after that one I think, it got my total kms up to 52 for the day.
I was doing a speech here with Hamish from Craigs, Euan and John from Guardian right there for support. Thank you so so much for today, I loved it.
Tim dog and Bev put on an awesome dinner and we downed a couple of Coronas to cheers another good week on the road. Thank you to everyone who has been there for us this week and tooted and waved me this section. We are getting close but first I'll take tomorrow off to relax and go help out the Oil Spill volunteers who are working so hard here.
Today's Route – Zoom out to see where I ran…

View Larger Map