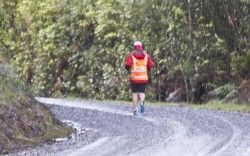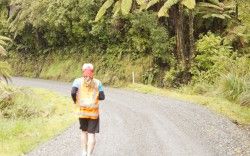 We stayed last night in Ohura at the old Ohura State Prison which is now a guest house. I had run 16km short of Ohura yesterday so we started back out there this morning. I had finished at the top of a hill, so the first 16km were mostly downhill which was great.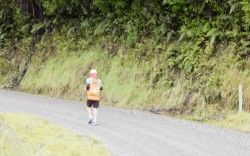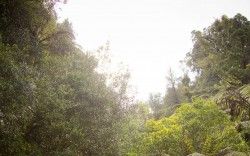 As you can see the bush was right there to the side of the road and gravel under foot.  Just the sounds of the birds all around was just awesome. It was raining a bit at the start but as the sun came out so did the shining ferns and waterfalls everywhere.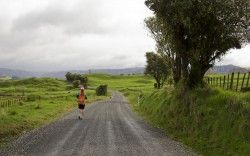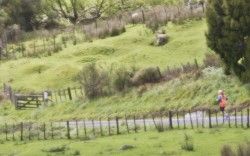 So so green out here and alot of hills too, I was going up and down so much today which, if this had been at the start I would not have been happy today, but I didn't mind at all. I now kinda like the hills as it gives me something to push for, see how far up it I can get or even just up the speed a little bit.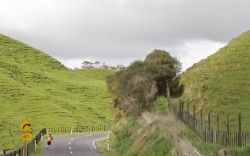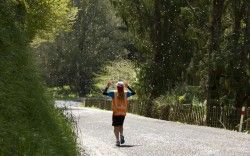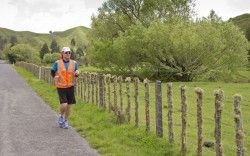 As I was running, sun out and little wind I noticed it looked like it was snowing but it was the blossom falling from the trees. It was a great thing to run under. Ground all white and the petals falling in slow motion. Beautiful!!
All day there had been these fences with Moss growing all over them. I just love moss and it looked great. It would go on for ages and was on everything it could grow on. Such a beautiful place out here, must get a bit of rain but that just makes for more green and amazing views.
I ran until 15km from Taumarunui and did another 50km today. Felt a little tired but also felt great thinking of all the hills I ran up and down today. Rick and Sarah are doing a great job as crew and playing all sorts of games to keep from going to crazy. Thanks to both of you. xx
So sorry for the last 2 days Blogs being a bit late and should be sweet from now on. I'm going to miss the silence but I also miss waving to everyone.
Today's Route – Zoom out to see where I ran…

View Larger Map