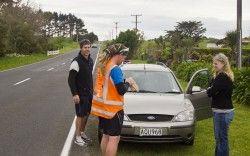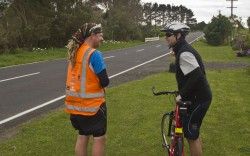 Today I was running into New Plymouth for the last day of this stretch. It has been a really enjoyable 8 days running, have met some amazing people and my body is loving the running at the mo. So hope it can keep doing it.
Just as I was finishing my warm up walk the Bublitz family arrived. They are some of my bestest friends in my world. We are staying with them for the next 2 days, AWESOME. Sally, Izzy and Matida dropped Dave off as he was riding with me for the day.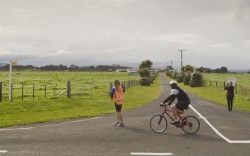 Pauline also arrived from Hawera and gave us coffees and got a couple of photos of us all. Thank you so much .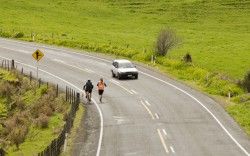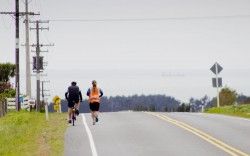 The weather report wasn't the best with rain forecast but me and Rick weren't to worried as we are being looked after big time and have only had 3 hours of rain the whole time. And today was no different, no rain and 10 mins after we stopped down it came – Thank you universe. We cruised on up the road with a stiff headwind but nothing can upset me the day before a day off.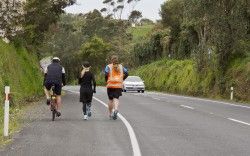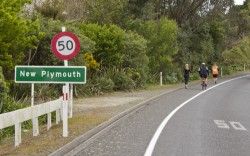 We had heaps of time today as we were meeting a group of runners at 3pm and with only 40km for the day there was no rush.
At Oakura Katie Keane came out to run with us, she is a great friend from way back and it was great to catch up. Thanks Katie xxxx
After a beautiful lunch at the pub of coffee, a scallops and bacon salad and half of Rick's pasta I was off back out to finish this day off.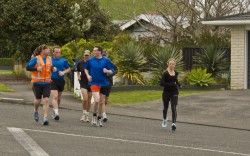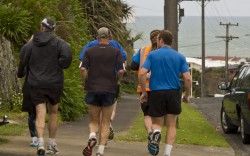 We met up with David (the half naked Irish man) and his mates just on the outside of town and they ran me into town. So great for them to make the time to join us. Right near the end we also had Luke and Claire and the boys come down and escort me in.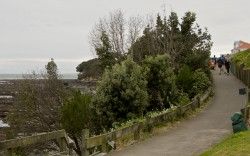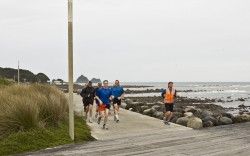 We ran along the waterfront on the track which is a great walk. Check it out if you are in New Plymouth. We finished at the Windw and and will start there again on Wednesday 12th.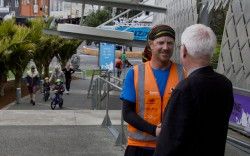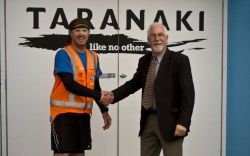 On our arrival we were met by Harry Duynhoven the Mayor of New Plymouth. He gave me a great welcome and I thank him so much for making the time. Very nice to meet you.
Tomorrow is our day off and I can't wait to just chill and enjoy the Naki.
Today's Route – Zoom out to see where I ran…

View Larger Map