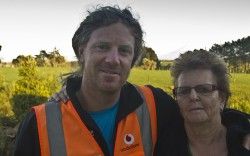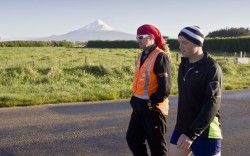 This is our angel Pauline of Hawera, she looked after us big time while we were here. Thank you so much for everything. xx
Today I had David Ryan from Irel and come running with me. David is living in New Plymouth and yesterday ran 65-70 kms to come meet us then then today was running 85 kms to get home again. I thought he was gettiing a ride down but how wrong was I.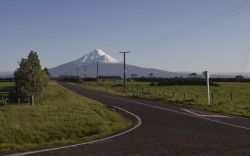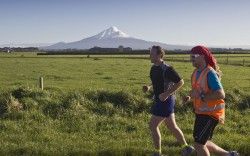 You guys think I'm a little crazy well D just blew me out of the water. It was great to run along on this amazing day. The naki put it on today, little follow wind and not a cloud in the sky first thing. Mt Taranaki was looking beautiful as ever.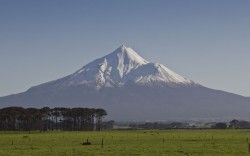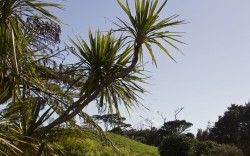 The road today ran alongside the ocean and we got some great views which just made the run easier.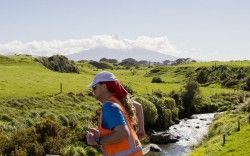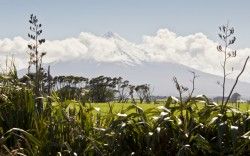 As the day heated up the big man decided he was sick of his mates calling him the White Irish man so he got the guns out and on came the toots.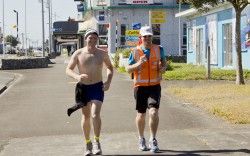 We had a break had Opunake and a lady from the Opunake Lakeside Lionesses came up and said they had done a fundraiser for our run which was awesome. Can't thank them enough.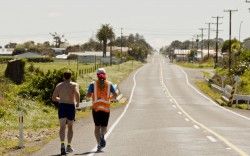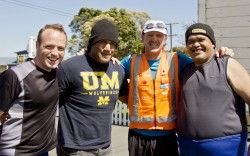 We ran 43km today before David went off to ran 40 more to get home. While we stopped in for a banana milk in Rahotu we met up with Mo and Dereck. Thanks for saying hi boys, loved meeting you.
We are now one day from NP which means holiday time, and also I get to hang with my bestest friends the Bublitzs which I have been waiting to do for this whole trip.
Today's Route – Zoom out to see where I ran…

View Larger Map