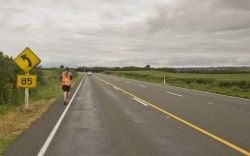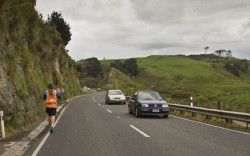 I woke to a sleepy feeling in my mind, and even with my body sweet let's go I wasn't feeling it, but off we went. It was a cloudy day which was nice and I got a couple of little showers just to cool me off.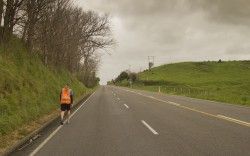 As you can see I wasn't smashing the hills today. A slow steady walk was all I had in me. We had a visit from Pauline and Irene with hot buns and cake, we are staying with Pauline tonight and she is just awesome.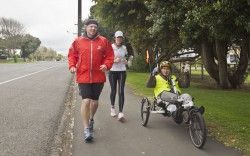 Once we hit  Hawera Pauline had a hot bacon and egg pie waiting for us which was just what I needed. While I was eating she rang some friends and we had Andrew on the bike and Christine running with me. Andrew had an accident flipping his motorbike but isn't letting anything stop him, his bike is pedaled with his arms and he just powers along. The bike is the same br and as Nick's one, HASE. Thank you so much for coming out and cruising along with me Andrew. Keep up the great work bro.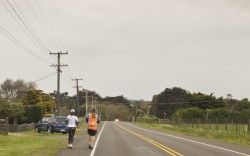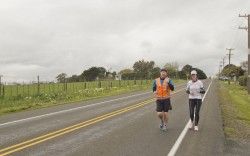 Christine had only just got back from picking up her sister who had just came home from Irel and but even that didn't stop her coming for a nice 15kms. She said she hadn't run much lately but she was running sweet.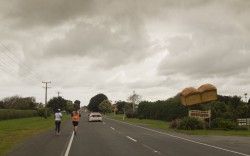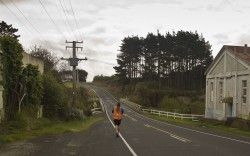 Christine left me at the Bread capital of Manaia and I just headed off to finish off this long feeling day. Thank you so much for hanging out with me Christine, I really enjoyed it. You got though today just when I needed it.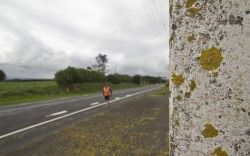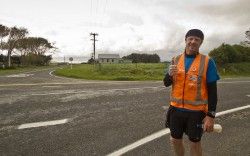 We did 48kms today, both me and Rick were feeling the same and tired as today, but we boxed on and ticked off another day. Still finished with a smile on my face which is the only way I want it. 2 days to New Plymouth and both are a little shorter which is awesome.
Thanks to all the people waving and tooting, you helped me heaps today!!
Today's Route – Zoom out to see where I ran…

View Larger Map