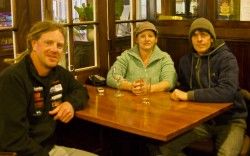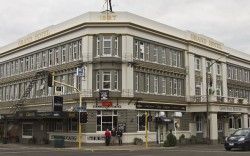 We stayed at the Gr and Hotel last night and had a drink with Michelle and Hayden our Whanganui angels, Thank you so much.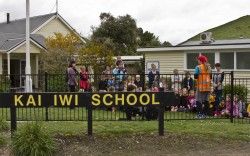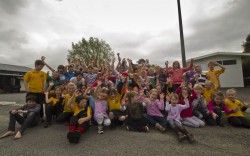 We stopped in at the Kai Iwi school about 45mins into our run, the kids were out front cheering Go Jup Go as I came in which was amazing, we had a chat and then ran along the roadside for 500m. Great little school and real fun kids. Thank you all so much for having me.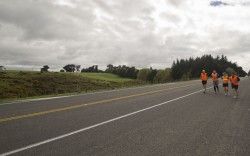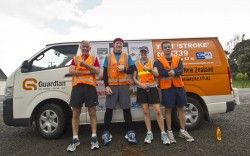 I had Henry, Gai-Marie and Allan from the Whanganui Harriers come run with me for 13 kms which was great, I like having people with me from the start as it gets the first few kms out of the way which are normally the slowest. Then Patricia came and picked them up at Maxwell. Thank you so much for coming out and supporting us.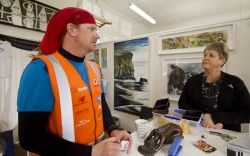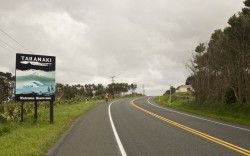 Thats where we met Jilly who is an artist at the Blacks and Studio in Maxwell, she offered us a coffee which was great as we had just had a quick shower of rain and I was a bit wet and cold. Thanks Jilly.
Just up the road we hit Taranaki which was great to see and it makes me feel like I'm getting somewhere when I see these signs, cause I don't really know where I am most of the time.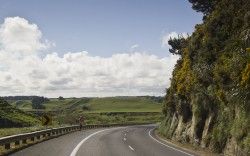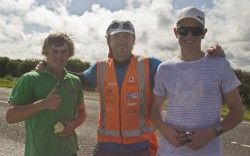 Into the Naki and out came the sun, cheers Taranaki. I have had some great support on the roads last few days and when Josh and his bro stopped to say hi and get a photo I was super stoked. Thanks boys and good luck with your golf, maybe thats what I'll do on my day off.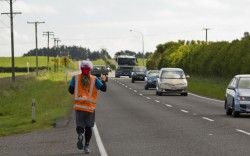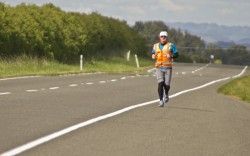 Not a bad road today, I found that today's hills were in ground instead of on top. By that I mean I had to go down first to then go up, normally you go up and then down, know what I mean… so the l and is flat but has hills, sorry stupid thing but you notice this when you are running.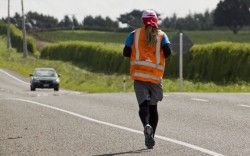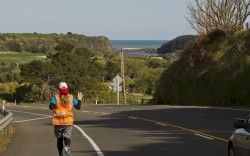 As the kms ticked away I was feeling good and speed was still there from when I ran with Perry that I decided to push on a bit more and ran right through to Patea. Very nice little beach town. So today I ran 53kms, has been down in the late 40's so was good to push it out a bit. Makes the next couple of days a bit easier.
I have decided that I will bring this run in a day earlier and finish in Auckl and on Sunday 6th Nov instead of the 7th. I will just run a few kms extra each day to do this and then we can get more people out on the Sunday. So please tell all your friends around Auckl and to get their shoes ready for a huge fun run on the 6th Nov in the afternoon.
Today's Route – Zoom out to see where I ran…

View Larger Map