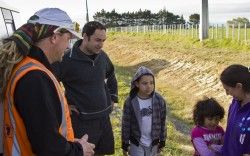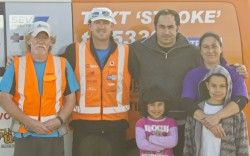 Last night we stayed with Tim, Diane, Taylor and Stacey. Such a beautiful family. I first met them when I was checking the course out before I started running and was welcomed from day 1. Can't thank you all enough for taking us in and loving us like your own, we are family now so I'll be back one day.xx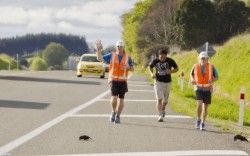 A great day ahead as I had Perry Newburn running with me. Perry has done runs like this himself and is an amazing runner. Just floats along the road. Tim came and ran with us too which was awesome. Tim had come out to see us off and just couldn't miss coming for a 10km run. You did great bro and I was stoked to have you with me.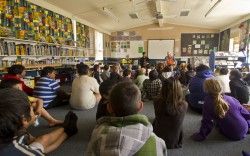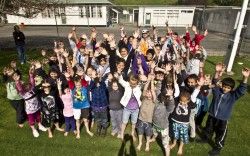 As we cruised along we had a stop in at the Turakina school. The kids came out and cheered us in which is the best feeling ever. I really love that. Then in for a talk and I got some great questions and then after this photo some amazing energy. Thank you all for hangin with me for 30mins, you made my day just great. Thank you!!!!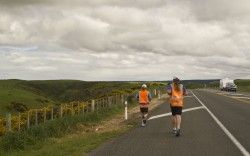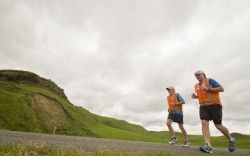 Then after a chocolate milk we got into a smooth rhythm and I was chasing Perry up the road for the rest of the day.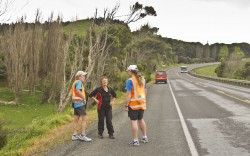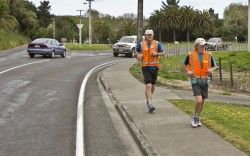 Perry has been running around these roads for a while and alot of people know him. We got a couple of hellos from Margaret as she went past working. We were keeping a great pace and I felt great. Didn't think I would but as we went more I felt better. Maybe I'm slowly getting fitter. Awesome!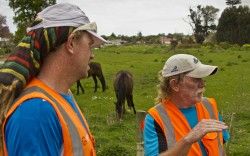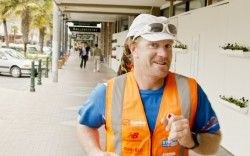 Until today I hadn't really run up any hills mainly because I couldn't but have been working on it bit by bit, and today I smashed every hill we came too, well I was able to keep going and I was stoked. We went right on past Wanganui and out of town to our finish point about 10km out.
I really enjoyed my day and can't thank Perry enough for making time to come support me. Keep an eye out for him in the future, such amazing things in the pipe line.
We did 47kms in 5hrs 5mins today which is my new record.
Once back in Wanganui I was looked after with a massage from Belinda at Fab Face and Body, Thank you. We had an email from Michelle and Hayden earlier in the week and they have done a huge amount of work to organise our stay here – our hotel, massage, a huge card (home made) that is just amazing and signed by so many people, fruit and money to pay for our dinner. I can't thank you you both enough and it was so so great to meet you. We had a huge amount of toots today and I think it was from all their hard work. xxxxxxx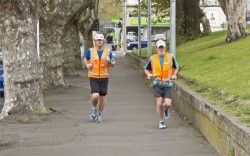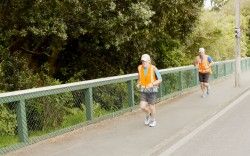 Today's route – Zoom out to see where I ran…

View Larger Map