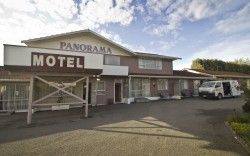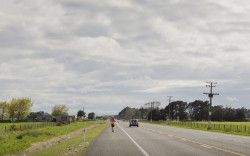 Today was a special day as I was running for the Hiener family. I had an email a couple of days ago from Laura saying that she was sorry to have missed us in Wellington. She then went on to tell me about her family's stroke experiences. Her sister Maddie had a stroke just over a year ago and was only 18, then their dad had one almost to the day a year later, just 12 weeks ago and sadly passed away. RIP George. Maddie has been boxing on and getting better, so I today I thought I would run for the 2 of them. I love when I can do this as it makes my day have a special meaning and I get heaps of energy thinking of them. Please keep positive Maddie and please keep an eye on our blog as now you are coming to Cape Reinga with me. U and your family are a huge part of my run now and I thank you so much for writing and saying hi. xxxx
Last night we stayed here at the Panorama Motel which was hooked up by Rick at Plumbing world in Levin. Can't thank Rick enough for helping us out. Legend!!!
Another sunny day which I was happy about. Just me on the road today which was good for a change but I do love having someone to talk to and it makes the kms go faster. With alone time I get to think of everyone I have met and the good times we have had so far.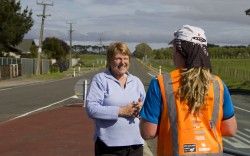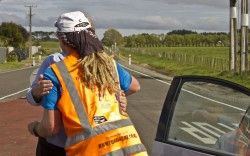 I was running up the road towards this intersection and there was a grey car sitting there at the give way. I watched thinking what is that person doing, bit scared to drive out by the looks of it, but she had seen me and was waiting to say hi. I was stoked and said what I had been thinking to her and she laughed, very very nice lady, loves what we are trying to do and she made my morning with what she said to me. Thank you so much for waiting for me!!!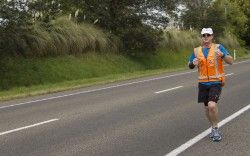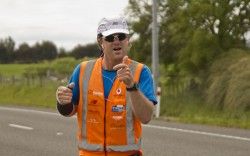 I had my white as legs out today working on my tan, haha as if that happens at all. Not sure what I was doing in these shots but probably dancing to my tunes.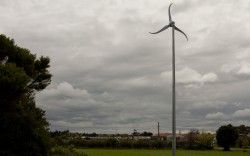 We had a 1pm date with the Sanson School and we just made it in time. We also had a quick interview with the Manawatu St andard newspaper before I went in and talked with the kids.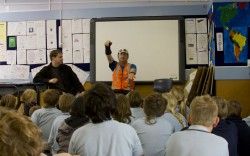 There is something about talking to kids, I love it, and me not being the best public speaker around they seem to enjoy it which gives me confidence. We went for a few laps of the ground which is great fun, more running but easy when you have 40 smiling faces with you. Thank you so much everyone at Sanson School!!!!!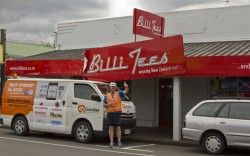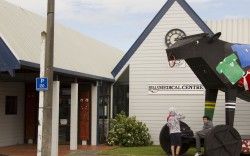 Into Bulls township and straight to see the doctor. My arm cast was getting a bit smelly and we were looking for a new one. Pulled up outside only to see my cousin Billi's old company Billi Tees. They were the best tee's and hoodies in NZ. Had to get a shot.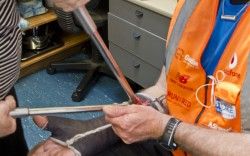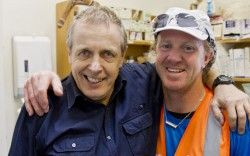 Once inside we met Doc David Baldwin from the Bulls Flying Doctors. He is awesome, so funny and full of energy, he took one look at my arm and then at the notes of what was happening and said you don't need that cast on. I was like that's what I thought too, so we cut it off. He showed me how to tape it so it would hold as tight as the cast so now I can do everything again from a shower to wiping my bum. Felt funny at first but awesome now. Doctor David has written a book called "Healthy Bastards" go check it out, I hear it is funny and a great easy to underst and book on keeping yourself in tip top condition. I'll be getting a copy tomorrow myself. David gave me and Rick a copy of his dvd and a cap. Thank you so much for helping me out. Love ya work D.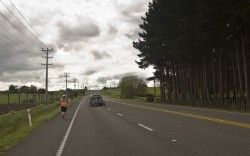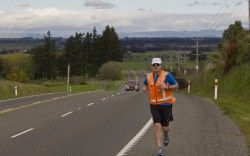 Heading out of Bulls and only 6 kms to go I was feeling great. Was able to wave again which meant I was waving even more to the cars just cause I could. We did 46kms again today and now looking forward to tomorrow as I have Perry Newburn coming with me all day. Perry ran from Auckl and to Christchurch last year to raise money for the earthquake effected people. Will be lots of fun to run with someone who has already done this kinda run. I can't wait.
I talked to my dad Ronnie today. We talk everyday but it's great just to have him there and to know he is doing well. XX
Today's Route – Zoom out to see where I ran…

View Larger Map