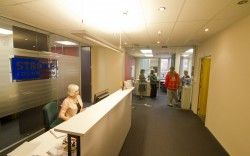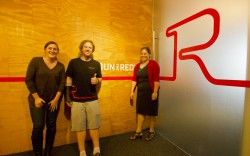 A couple of shots from yesterday at the Stroke Foundation in Welly and also at RUN THE RED office too. Was a fun day meeting with everyone.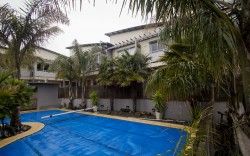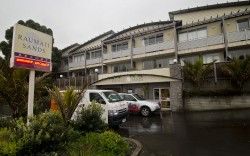 We stayed here at the Raumati S ands Resort near Paraparaumu for 2 nights thanks to Tom and Heather. Awesome resort, we were super lucky and loved it. Thank you so much!!!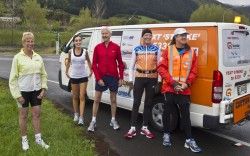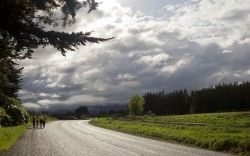 Had a 8:30am start and Mel, Roger, Pam and Harrod were there to join me, We all walked for my warm up and then Pam left – thanks Pam for coming for the second time – then we headed off and the boys ran a good 10km before running back to their car. Great to talk away and hear some stories. Thank you so much!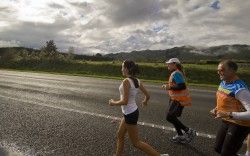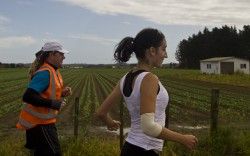 It had been pissing down all night and right up until we started to drive to the start point, and as always out came the sun to give us a super sunny day. I am so lucky. With some awesome clouds around us we headed north towards Levin.
Mel is a gun runner and was with me for the whole day today, we did 46km and I was having trouble keeping up with her. Poor Mel did the same as me in Christchurch and tripped on a circle of wire and took a dive and fell cutting her elbow a bit, I couldn't believe it when I saw the wire so I kept it. We think they are off the hub caps on ya cars. But Doctor Rick was out on patrol and patched her up. Man of many talents!!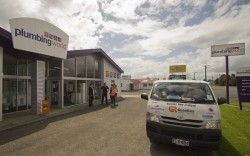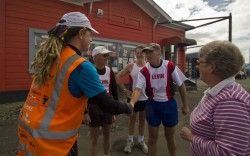 We were running past and I got a huge smile from the Levin Plumbing World guy so with my weekness to a good smile I turned around and went to say hi. Rick #2 was great and after a quick chat he went out of his way and sorted us a hotel and dinner for the evening. So amazing when this happens and just shows you what is behind a smile. They are an amazing and simple thing and everyone should wear one.
Just up the road we met the Levin harriers men Lance, Steve, Rohan and Christine were there to say hi and then we ran 17km together to finish off the day.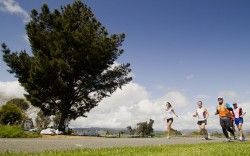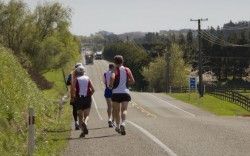 As u can see the day was only getting better and I was cruising along nicely with everyone's support. They paced me just perfectly and I was able to enjoy the road without having to think about speed or where I was going.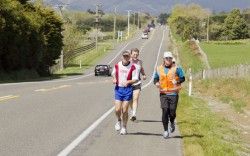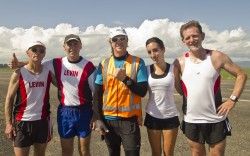 We arrived at the end at 3pm which was great. Sweet day and nice time to finish so still heaps of time to drop my feet in the pool at our motel and relax. Thank you all so much for being out there with me today. I really loved it. I'm pretty sure that all the toots and looks today were at Mel as she was ahead of me and by the time the truck got to me I was getting nothing, but I'll take them.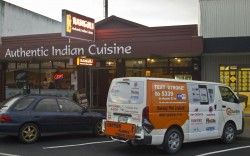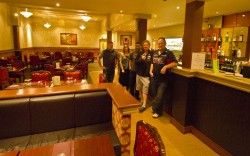 Rick from Levin Plumbing World and Allan a local plumber here and their lovely ladies came out for dinner with us at Rangoli Indian Cuisine -great dinner super yummy. Had a Corona just to top of a day of running, smiles and awesome people. Starting off with no plan or idea of where we were heading to having a primo day is what this run is all about. I have said it before but this run would not happen without the love of everyone in NZ. Kiwis are showing me what I had dreamed I would find while out here trying to do the impossible. Thank you all for making this run a huge success and a fun adventure. xx
Was talking to Nick Chisholm the other day and he was out on his bikes and getting crazy, as he does like to do. He had a crash on his bike and flipped over almost killing himself, damn bike broke which caused him to flip and slid along on his head – not a good thing when you can't move your arms enough to guard yourself. Poor bro has a bit of bark off and was concussed. Everyone send your love and power to Nick to help him get better. We can fix the bike easy but harder for a face. Hope you are getting better bro, we'll sort the bikes out you just get better.
Huge thanks Levin!!!
Today's Route – Zoom out to see where I ran…

View Larger Map