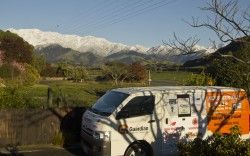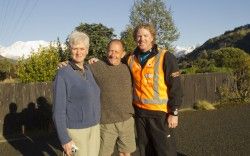 Woke up to snow on the hills and it looked amazing. We had heaps of rain last night and as always the sun was out for us to run in, we are so lucky. We stayed with Dawn and Murray Busbridge last night, they were so so nice – hot scones on arrival is a great start. I can't thank them both enough for their super support and love we got. xx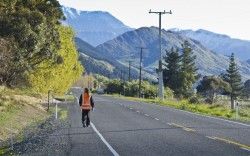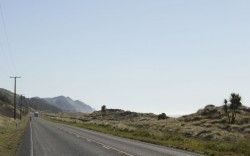 Beautiful day and sunny out, I was feeling great. A huge sleep last night which I haven't really had the whole time. Walking at the start and just taking in the view, it was great.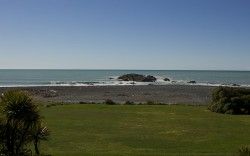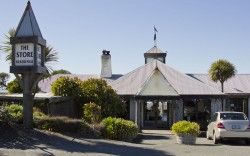 Murray and Dawn had sorted us some lunch at The Stone Cafe thanks to Cheryl, she was very nice and we ate a super lunch with another great view. Very nice little cafe, check it out everyone.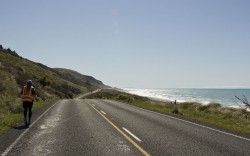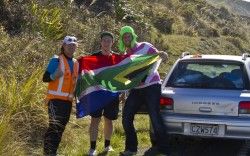 As I was going along lots of people tooting again and then the boys turned up. Murray (green hat) from South Africa, and his mate Callum who were on a road trip to Wellington from Queenstown. They stopped and were super energy for me. They had read about us and were super excited which in turn made me super happy. Love ya work boys, thank you so much and hope you made your ferry on time.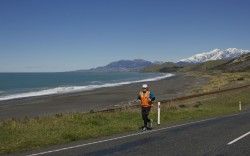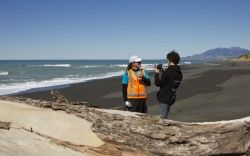 The views were amazing all day, I was just loving it. We headed down to one beach to have a look, finally able to get Rick in a photo but he didnt look. He is cruising along by himself at the mo, somehow keeping happy which anyone and everyone should learn from. Patience is a special thing and this man has it. Thanks bro, thanks for looking after me everyday. Any young hot chicks who want to come hang with Rick in the van drop us a line, he would love to meet you.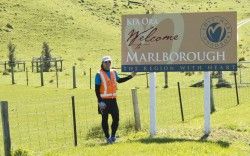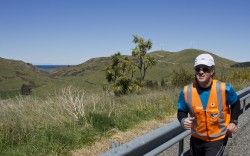 Into Marlborough we went and the last district before we get to the ferry. In the distance today we could see the North Isl and which was great, got excited just to think how far we have come and how close we are even if we have 4 more days of running to get there. Not far aye, 200 odd clicks. Easy.
Another day done and smiles still on so that's a good day in my world, love ya all millions xxx
Nite!!
Today's Route – Zoom out to see where I ran…

View Larger Map