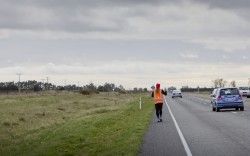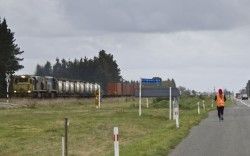 Got up and the clouds were out but I wasn't too worried. We haven't had much rain so off I went. Waving away to anyone and everyone I got to Ashburton and was feeling great.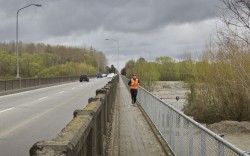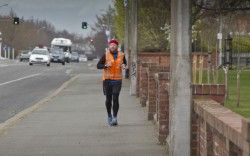 Legs feeling great and maybe a bit stronger if anything, at the moment anyway. I am still sticking to my run 10km and rest routine. With no one to meet I thought let's stop in and have a coffee, had just sat down and down came the rain – Pissing down oh awesome here we go.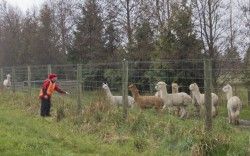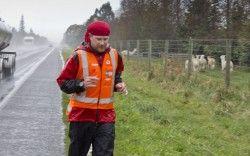 With rain suit on top and bottom off I headed only to sweat more under it maybe than getting wet from the outside. Again trying to make friends along the way only to get nothing but a funny look so on I went. The rain started at the 20km mark and didn't stop until the 43rd km. It pissed down but I loved it.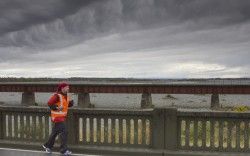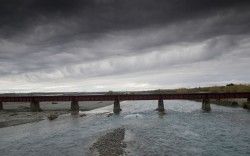 Then in the last 5kms we hit Rakaia and ran the Rakaia Bridge which is LOOOONNNGGGGGG. Rick ran on with me to take photos and got these beauties. The bridge is real narrow and with all the trucks flying past I think I ran a mile in 3 minutes. Lucky the end is on the other side but not what you need at the end of 50kms when it's not a race.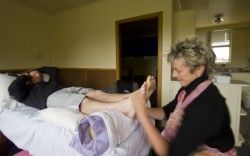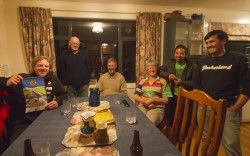 Then came what I had been looking forward to all day – my massage. Oh Liz magic h ands. Liz came down from Christchurch just to give me a reflexology treatment. AWESOME!!! Thank you so much
We had had an email from Tony who is in the Rakaia Loins Club here and they organized to meet up and then gave us an awesome home cooked meal at Paul and M andi Burrows home. This is the love and fun I wanted to find along the way. Thank you Rakaia for another special day on our trip.
Fun day tomorrow getting into Christchurch, with a few special guests coming to run with me I am looking forward to running another 50km tomorrow. Watch out for tomorrow's post…
Today's Route – Zoom out to see where I ran…

View Larger Map