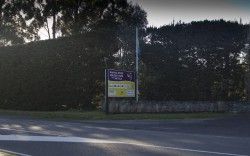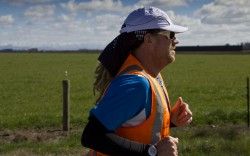 A huge day today, so Jup's stumbled off to hit the sack for a well deserved sleep. After a great night at the Rakaia River Holiday Park and Motels we got on the road at about 8:30am with the sun shining and the Alps providing some eye c andy to the side.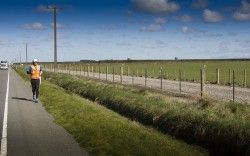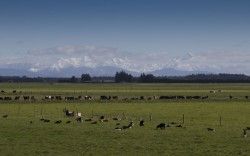 We got a call from Gary and Si from the breakfast show on More FM who did a great interview and got the text line out to all the generous listeners. After that boost Jup was flying along at nearly 10km/h with his music pumping, making it to Templeton early.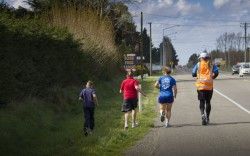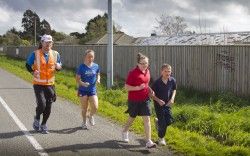 We had Georgia, Tom and Brenda come out to run into Templeton with us. Tom and Georgia managed to get out of school early to meet Jup after following him on Facebook.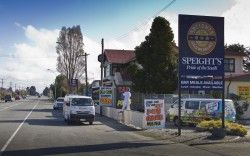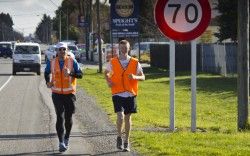 Once we got to Templeton we had an hour to kill before a few Crusaders players were due to meet us, so 'The Swamp' kept our hungry bellies at bay and our thrist quenched while we had a break.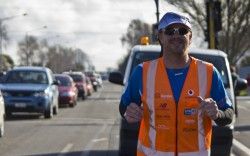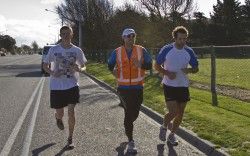 Adam Whitelock, the Crusader, and Matt Jackson, who turned 19 today, joined Jup for the final 8km into the Bush Inn. After running 48kms and having great conversations with his running buddies, 500m from the finish Jup tripped on a ring of wire on the road and l anded hard on his h and.
Jup: "My mum Gaye who has been awesome and helping with driving almost died when she saw me fall over. Can't thank her enough for taking the time off work, cooking bacon and egg pies to keep me and Rick smiling and being a big part of my Canterbury section. Big thanks to mum's friend Caroline who has been busy organizing massages and food for us too. Her and mum have been flat out. Cheers."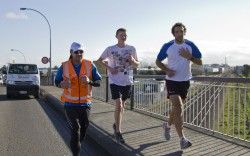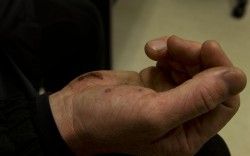 It didn't faze him too much, he was laughing by the time I managed to get the film camera on him. But we got it checked out just in case, an xray confirmed no broken bones just some swelling and a rather sore graze. We were out of there just in time for Close Up.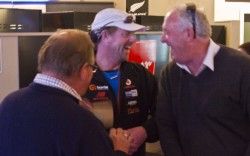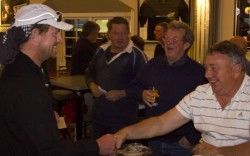 BJ, Jup's stepdad and Gary Keast, the owner of the Bush Inn Tavern had been selling raffle tickets for a signed Crusaders jersey, donated by John Miles the teams logistical manager, and they drew it just before the Close Up story started. They sold enough to be able to give $510 to the Stroke Foundation – massive work.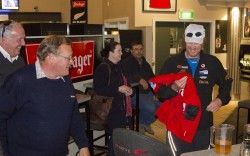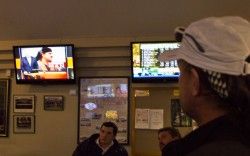 The whole bar watched and listened intently as Jup's five minutes of fame was screened thanks to Matt Chisholm and the rest of the Close Up team. Spontaneous applause erupted in response to the excellent story. Even Dick Taylor, the Gold Medal winner for the 10,000m in the '74 Commonwealth Games, was there to offer his praise and advice for endurance running. He really was impressed with Jup's form.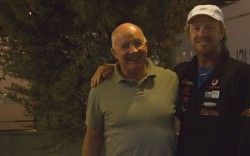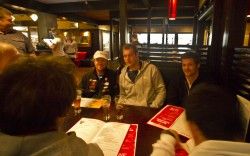 It was straight over to the neighbouring Lone Star where Trevor Casey had donated us dinner. We walked in and Dan Carter, Richie McCaw, Andrew Hore, Tony Woodcock and Ali Williams happened to be there. They invited Jup over for a chat and were rather impressed with his mission. We'll be closely following their progress as they play their way towards the Rugby World Cup. Cant think of a better way to finish off an awesome day.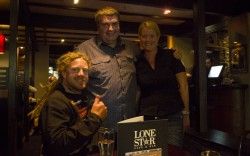 Post by Rick
Today's Route – Zoom out to see where Jup ran…

View Larger Map