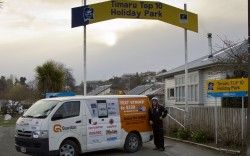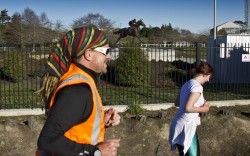 Last night we stayed at Timaru Top 10 Holiday Park – great night and big thanks to Gor don for his kind donation.
Went up to our start point and Erica who I met down on Stewart Isl and came and ran 12km with me – Great to see her again.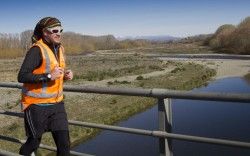 Today was a day of long straights and then some more long straights. Some great views from the bridges and the sea came close and then disappeared but then the mountains came into view. SO amazing the changes I am getting to experience with my days on the road.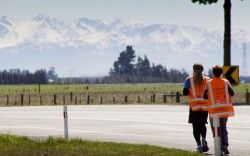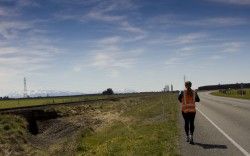 Amber came out and ran a few kms with me and I found myself trying to keep up. Once she got back in the van I started to get bored and lost my running mojo. Not feeling good but still a way from our first goal of 40kms for the day.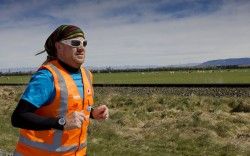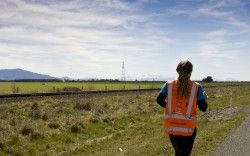 I tried my tunes and then talked to myself, the toots weren't as much as always so maybe a bit lonely. Funny that as I don't know anyone who is waving and tooting but it makes a huge difference in my mind and heart.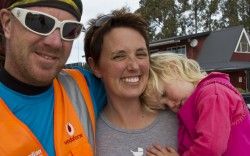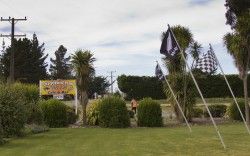 We made the 40km mark here at the Chequred Flag Cafe where Cor Bot welcomed us with a huge smile and gave us a coffee, cheers bro.
Not sure what he put in it but after a rest and a talk with everyone there I headed back out to see if I could do 5 kms more.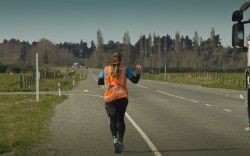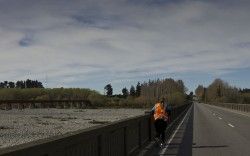 Ended up smashing out 18kms and made it to Hinds which wasn't on the list til tomorrow but felt great to run again and enjoy it. Back came the waves and toots so I was super happy again. Big ups to Neville who had seen us in the morning and then when he passed me at around 4 pulled over and waited to say hi and good luck then gave me some cookies. Those are the things that stick in my mind. Thanks Nev, Legend!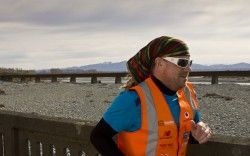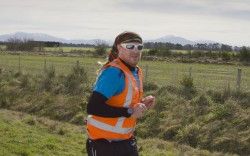 Once we had made Hinds we had done heaps more than planned so we didn't get to stay with Grumpy at the Orari Holiday Park – Big thanks to Grumpy as he was going to donate our nights accom.
With the extra kms today we now have a couple of days that aren't as long – still 50 kms but better than 60. Big thank you to Amber my sister who crewed the last 2 days, was great having you with me Amber. Now my mum Gaye has come along for 2 days. Great to have another face in the van for Rick to tell some stories and do the daily quiz with.
Looking forward to tomorrow but the weather man hasn't got a good day lined up by the looks of it. Let's hope the universe will look after me again.
Today's route – Zoom out to see where I ran…

View Larger Map