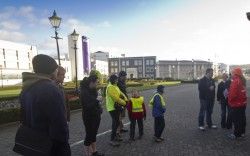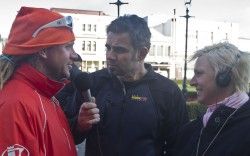 We arrived at the train station at 8am to a great welcome from some locals. It gives me a great feeling when this happens. The More FM breakfast radio team came and did a live  interview with us which was fun. When off we went, there was 9 of us. We were super lucky today with a great photo on the front page of the ODT paper of Nick, Boyd and me coming down Stuart St yesterday when we ran into Dunedin with a great group of people. Thank you all so very much.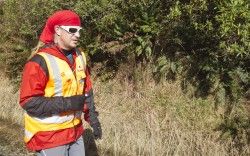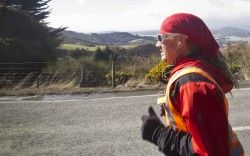 Trying to get the body going was a bit of a struggle today and Mt Cargil wasn't making that any easier. Lisa came and walked with me. It was super windy and even with the sun out it was still cold as.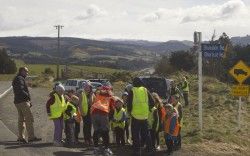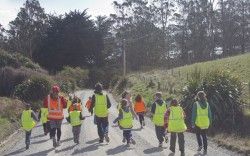 Heading down the other side of Mt Cargil I was getting pretty sore but as I came around a corner I met a group of super energized kids from Purakanui School. The whole school came and we ran together down the hill into Waitati. We had a great run and nice chat to the bottom. Thank you so much for giving me your energy!!!!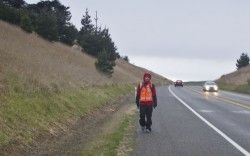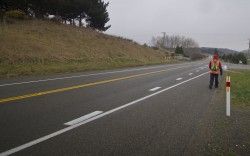 As I tried to get into some kind of rhythm the clouds started to come over. Then I got worse and couldn't run. Legs were killing me and I fell into a little bit of a challenge just getting one foot in front of the other. With my super crew being real patient and helping me out I walked along the road. I wasn't getting better after a couple of hours so told Rick and Lisa to go ahead and chill out while I just walked my way towards Palmerston.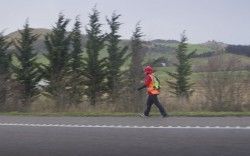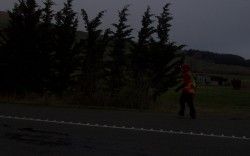 Hurting all over my left leg and not moving too fast at all, it started to get dark and I still had 10km to go. Rick came back and checked on me so I got my light as I knew it would be dark soon, then Amber and the kids came and cheered me on which was great. Had a few people stop and offer me a ride into town but had to turn them down. Even if this was the hardest day I have had yet I was able to push though and make my end point. But starting at 8am and finishing at 7pm that was a lot longer than I hoped. Big sleep tonight and I hope tomorrow will be a better day.
Today's route – Zoom out to see where I ran…

View Larger Map