Apologies for not getting this post up last night, it was a full night of Close Up interviews and a massage which meant we didn't get home till 11pm – far too late to write something after also running 60km.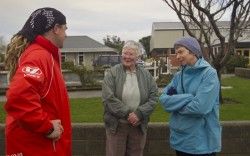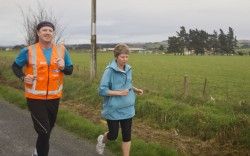 After a great sleep at Ann and Jimmy's place in Milton, we met Jill at the school in Milton and she ran a full 14km with Jup in the morning, a great way to start the day, especially with the somewhat bleak weather. Jill set a cracking pace, even after doing the Dunedin half marathon the previous day. Jup always enjoys the company and someone to talk to and take his mind off the running. Time flew by and soon enough we were in Waihola where we met Nick with his bikes.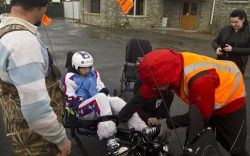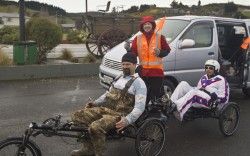 Jup was ecstatic to finally see the machines which he ran 100km on a treadmill to raise funds for. Nick was equally happy to catch up with Jup again and be able to ride with him on his new bikes. After a quick break we were away with Nick looking very stylish in his racing suit and his good mate Boyd towing him alongside Jup.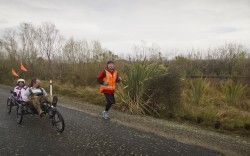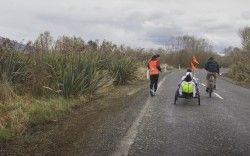 With Nick's company the k's flew by as we took the back road around the lake. Nick loved going fast down the hills, getting the little bit closer to being able to mountain bike again – one of his main passions before being struck by a series of disabling strokes. Nick's brother Matt caught up with us further down the road.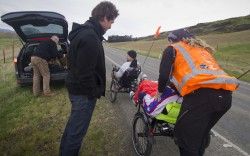 Matt is a reporter for Close Up and has been eager to do a story on Jup's run for his brother since he first heard about it. He and cameraman Wayne joined us for most of the day, getting plenty of shots to put together a great story. 40km into the day and we met up with East Taeri School who gave us an amazing welcome.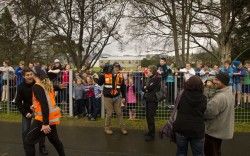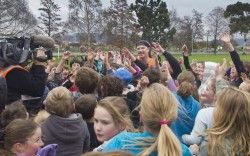 Jup ran around the corner to see hundreds of kids pressed up against the fence screaming their support. Jup was stoked to see so much support after running so far this week. He always says it's this support which keeps him trucking through the tough bits.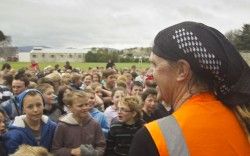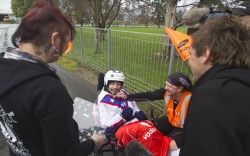 After a quick couple of laps around the field, in which most of the students smashed him as they sprinted ahead, Jup gave a quick speech about his mission and why he's doing it before answering plenty of questions from the interested kids.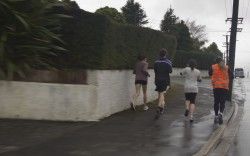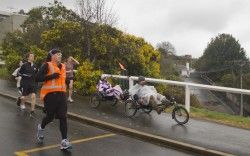 After a long slog up 3 Mile Hill, Jup was delighted to see the top, knowing there were only a few more kms to go before he got to the end of the 60km day at the Railway Station. A few uni students joined him at the top of the hill and Nick and Boyd had an awesome time riding down the steepest part of Stuart St.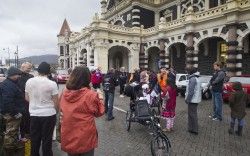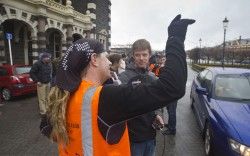 A crowd of supporters braved the rain to come down and welcome Jup into Dunedin. Several Otago Daily Times photographers captured him running through the Octagon on his way down before being met by radio and newspaper reporters at the station.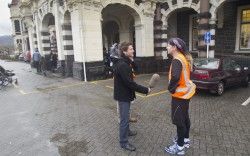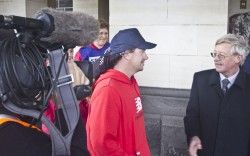 The Deputy Mayor Chris Staynes came down to give Jup an official welcome to the city which is a significant part of the journey. A few quick speeches and it was straight home to get the ice on his sore legs and an interview with Matt for the Close Up story which should be on air in the next couple of days.
Post by Rick
Today's route – zoom in to see where Jup ran

View Larger Map