Last night we stayed at my uncle and aunty's in Alex which was super awesome. Thank you so much Andrew and Val.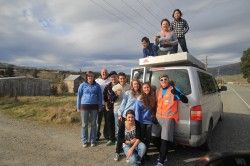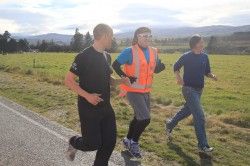 We started at 8:30am and headed for Roxburgh. Just short of Roxburgh the Mt Aspiring college international students came and ran with me and cheered us on which was awesome, thank you so much.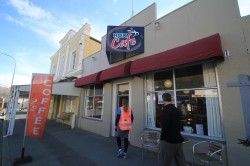 Then Alan from the Rox Cafe in Roxburgh joined me for a few kms into town. He gave us a coffee and then we headed to my Aunty Glen for an early lunch. Was great to see her. xx
Then we set off for Miller's flat where we would run down the Millenium Track which comes out at Beaumont (the end of the day). Just before MIller's Flat a car pulled over and we had some more people run with me. I love it when this happens – makes the hard kms easy as most of the time it is always perfect timing when everyone stops. Thank you all so much!!!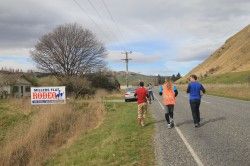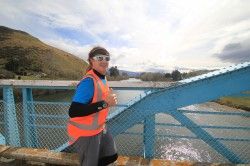 We hit the track and were heading alongside the Clutha River for 18km. Although it was nice to be off the road I missed the waves and toots from everyone. Along the river it was so nice to be in the middle of nowhere and enjoy the cows and river noises. Such stunning views too which made for a nice arvo. We did 57kms today.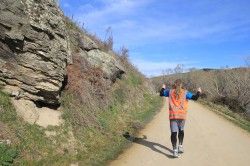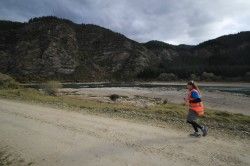 We stayed at the Beaumont Hotel/Pub where Alison looked after us. We had a great feed and relaxed while watching the Rugby.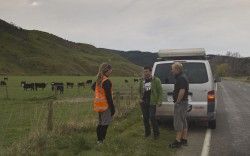 This morning we left Beaumont at 8am and headed for Miton, it was a 57km day again today. A few hills were ahead and I made my way past and over them. Mike B got out and went on his skateboard down the hills which was a laugh to see him fly down. Then after a nice break at Lawrence, Lisa Jackson came and changed over with Mike B. Thanks Mike for spending 3 days as our crew.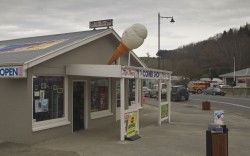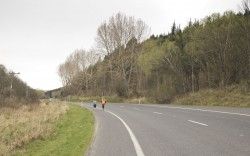 Lisa was straight into it telling Rick stories and then got her shoes on to run 11kms with me. Great effort. Then as I headed along the flats and was getting closer to Milton I started to feel great as I was about to start running north, which is a good feeling.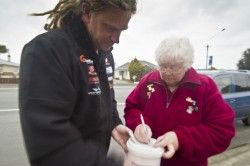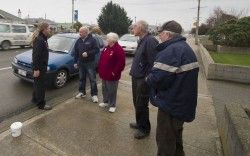 In Milton we were met by Moira & Athole Hastie and Mayor Bryan Ca dogaun from Balclutha. They came and talked to us and gave a donation from the Milton Senior Citizens club – Thank you so much everyone. Then we had Jill come around and give us some muffins for our trip tomorrow.
Has been a big week so far and still 3 huge days until we can chill out and rest in Oamaru, which will be great. My body is starting to change and after struggling for a few days I'm finally able to relax now… Great feeling that one.
Last Two Days Route – Zoom out to see where I ran

View Larger Map