Day one on the run got off to a great start after it stopped sleeting. With the sun just about to burst over the horizon in Lees bay Stewart Isl and, Jup set off on his mammoth mission at 6.45am.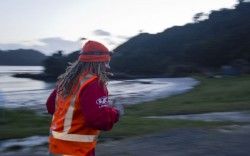 A few locals joined along the 6km leg to keep him company and show their support. Stewart Isl and's strong community knows how to get behind a good cause, anything we needed – such as a big spotlight so we could see the start, or a car to get out there – they were quick to find five people who would have one or could help in some way.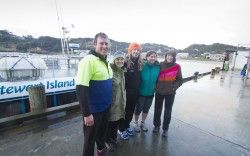 A condition of the free ferry ride, generously provided by Stewart Isl and Experience, was that Jup had to run a few laps at the back of the boat. Easier said than done on the small vessel esspecially with the swells we had coming back to Bluff. But Jup didnt let that stop him, much to the amusement of the locals.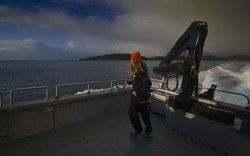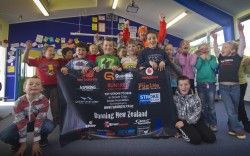 Once we got to Bluff it was all go with radio interviews before we set off at L ands End in sunshine. A bout of sleet didnt hamper progress to our first of three school visits for the day, with Bluff Community School turning on the sunshine as soon as we stepped inside. St Teresa's School was only a few hundred meters up the road so we popped in to have a chat and a quick lap around the court. They'd put on a mufty day to help raise funds for the reason of the run – the Stroke Foundation.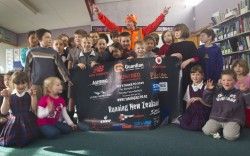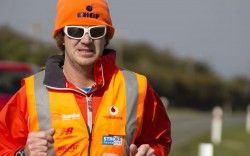 We still had 30km to cover to get to Invercargill and meet up with the Mayor Tim Shadbolt so Jup ran non stop to make the 3pm appointment. With trucks tooting their support and giving him plenty of room to safely run, a strong tail wind helped him fly down the peninsula. We even had enough time to spare to quickly drive up and visit Makarewa School to talk about the run and teach them about the seriousness of Strokes. They'd also had a fundraiser to help the cause and were delighted to be able to run a lap with Jup.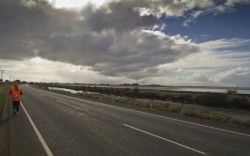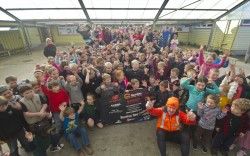 We dashed back to Invercargill so Jup could run the last few k's into the centre of town to Tim's offices. With his charming smile on his face he welcomed us in along with the president of the local stroke club and a Southl and Times reporter keen to cover the unique story. After finding out all about the run and what's motivating him to do it, Tim invited Jup upstairs to see what it was like to be Mayor for the day. Once he'd donned the robes and chains, Tim Shadbolt gifted us a signed copy of his book to auction off along the way.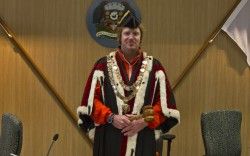 Another 10km and a free coffee later Jup made it to White House Hotel in great shape, maintaining the 8.2km/h speed he'd been averaging all day. With three free rooms kindly given to us we were quick to get some well needed rest after the early start and busy day.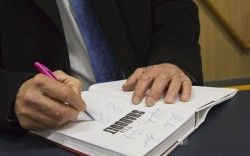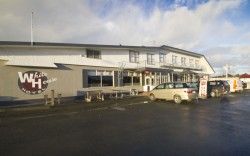 Day One's Route – Zoom out on the map to see where Jup ran

View Larger Map
Post by Rick