Woke up at 6am and was feeling good – a day after running more than a marathon it's a great sign for someone who's started to run the length of the country. Today I started at 7am in the nippy Southl and morning sun. We started early to get to Winton by 10am for the 'Blackout' All Blacks parade. With 23kms to run along straight roads with trucks rushing past, but knowing the support of Winton locals ahead I boxed on… bloody wind in my face and not real warm.
Got a call from S andi in Invercargill saying that her and her daugther Tessa were on their way to meet us on their bikes to ride into Winton and through the parade. Then my long lost friends Ant and Ang Scurr rang to say they were sending George their son in with us too, so I had a little party which is awesome.


We ran in and first was St Patricks School. The kids ran the block their school was on and we got some photos together…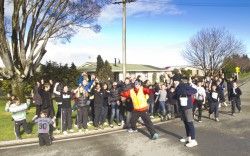 Then the next block was Winton School, same again… so much fun running together, so much energy and great to talk with them all.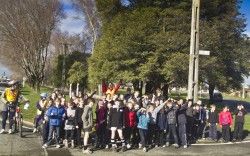 Then met some locals who were watching the parade, few more photos… Rick running everywhere blocking the road getting photos was funny to watch. He will be fit as at the end of this.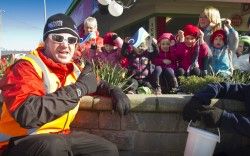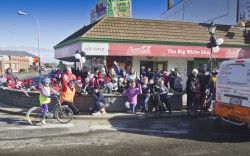 Then we had lunch with Ant and Ang, talked of old times and how stupid I must be. Just what I needed as I then ran 28kms on to Dipton. 52kms today.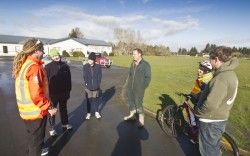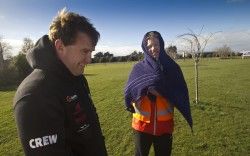 The views were great, so many cool clouds and super green grass, new lambs yelling out to mum to feed them… haven't had the ipod on really yet which is a change.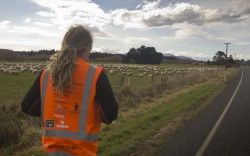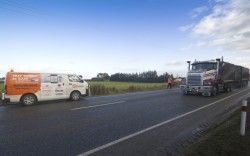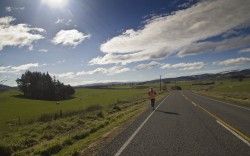 Got a call from Gilly in Aussie, Jodie is in labour so might have a new face in your world tonight, which would be awesome. Don't faint Gilly, best of luck Jodie xxx
After an early start we finally got to Dipton at just after 4pm which was probably my fault for running slow, but there is no hurry right?
Met George and Patrica who have welcomed us into their home for the night – SO nice of them. Home cooked meal and lots of stories, they have completed a great day with their love and welcomes – I can't thank you both enough for your support!!!!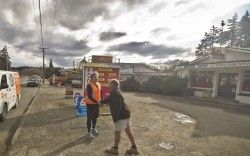 Today's Route – Zoom out to see where Jup ran:

View Larger Map