Today we went along to our first school of the trip, to the Halfmoon Bay School. I had a talk with the kids for 10 minutes about strokes and our mission ahead. They were awesome and asked heaps of questions, and knew quite a bit about strokes which was great. A couple of the boys asked if they could join me tomorrow morning for our start which is just what I wanted.


Then we went for a run together around the block and the school twice, and I got smoked! Way too fast for me, especially Billy – he was so quick. Everyone ran great and laughed and smiled the whole way. I couldn't have asked for any more fun.
They gave a donation as well which came from the lost property box. If the kids lose or forget their clothes they pay a little fine to get their clothes back – helps the forgetful ones to remember. They also gave us the first copy in NZ of their 2012 calendar which is so beautiful, full of shots of Stewart Isl and and the wildlife.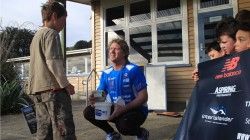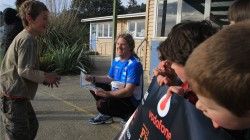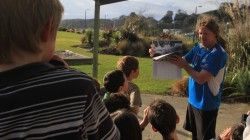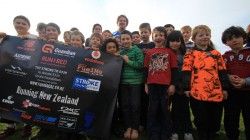 Thank you so much for showing me so much energy and fun!