I woke to crazy crazy rain coming down which had been falling all night, So I stayed in bed , haha Nah I got up around 7am and had a nice cuppa and some noodles and watched for the skies to clear. They did and I hit the road around 8.20am.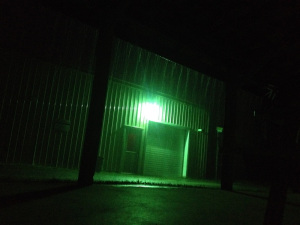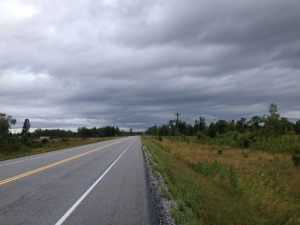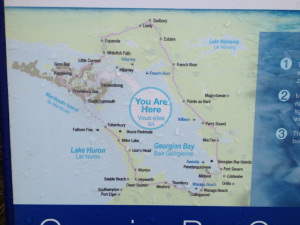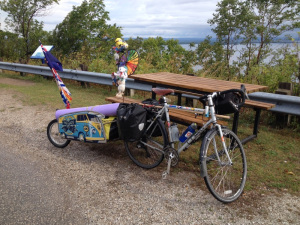 As I sat there I checked my emails and saw on my facebook a message from Maggie padleska, My great friend from Ottawa, We had done some filming while I was there and she had made it into a small clip and shared it online, I watched it and just started crying, it was me I was watching but the way she made it and the bits she picked are bits that make me relive everything I have been doing and make me think of the people who have been there with me in so many different ways. I watched it again and again and cried each time, I shared it and straight away people started writing amazing comments to me and to Maggie which made me happy.
[facebook url="https://www.facebook.com/oneyearoneworld2011/videos/1002485756463241/" /]
Maggie is amazing and what she does is more amazing, it shows in her video and everyone thought the same as me, THANKYOU !!!
To wake up on my 50th day of this bike ride to this was all I need to get through the next 50 days. Every moment I have out here on the road is so special and the people I get to meet and share this with is life at its best, Thankyou all for following , sharing and being there with me every step of the way. Im so lucky.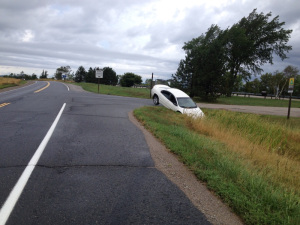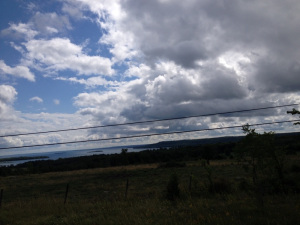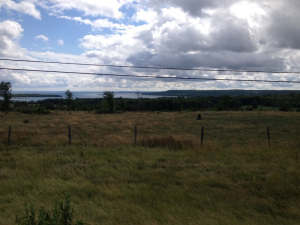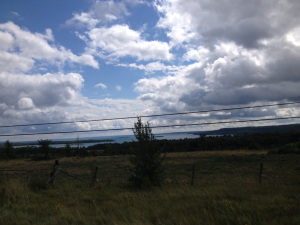 About 10kms up the road a policeman pulled up beside me and ask where I was going too, he then warmed me about a storm that was coming and to be careful. Thanks bro.
Then as I came into a town I noticed the sign said 9500yrs old and I thought " where am I and what can be that old here so it had me thinking .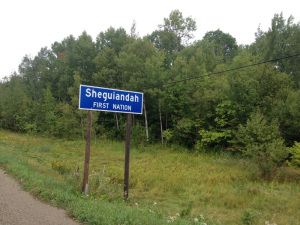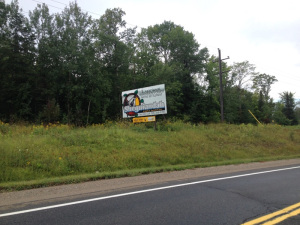 I arrived and there was not much at first then I pulled into a gas st and to get some food.
There I meet a super friendly group of motorbikers from Holl and and we chatted about each others trips. Thanks so much for coming over to say hi.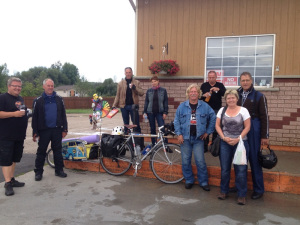 Then A man pulled up in a car and I said hi and asked him about this 9500yrs old thing, His name was Andy and he was of the Anishinabe people ( kind human being) , Indians who had been here since long long ago. They have a amazing language called Jibway, He told me about how it explains a word as in like a picture does, For example they say a French man is "Stick men or man with sticks " as when they first came along they were carrying Crosses , then People from America were " man with knifes " as they carried Knifes with their uniforms. I just wanted to stay and learn more about all this.
Straight away Andy had me listening like I have never listened before, everything he said made sense to me, his stories were simple and amazing, What his people believe in and how they live just made me feel like I was one of them or more like I was on the right track with my thinking and how I am.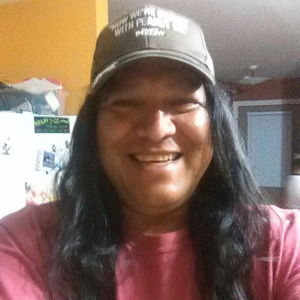 Andy told me about his people and how they didn't write things down, they learnt them and remembered them, pasted them on through stories and sharing. He then told me of the four things they live by
Be kind
Be Honest
Share
Happiness / strength
these four things are everything to me too, The way you look at these four things and how you apply them to any thing that happens in life good or bad.
I had just posted on facebook about Saying Hi and smiling at everyone you met or pass by and Andy said that this is the way of his people, the way humans should be . I told him what I had just posted and we talked more about how people are scared nowdays and should try and enjoy life more.
I was so happy to spend this time with him and it was only that he had to go back to work or I think I would still be there. I continued to think of everything he said to me all day and it made me so happy. First Maggie and then Andy, a awesome group of Dutch people and others making my day so very special in so many ways. This is why Im out here, talking to them about the 100 Mile club, sharing tales , listening and learning from them, it is such a magic time and I wish I could have better English so I could explain better. I mean I cant spell the words I want to use.
I rode up the road with so much happiness and energy flowing that the clouds went away and the sun came out. The hills weren't big any more and I was calm as which I liked. Today was a day I will never forget and will talk about for a long time. Thankyou
I made it to Espanola around 3pm and settled into mac donalds to use the internet and charge all my gear. I hadn't and sorry I ahvent had a chance to upload my blogs. I needed to reply to many people who have been writing to me and I felt bad that I haven't. Sorry for this.
Then At around 5.30 I got back on the bike and headed off, to only look behind me and see a storm coming really fast, I pushed hard to see if I could find somewhere to hide from the rain that was coming and found a shop.There I met Mitch who is traveling around and from Indiana. Mitch was hitch hiking with his dog, We chatted away while the rain came down and it was nice to meet him and hear his stories. Thanks so much for sharing with me bro and best of luck on your journey . We are heading in the same direction but I cant move as fast as a car.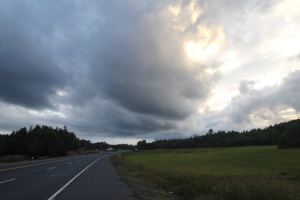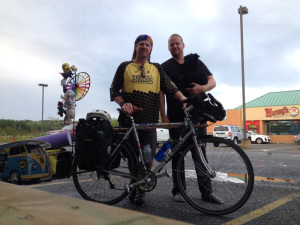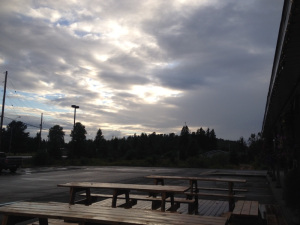 Then at 7.30 the sun tried to come out so I went back out to try and get some more kms in, I made it to 62 miles for the day as the rain started again. I found a small driveway that looked unlessed and set up my camp under the trees.
After dinner I just rested and lay there thinking of this amazing day I have just had and are feeling better than I have felt in a long time. Amazing how when you ask the universe to help you or show you something, it shows you or helps it happen. Putting it out there can be a very hard to do and you might feel silly or that people might think you are weird but trust me that will only last for 5 mins because after things start happening for you and they see that they will be inspired and want to try it themselves so I say get out there, go after whatever it is you want to do. You cant fail, you will feel something you have never felt before, People will appear and help you, join you and that thing you have been putting off for years maybe happens so easily.
If nothing else I would love to hear about your thing, you goal or whatever it is as I will listen and I will help you. I know it can happen and I want to share it with you.
There is always someone in this world that will help you , your not alone and you are a amazing people. Smile, say hello and watch the magic happen. You never know who is on the other end of that smile or hello. If you believe you can it will happen, so give it a go.
Well Im one happy Kiwi riding a bicycle down a road in Canada , Please share and lets do this together, Thankyou so so much for the amazing comments today, I love reading them and get inspired to do more with each one. Remember this – everyone inspires someone so go be you and inspire and be inspired.
Nite all