Getting back on the road today I was happy and sad, I got to sleep in a hose in a bed last night and was loving hanging out with Craig and his family but the ride must continue.
Everyone got up to see me off after Craig had made us all his famous salmon breakfast which was awesome.
I had a blast chatting with Alec and Marissa and it was sad to say goodbye but I know ill be back here, its to beautiful not to and I want to get a car next time and really explore, so many places to go.
I waved goodbye and headed off on my first real day of riding WEST. Yahoo.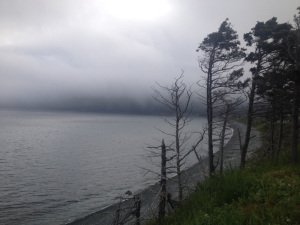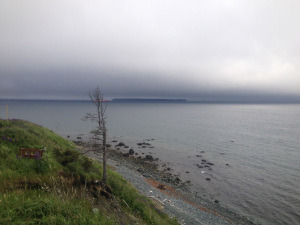 I took a different way out of town down towards Conception bay as I had come in on the highway 1. I want to see the views over the ocean as much as possible but today was cloudy as so not much happening.
I cruised along and stopped for a coffee every 3-4 hours and had a little tail wind which helped me in some places but it was good just not having a head wind. I slow right down when one pops up.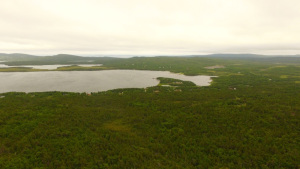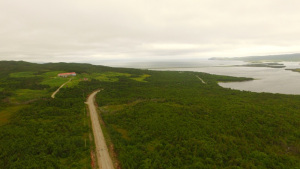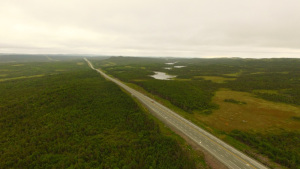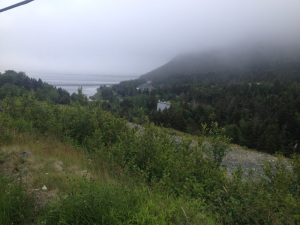 I was excited today as I hit Highway 1 West. the sign made me happy, its the small things sometimes.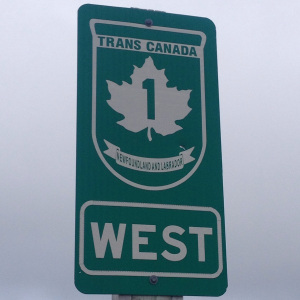 I had a goal of Arnolds Cove but made pretty good time and was feeling ok so pushed on to see how far I could get. Next goal was Goobies, well it was just a gas station but I thought it could be sweet to stay near too.
I had my new mud guards on so wasn't scared of the clouds forming in the skies.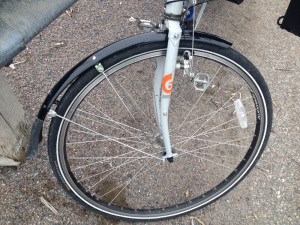 I had a few messages come in about bad weather tonight and tomorrow, heavy as rain and thunder coming so I thought it would be nice to maybe have a hotel so I rechecked the map and found that I could just make Clarenville if I hurried.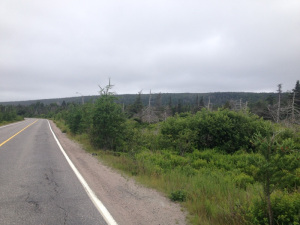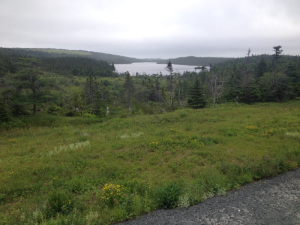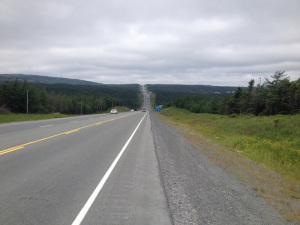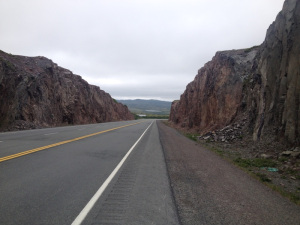 As the evening came The fog and mist rolled in again and I go a bit wet but then as I went up and down the many small hills it disappeared and I dried out too.
My lights died also on the front but at least my back one powered on.
I made it to town first I just had to eat, I was staving and sorry to say but I smashed 2 burgers. I then checked around for hotels and thought I found one to then get to it and find out it was also booked out. The whole town is full, not what I wanted to hear at 9.30pm . I checked the map and saw a grassy area just around the corner so quickly went and set up camp. I was going to have to ride out the storm in my trusty Big Agnes tent. Right as I jumped inside it it started to rain . I had food and water so not worries if it rained heaps I could just stay in and cook.
So a good day out , I managed 108 miles today which isn't bad for me. Took me around 13 hours but I wasn't going hard so feel sweet. Nothing else happned. I didn't get to many photos, I did get a drone flight in so a couple from that but otherwise and good day .
Lets hope this storm isn't to crazy and float away. Nite.