I left around 7am and made Cape Spear around 12 lunch time, it wa the hardest bit of road I have ridden so far, there were 2 steep as hills to go over and I had to work for them. You might think just get off and push but my bikes so heavy that pushing is harder than riding almost. Really unbalanced so I boxed on.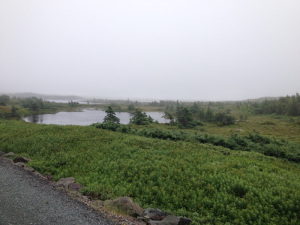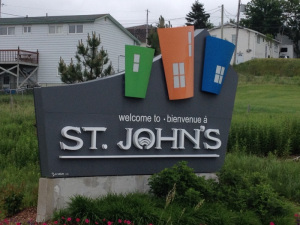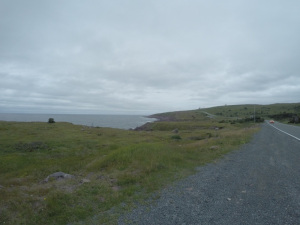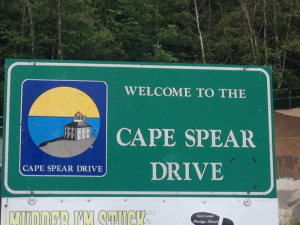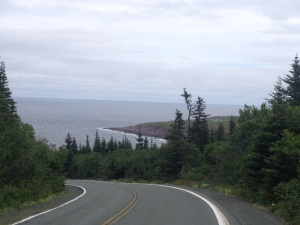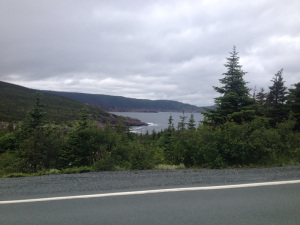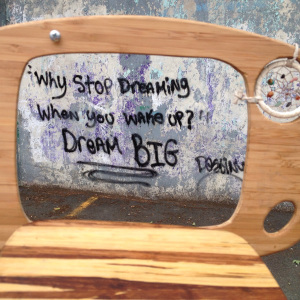 I needed power to get up the hills so called on my bro Popeye.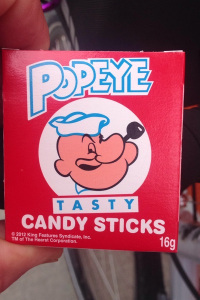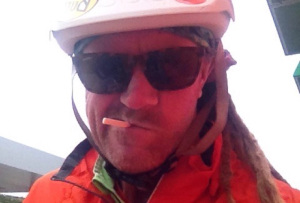 Such a beautiful point with the 2 light houses there. The new one and the old one that was built in 1835. I had a quick look in both them and chatted to the friendly staff there. I ran into Ralph who I had met on the ferry as he had arrived a bit early than me. He was talking to Mike And Megan who had biked up from Nova Soctia. Awesome couple who are living in Ontario and also invited me to come stay, I love how this is happening and it makes it so much fun. Thanks so much guys, enjoy your week hanging around and Ill see you in a month or so.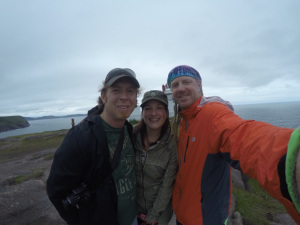 Then as I walked around I met C andice and Cory, they are living in Alberta now but are from here. It was awesome to sit and chat and They invited me to come stay when I get that way, Awesome now I have a little goal to get to. That will help me as I pedal all those miles. Great to meet you both.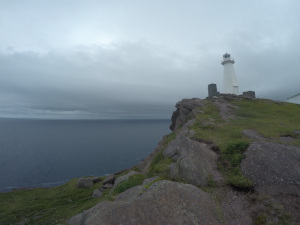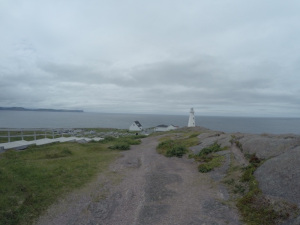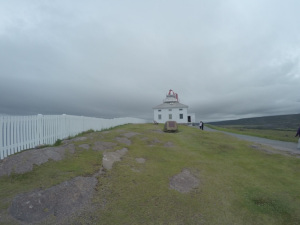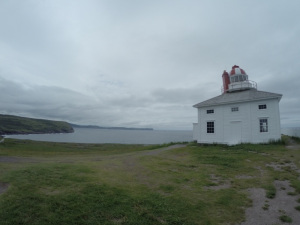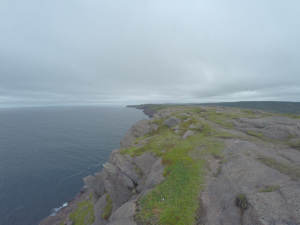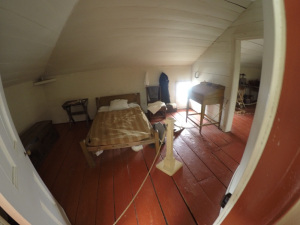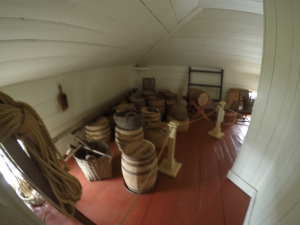 This is from Artist Patrick Sweeney, cheers bro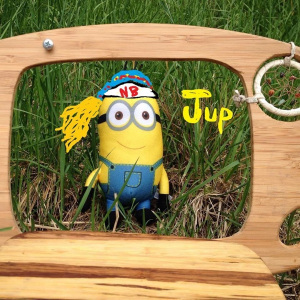 Then as I walked back down to take more photos I saw a guy who had to be a biker, Daniel was his name and he had just arrived and had ridden all the way across Canada from Vancouver in just 38 days, holy shit bags he did 7300kms in that time, longest day 270kms, he was traveling super light , the opposite to me haha but it was awesome to share this moment with him.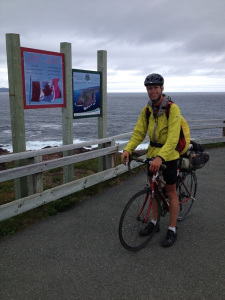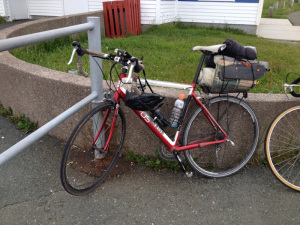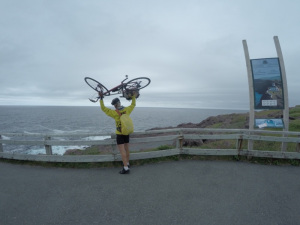 We went down the point with our bikes and took some shots, So awesome to think that you can ride that far in such a short time. Not something I could do I reckon I take to many photos. But great to see how happy he was and what he had done. Huge Congrats bro.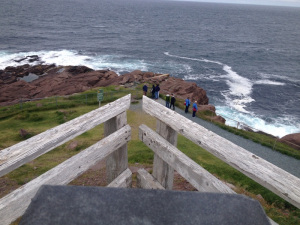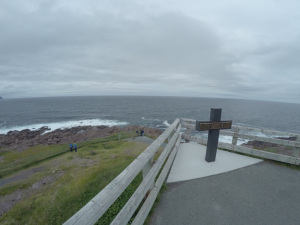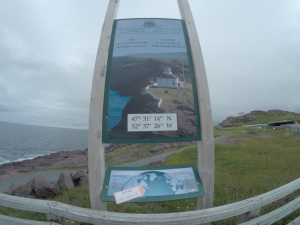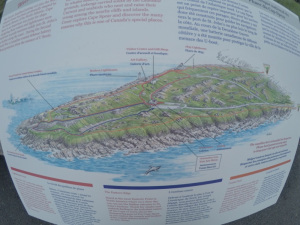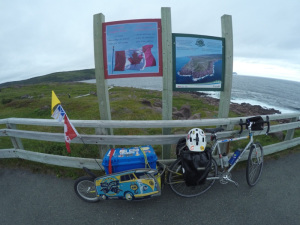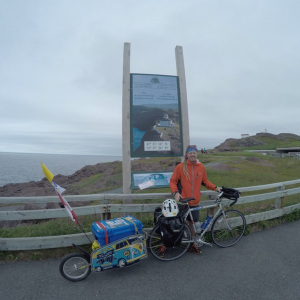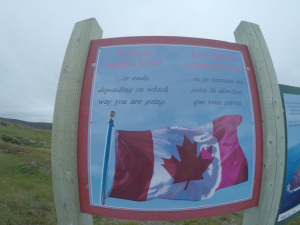 Then as I had to ride back into I got my last photos, also I flew the drone up and over the point, it was so awesome to see it from up there.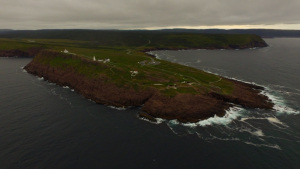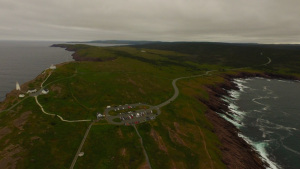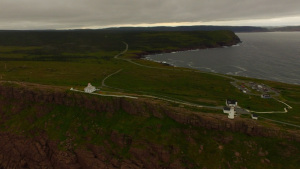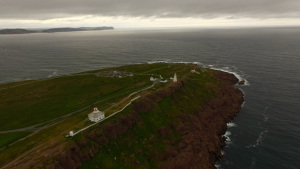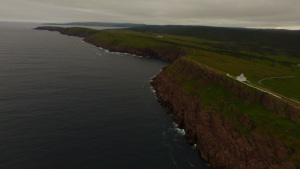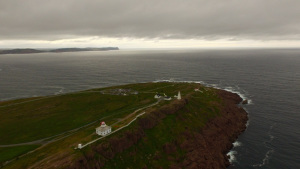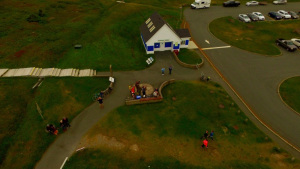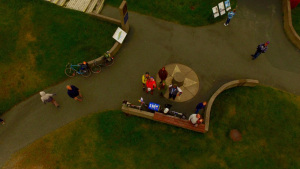 Then I changed back into biking mode and headed back for the hills that would take me to St Johns, just 13 kms but a hilly 13. I was heading for a beer as I felt happy to have made the 1974kms/ 1226 miles in just 18 days. That's almost the length of New Zeal and. Now I get to turn and head west which is a long ways in its self. Around 5 lengths of NZ. No worries aye. One day at a time.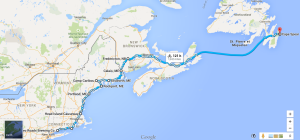 I made it to St johns and found a Irish pub, sat down and enjoyied a Corona and some food. Just 50 miles for the day but a great 50.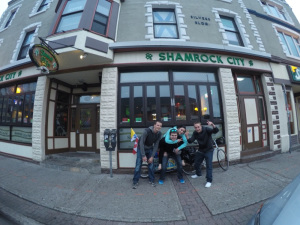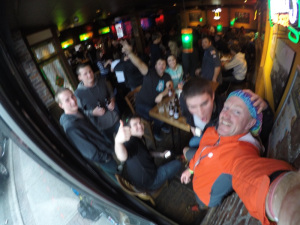 I found a camp ground to stay in for the next 2 nights and as I was heading there I meet some local boys. They were st anding by my bike and we chatted and then they invited me back into the pub for a beer. Of course I said yes and it was awesome to meet them and learn some things about their place. They told me of some cool spots to check out and made me laugh so much.
I just love their accents, Very Scottish/Irish and same sense of humor. We went to another pub to see the bar guys do some tricks and they had rugby and I mean All blacks playing of the TV's, I was home or I felt I was. I love this place and Ive only been here for 2 days.
I finally had to go as it was getting dark and made it to the camp ground around 10pm. A long fun filled day and with no hurry to get up in the morning I dropped off to sleep with a smile on.
Section 1 , Stratford to Cape Spear DONE!!! Bring on Section 2.