We woke to the rain but as we got to the start it had almost stopped and then stopped for the rest of the day. The roads were nice and a good shoulder with lots of lakes along the roadside. It was rolling hills all day but nothing to hard and it was a good change than just flat roads.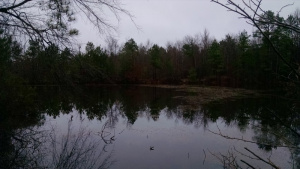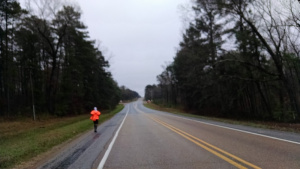 We were excited today when a car pulled over to say hi, Out jumped Sherita Shephard with a huge smile on going " What y'all doing out here I have seen you over the last week running up the road". It really did make my day, We have had a lot of people waving and tooting but not many stopping which I had a lot of in New Zeal and so this really made me happy. Thanks so much for your donation for the 100 Mile Club and great energy for me and Pat.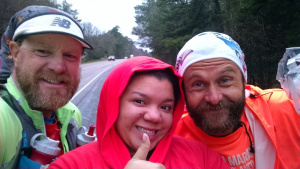 Found this mail box today which is pretty cool but then saw the name "The Browns" . Even though we are only in Arkansas for 6 days Pat has found lots of number plates already, I think it was 4 from today.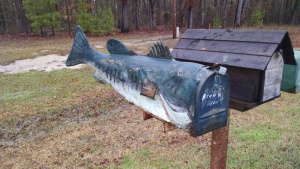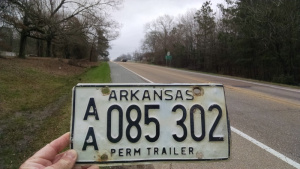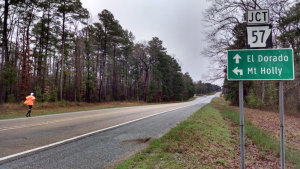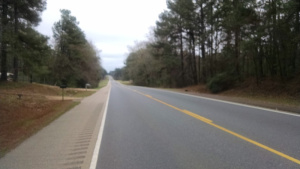 Pat's find for the day.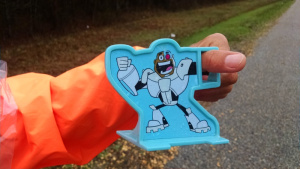 We finished the 32 miles in our normal time and then headed to our home stay for the next 2 nights. Steven & Crystal Wall, their awesome kids and family have invited us to stay for the weekend. Super nice family and looking after us so well. Can't thank them enough. True Southern Arkansas hospitality.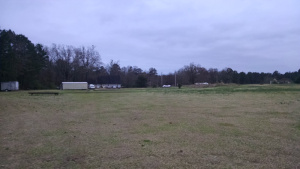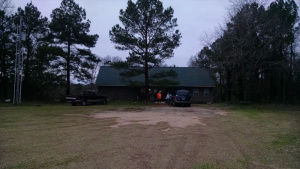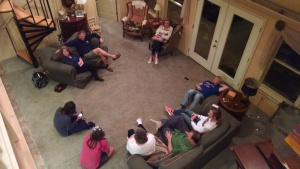 This is our course that we are on right now heading to Memphis, We are in El Dora do right now on our day off. 8 days from now we will be in Memphis, I can't wait. We are at 1757 Miles = 2827kms which is almost the distance I run when I run NZ where I did 2937kms. Exciting.
[googlemaps https://maps.google.com/maps?saddr=Texarkana,+TX&daddr=US-82+E+to:US-82+E+to:US-82+E+to:US-82+E+to:AR-160+E+to:US-278+W%2FUS-82+W+to:33.4013295,-90.9492521+to:33.5690648,-90.7888971+to:US-278+E%2FUS-61+N+to:US-278+E%2FUS-61+N+to:US-61+S+to:US-61+S+to:N+Front+St&hl=en&sll=33.85217,-91.691895&sspn=4.880213,6.306152&geocode=FeUG_gEdOPJk-ilXZKDCMkE0hjFwW9thkjxYnQ%3BFZMd_QEdwrVs-g%3BFS1X-wEdKD50-g%3BFV7O-QE doyN8-g%3BFV-x-QE doCeE-g%3BFcIg-wEdGkSL-g%3BFfAo_QEddUOS-g%3BFfGp_QEdfDmU-indeZYDEOsrhjHQQcmHgyZuwQ%3BFSg5AAId36uW-inP_nfZVLorhjGHivSDv7QN3w%3BFbZ2AQIdiGiX-g%3BFTBbCAId7AmY-g%3BFVk6DgIdUP-b-g%3BFQGWFAIdPLef-g%3BFT1JGAId9eKh-g&oq=Bentonville&dirflg=w&mra=pr&via=7,8&t=m&ie=UTF8&ll=33.85217,-91.691895&spn=4.880213,6.306152&output=embed&w=425&h=350]