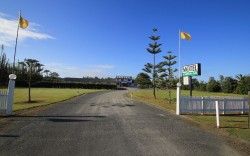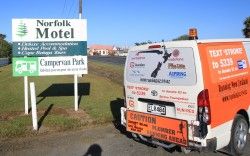 We stayed here at the Norfolk Motel which is in Awanui. I came here back in July and met Kim, she was great and put me up then and then again last night. Really nice place and Kim is super friendly – Thank you so so much for helping us out Kim.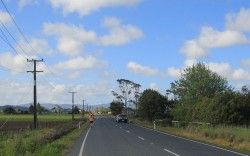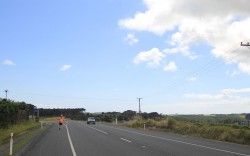 We started today right on the edge of 90 mile beach and it was a super sunny day. After yesterday's nude run I noticed I had some tan lines so started working on the upper arms. I didn't sleep super well as I was excited getting all the photos from the World Stroke Day run, who would send next and where were they. So I was a bit slow in warming up.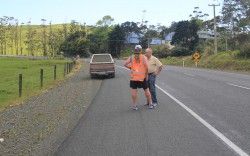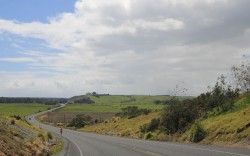 As I went along there were a few toots which is great and then I had Bob here stop and say hi, he works with my cuz Mason who had run with us in Taupo in the all black suit. Great to meet you Bob.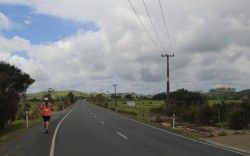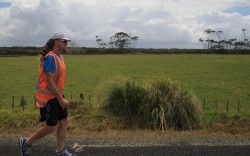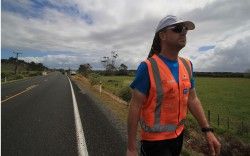 It was a very scenic day today, first a few hills then beach side, then more hills but only little ones to help keep the fitness going. It was super hot today, I have been fine until now and it didn't feel real hot but I felt buggered and was drinking heaps. Will have to just slow down a bit. Like here I was in a deep cruisey walk, just a 100m here and there does me wonders.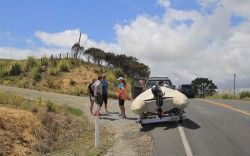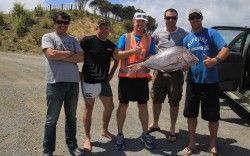 Then I had the surprise of the week, my bro Marcus Eccles from Wanaka drove past, hangin out the win dow yelling at me. Marcus and his mates had been fishing and were heading home. If I had been 20mins later I would have missed them, I love when this happens, I get it so much traveling the world. Check out that Snapper, it's HUGE. Had a chat and got a few snapper fillets from them and they headed off. It was perfect timing to to give me a bit of a pick up, as I was a bit bored right then.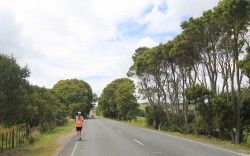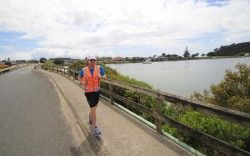 We were in a very nice part of NZ. Hugging the beachside through Coppers Bay and around there I was loving the views but not so much the head wind.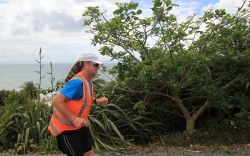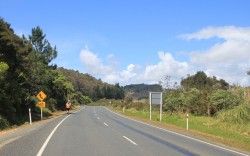 We boxed on and did our 47kms which was great to get done. Just to get out of the sun and I was turning a beautiful shade of brown, well in my eyes anyways. We are now down to 7 days, when I wake up tomorrow I can say I'll be finished this week, ha that is a funny thought, what am I going to do? Got a job lined up in WA Aussie for a bit but I will be thinking of leaving from before I get there. No change there I suppose as I always do that, but I will be lonely not having something like this to push myself into. Any suggestions of a adventure to do next? Doesn't have to be running by the way, could be biking, climbing a mountain, skiing or kayaking somewhere, I don't know but I'm already looking forward to seeing what comes along and I know it will be fun whatever it is. Give me some ideas please.
Today's Route – Zoom out to see where I ran…

View Larger Map