We were up early and driving to Cape Rienga, we wanted to get a bit of filming done before we set off. As we got out of the Guardian (van ) 2 young pretty Dutch ladies came up and asked us to help change their flat tyre. So I had to get the guns out and help out -almost a bit embarrassing as the nuts on the wheel were damn tight and I struggled for a start but got them in the end. Then Claire and Eveline decided they would come and run with me, I was stoked.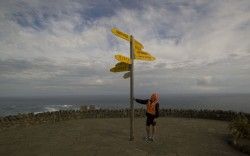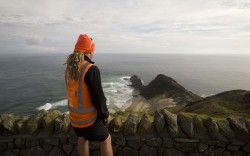 Rick and I set off down to the Light house and did a few things, filming, interviews and photos. It is a magic place here, beautiful morning and sun shining – just what I asked for. Thank you universe.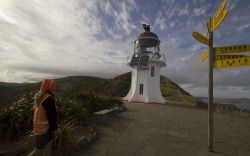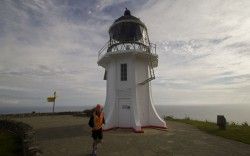 Today I ran in memory of Rick's Opa (gr anddad). He passed away 2 nights ago while we were in Auckl and. Rick still has come with me which I can't thank him enough for. I send all my love and wishes out to Rick's family. RIP Opa. xxxxx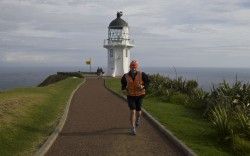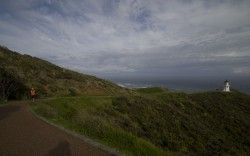 Off I set back up the hill and into today's 46km, not a big one but there were a few hills to climb. Straight away I noticed something was wrong, my left ankle was hurting a bit and I couldn't think why. As I ran along I then noticed that the road camber is the opposite way, All the way up NZ I had run on the left side and a huge percent of the corners were always left long ones, but now I had turned around they were the other way. You will only notice this if you run and got heaps of time. So the change of angle was pushing all my muscles back into straight which kinda hurt. Not to worry I soon got used to it.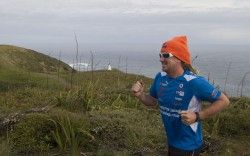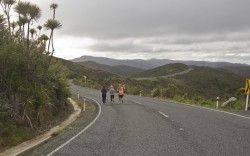 With Claire and Eveline with me for 10km I didnt think of it much as we talked travel, and anyone who knows me knows that is the one thing I love to do. Once they left I had a little mission on my h ands to get to the school on time, I didn't have time to rest and had to push myself a bit more than normal. Lucky I have been working on my fitness lately.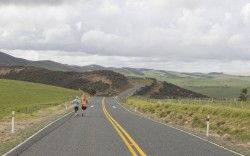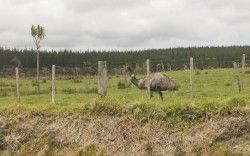 I had a few people stop and say hi, a very nice German couple stopped and then Deano a local farmer came over for a chat. Great to meet everyone as I go, I just love it.
Running out of time I sped up more and just made it in time to meet the kids from Te Kao School. They were awesome and we even got to have a run around the grounds which I love. A special thank you to Bonnie at the Te Kao Store for getting in touch and sorting us to go see the kids, and to the kids and teachers thank you so much for having us.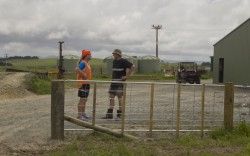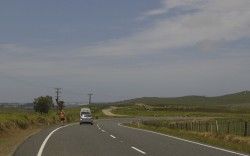 Tonight we headed down to 90 Mile Beach and had a feed there while just chillin out. SO awesome there, I loved it. Me and Rick both hadn't been there before and it was a beautiful evening. Rick got some sunset photos and I just enjoyed the not running and relaxing with a corona in my h and after another day at work, haha.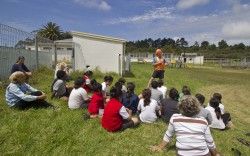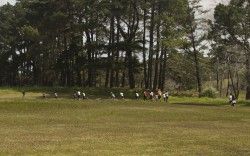 Big day tomorrow as it is World Stroke Day. I have tried to organize a World fun run, just a awareness thing – just get out and walk, bike or run as far as you can, I really don't mind. Then just take a photo and write a message, send it to me here and I will put them all up on the world fun run page on the blog. I am trying to see how many people in as many different countries in the world we can get to do it. Easy as. I don't mind even if you are a day later or so. Let's make it a special day and show our love to all the stroke affected people of the world. Xxxx
Today's Route – Zoom out to see where I ran…

View Larger Map