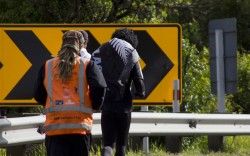 What a fun day today, I had Shel don again with me for another 48kms. He ran 98km with me over the last 2 days, great effort bro, and then the blackout man my cuz Mason. Mason wore this black suit for 30km, it was so funny watching the cars check him out. Great also after the ABs smashed the Aussie's last night.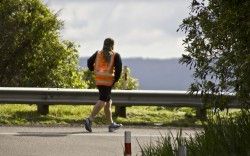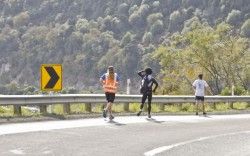 We had some great views as we ran alongside of Lake Taupo.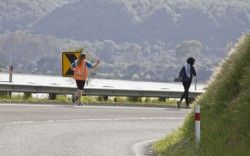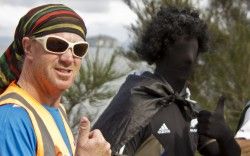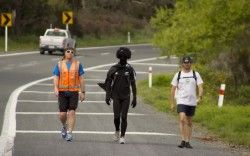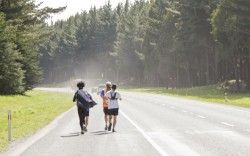 It must have looked pretty funny seeing these 3 guys running up the road.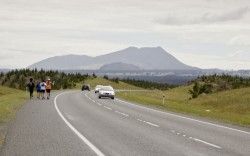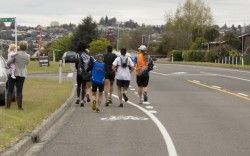 As we got to the top of the first big hill we had the Taupo Harriers join us, Austin and Noel came and ran 10kms each. And they could run, damn the boys were 65 and 70 yrs old but they took us for a run and a fast one too. Austin had calves that Usan Bolt would die for.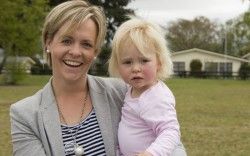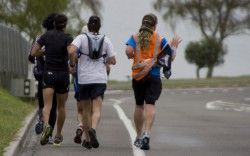 Mason's beautiful family Hanna and Isia were there to cheer dad on while he ran his longest run ever, great effort Mason loved how you never gave up all day. I found an All Blacks flag on the road so had that hangin out of my pants.
We also got joined by Chris who is a local fireman, he was just out on his morning run and turned around and joined us for 10km. Thanks so much Chris, great to meet you bro.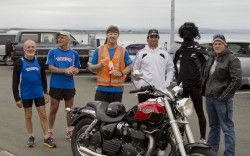 Then Lockie came along to join us on his Triumph bike which was great, first bike we have had join us. Got some people looking, man with no face and a big bike roaring behind us.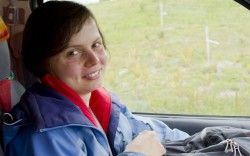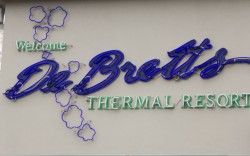 After lunch as we headed out of Taupo to do the last 20km we came across Anna from the Czech Republic who was hitching, so us runners told we could take her 16 kms up the road but it would be a slow 16, and told her to jump in that van behind us, so she did. Funny as as Rick was thinking what's this chick thinking. She was great and was great to have our first hitcher come along. Thanks Anna keep in touch.
Then once we finished we headed again to the "De Bretts Thermal Resort " here in Taupo were they had said we could come and spa for free – great as we were here for 2 days so we made the most of it. Great after a day's running.
So we had a great little group of different people with us for the last 2 days which was great. Just having everyone wanting to join us is just what I dreamed of, makes this a very special thing. Thank you to you all.
Today's Route – Zoom out to see where I ran…

View Larger Map