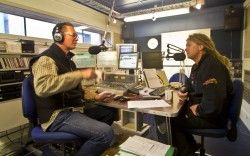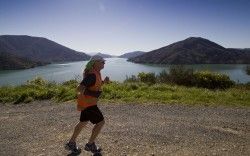 A bit of a late one last night but we were looked after so well. A huge thanks to Anne-Marie. Also a big thanks to some of her friends who donated the money to pay for our hotel – you ladies are awesome, thank you!!
We were in at Classic Hits Nelson at 8am to do a live interview which was heaps of fun. Thanks to Kent Robson for taking the time to talk to us.
Then we drove back over to Havelock to the start of the Queen Charlotte Drive which was to take us to Picton, our last stop in the South Isl and. I was so excited as I thought about just what we were about to have done.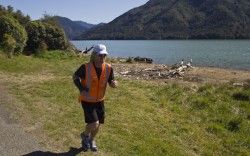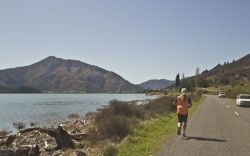 An amazing day – sun out, no wind and views that were superb. We only had 35km to do which was easy. Thinking of what I have been doing I was happy with 35.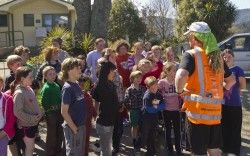 13km in and we stopped into see the kids at the Linkwater School. Great little group of kids with some real characters. I was laughing heaps with them. We had a great chat and then they ran with me down the road. Thank you so much for your awesome welcome and super energy.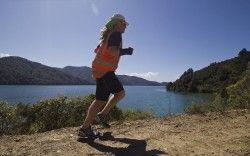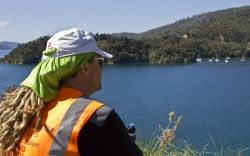 As the kms counted down I was feeling so happy, had tears in my eyes thinking about what I was about to have finished – running the whole of the South Isl and. I just can't underst and how I have just done it in a month. It just blows me away and I am so happy that I have been able to. I have met so many people along the way and been to heaps of schools, all the cars that have gone past and tooted, waved and clapped me all the way, you are so AWESOME!!! We are all doing this together, you are all with me the whole way and I can't thank you all enough.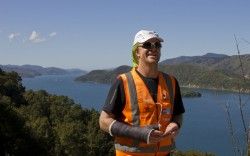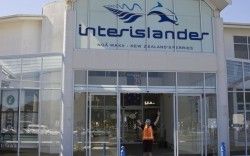 Even today we had a few people stopping to say hi, as I got to the top of the last hill, tunes were in my ears and I got a huge amount of energy. I flew down the hill and once I saw Picton I was jumping all over the road. Once into town we headed straight down and finished at the Interisl ander terminal. Me and Rick had done it – 2 out of 3 isl ands and tomorrow we are on the Interisl ander to Wellington.
Can't thank everyone in the South Isl and enough for helping me get this far, getting this run off to the best start I could have ever wanted. It's as if you all knew what I had dreamed of this run being like. We have managed to do everything I wanted and it is working perfectly.
A huge thank you and please let everyone you know in the North Isl and know about our run.
Today's route – Zoom out to see where I ran…

View Larger Map