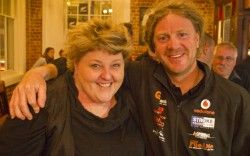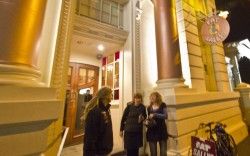 Last night the Kirks showed us the best place to eat in Oamaru and it was awesome. Fat Sally's Pub & Restaurant where we meet Sally herself and she was great. Sally donated our dinners to us, Thank you Sally. GO check them out next time you are in Oamaru.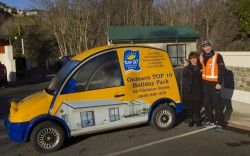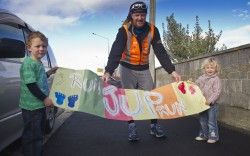 Me saying goodbye and thank you to Tracy at the Oamaru Top 10 Holiday Park, Thank you so helping us out with a free room.
Got another great send off, this time a huge sign made by the Rogers family (my sister's) held here by Lucas and Sammy. So cool, going to put it up inside my van so I can look at it when I rest. I have them all inside, gives me power to keep on going.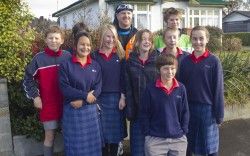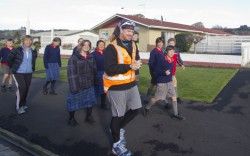 Room 12 at Oamaru Intermediate are AWESOME!! They came down and walked me out of town today. So cool to have them with me, lots of smiles which means power at the start of my day which is great. Thank you so much everyone, you rock!!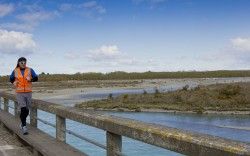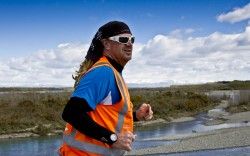 There wasn't many corners today as I headed into Waitaki and with the Canterbury Plains coming up I had better get used to it. Another beautiful day which just means great photos from Rick. Cheers bro.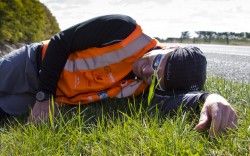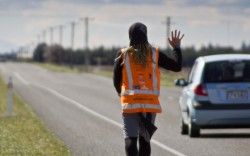 Still got a little thing/pain in my left quad which is taking it out of me a bit. I have to stretch the damn thing every 500m to 1 km so taking a little longer to get anywhere. A quick lie down gets rid of some pain. Sometimes it's the only way to stretch too.  A little wave to someone who gave me a toot while I ran the long straights.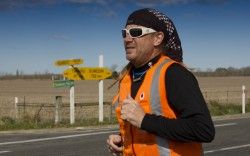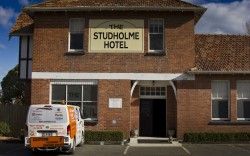 Down the last straight of today's 42kms and into tonights home. Sam here at the Studholme Hotel has donated our accommodation and food today – Thank you so much Sam. Great little place, some photos on the wall showing it was here in 1905, so lots of character and maybe a ghost to scare Rick tonight.
Today's route – Zoom out to see where I ran…

View Larger Map