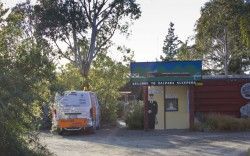 Last night's room (train) was donated to us by the Sleepers Backpackers in Waipara. A great little set up with lots of info about the local area. Thank you so much.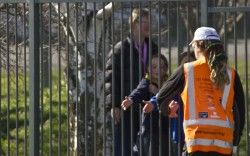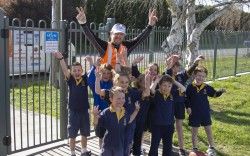 After 61kms yesterday I knew today was going to be a long hard day, not just for me but Rick too. We headed out at 8am and it was 5:45pm by the time I was able to jump into the van.
As we were just getting to the 10km mark I started to hear cheers and could see little arms waving through a fence. I went over and go to meet the Omihi School kids and teachers. It was great to have this as we had nothing planned for today. Thank you very much for your big smiles and power.
Just as I was about to run again Rick said that we had just finished our first 1000 kms, I knew it was coming but was surpised. I can't really believe that I have just run that far but am super stoked to have. I have been up and down with soreness but am now feeling great and with so many people getting behind this run in an amazing way I can see us getting to the next 1000. Thank you all for getting me this far. I'm not doing this alone, we all just made 1000kms together!!!!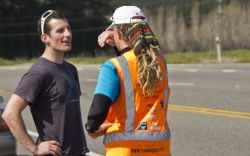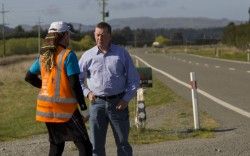 Around another corner to see a car waiting and out jumped Kevin, He saw us on Close Up and is keen to run into Kaikoura tomorrow with me – Awesome. Then I got to meet Neil who I have only emailed and called until now. Neil works for the Southern Stroke Foundation in Christchurch. Great to finally meet you bro.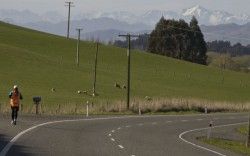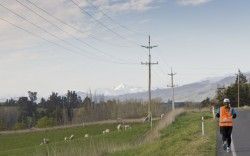 As you can see it was a beautiful day with just a little head wind at times which to be honest at times did test me. Then a hill that I could see the top of for about an hour but just never got to it. I got passed both of them and, as the kms ticked away, started to feel real good. And I was off.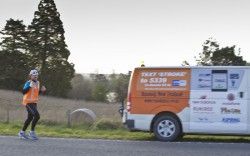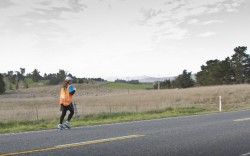 With the sun going down we were pushing on to make tomorrow not another big day. 61kms yesterday and I made 64 today, which was great to do. Now only 58 to go to get to Kaikoura which is great. I know you are thinking that is still huge but in my mind it is not 60 something which is big, but 58 is sweet. Just a number maybe, but mentally different.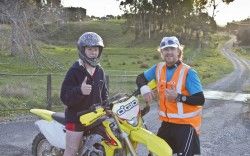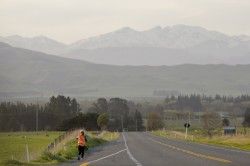 Now I am sorry but I think this is Jamie (sorry bro if I'm wrong let me know). He is our first donator on a motorbike. He also invited us in for a beer but with 5km to go I said sorry and boxed on. Thanks so much for saying hi.
We are getting closer to the ocean and with the mountains in the background looking stunning I am looking forward to running the next section to get to the top of the South Isl and. But first a well deserved day off for me and Rick in Kaikoura.
Thanks to everyone who has emailed, texted and waved to us as we have made our way up the road, you all ROCK, love ya to bits, keep them coming and let's see how far an idea and a lot of smiles will take us. Goodnight xx
Todays route – Zoom out to see where I ran…

View Larger Map