Two days ago my beautiful friends Russ and Jodie Gilbert from the Mermaid on the Gold Coast gave birth to a beautiful girl called Cobie Mae Gilbert. So today I ran my 42km for little Cobie. I can't wait to go over and visit her once I finish this mission. Russ and Jodie have been my guardian angels and let me stay so many times when I float in and out of Australia, and I send all my best wishes and love to you both. Congratulations!!!!! xx
Last night we stayed in Five Rivers at the Five Rivers Retreat. Roger, Paula and Ruby put us up in their beautiful place. A lovely family-run retreat near the mountains and rivers, where I hear the fishing is great, so I will have to drop back in next time I come through. Thank you so much for supporting us and making us feel right at home.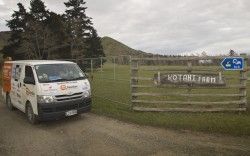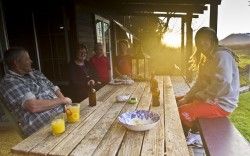 Got up and Ruby was all ready to join me for the first few kms today…


We ran for 2.5kms together and a bit of uphill, where Ruby left me for dead. She is an awesome runner with a great smile. Thank you so much Ruby, you helped make my day real special.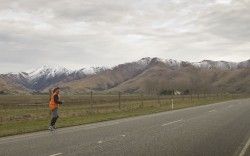 12 km up the road we pulled into the Highway Cafe in Athol for what could be the best cheese roll I have ever had. Not just flavour but they were huge. Very nice people in there so please drop in and say hi if you are heading south.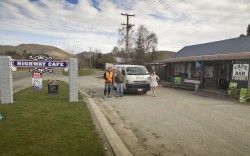 Then another 12km up the road we had some lunch at the Garston Hotel. Wasn't too hungry so just had some Soup and lots of water.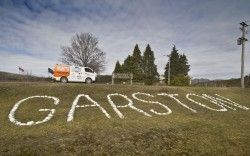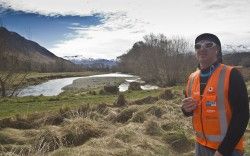 Between Garston and Kingston we went past some stunning views of mountains and rivers, the roads were so straight kinda felt like I wasn't getting anywhere. But with heaps of people waving and tooting I boxed along dancing away to my tunes. Just before we hit Kingston we passed into the Queenstown Lakes District, which felt great. We are getting somewhere when that happens.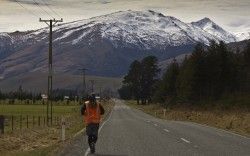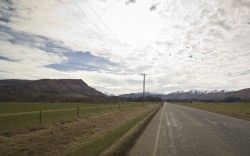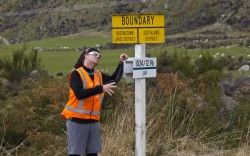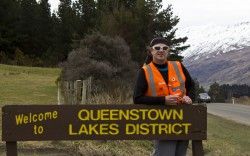 The lovely locals in Kingston put on a beautiful pot luck dinner for us and we had a great chat to everyone. They raised $136 dollars which is just awesome!!!! Thank you so very much for taking the time to meet with us. We are so lucky to have your support.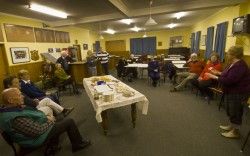 Day 4's Route: Zoom in to see where I ran

View Larger Map